Where were California GOP candidates Tuesday? Not with Trump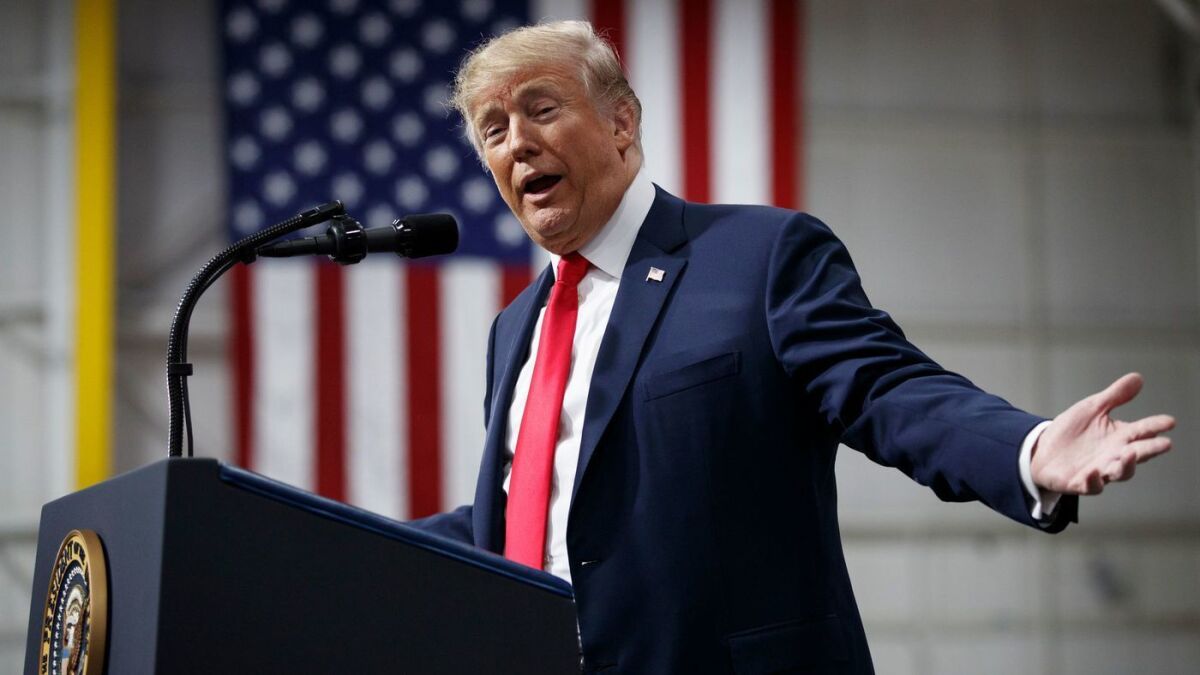 President Trump vowed earlier this year he'd stump for Republicans in competitive House races, saying he would spend "probably four or five days a week" helping GOP candidates get elected. As he made his first visit to California, a state with several seats in play, few seemed interested in taking him up on his offer.
A presidential visit in an election year often comes with an entourage of local officials and candidates hoping to catch a photo op or ride his coattails. But in Southern California, a hotbed of the left's resistance out West that could prove crucial in the midterms, many are staying away.
The Times asked more than a dozen Southern California GOP candidates if they would attend events with Trump. Most of them either did not respond or said they had no plans to join the president.
"I can 100% assure you that he will not be at any Trump events this week, fundraisers or otherwise," said Brooke Borcherding, a campaign spokeswoman for Assemblyman Rocky Chavez, a moderate Republican running for Rep. Darrell Issa's open seat in Congress. Borcherding said his absence is both a deliberate choice and an indication of Chavez's demanding schedule "being out in the community, talking to voters."
Breaking with tradition, no members of Congress traveled to California on Air Force One. When Trump arrived in San Diego on Tuesday morning, he was met at different points by Issa, and the other Republican congressman from the area, Rep. Duncan D. Hunter.
Issa, who announced in January he would retire this year, was seen in a VIP section at Marine Corps Air Station Miramar in San Diego County as Trump addressed members of the military Tuesday afternoon. As the president walked past him to the stage, Issa handed him a green hat that read "Make the Hornet Great Again," referring to a military aircraft flown by Marine pilots on base. They shook hands.
The F-18 fleet is aging, Issa said moments before Trump arrived, and at any given time almost half the fleet is in repair.
"Support for our military is one of the hallmarks of this administration," Issa said. "The military was pretty demoralized at the end of the Obama era."
Hunter was spotted talking with Trump as he toured prototypes for the border wall in Otay Mesa. A Hunter spokesman said his office received a call from the White House before 6 a.m. Tuesday, just before the congressman was set to go live on a local TV news show.
Trump was requesting that Hunter and his father, former Rep. Duncan L. Hunter, join him at the border wall site. Hunter's office quickly rescheduled his flight back to Washington, D.C., so he could attend.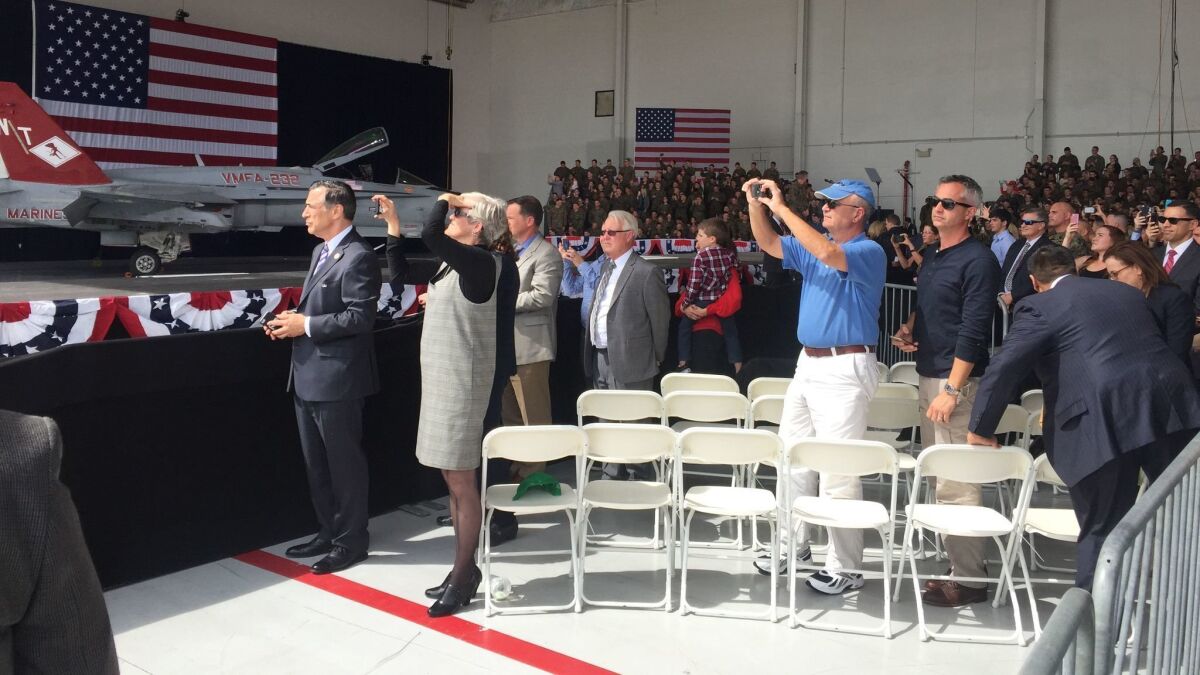 Trump in California: Live coverage »
No other vulnerable Republican incumbents were there.
Later in the afternoon, RNC committeeman Shawn Steel was on hand to greet the president after he landed on Air Force One at LAX, along with his wife, Orange County Supervisor Michelle Steel, who is running for re-election.
Another Republican congressional candidate, Scott Baugh, said he is "100% focused on my campaign" and would not attend any events with Trump. Baugh is a former Orange County party chairman who recently jumped in to challenge Rep. Dana Rohrabacher (R-Costa Mesa). John Gabbard, a real estate developer who's running for the same seat, said he also would not see Trump.
"I'm telling them to stay away," another Republican consultant based in Southern California said of his clients. He requested anonymity to avoid offending the commander in chief. "We're not going to dis the president, but we're not going to do a photo op with him, either."
Aside from the obvious fact that Trump remains stunningly unpopular statewide (a poll released in January by the Public Policy Institute of California put his approval rating at 32% among likely voters), recent numbers show he could be a particular liability for GOP incumbents in tight races.
Track the California races that could flip the House »
A poll last month by UC Berkeley's Institute of Governmental Studies painted Trump as an albatross for Rohrabacher and Rep. Steve Knight (R-Palmdale), both facing competitive races. The pollsters found a high correlation between those who disapprove of Trump, disapprove of the Republican Congress and say they're disinclined to reelect their Republican member.
Add to that the fact that the perception of this year bearing a Democratic wave and that Democrats continue to dominate in the "generic ballot" polls that ask which party voters are inclined to vote in a congressional race and it starts to become clear why Republican candidates might not want to risk an appearance with their party's standard-bearer.
Focusing their campaigns on what they hope will be a booming economy, enthusiasm for the president's tax plan, and more local issues could help Republicans hold on in a year that many predict will be good for Democrats.
Allowing their races to be framed around Trump, who was the focus of many Democrats' campaigns in 2016 and remains a divisive figure in California, could spell doom.
In some districts where Trump enjoyed wide support in 2016, candidates are slightly more open to aligning themselves with the president. A campaign spokeswoman for Bill Wells, the anti-abortion, pro-gun-rights mayor of El Cajon who is running against scandal-plagued Hunter, said he would have been happy to have an audience with Trump but wasn't invited. "He supports the president and the plan to build the wall," said the spokeswoman.
Andrew Sarega, one of several Republicans vying for the seat being vacated by Rep. Ed Royce (R-Fullerton) who's running on a platform supporting the tax bill and opposing the Affordable Care Act, said he also wouldn't have minded some time with the president but had "other commitments" during the day.
As for the high-dollar fundraiser Trump will attend in Beverly Hills on Tuesday evening, Sarega said he would be tied up at a meeting of the La Mirada City Council.
"But more realistically," Sarega added, "I could not justify spending $50,000 on a dinner, regardless of the company."
Trump loves winning, but in his presidency and business, California has gotten in his way »
Times staff writers Sarah Parvini contributed from Otay Mesa and Brian Bennett contributed from Miramar Air Base.
For more on California politics, follow @cmaiduc.
ALSO
Updates on California politics
---
UPDATES:
6:15 p.m.: This article was updated with details about the Steels greeting Trump.
2:30 p.m.: This article was updated with information about Hunter and Issa.
This article was originally published at 10 a.m.
Get our Essential Politics newsletter
The latest news, analysis and insights from our politics team.
You may occasionally receive promotional content from the Los Angeles Times.