Trump pardons Pat Nolan, former GOP lawmaker taken down in FBI's 'Shrimpscam' probe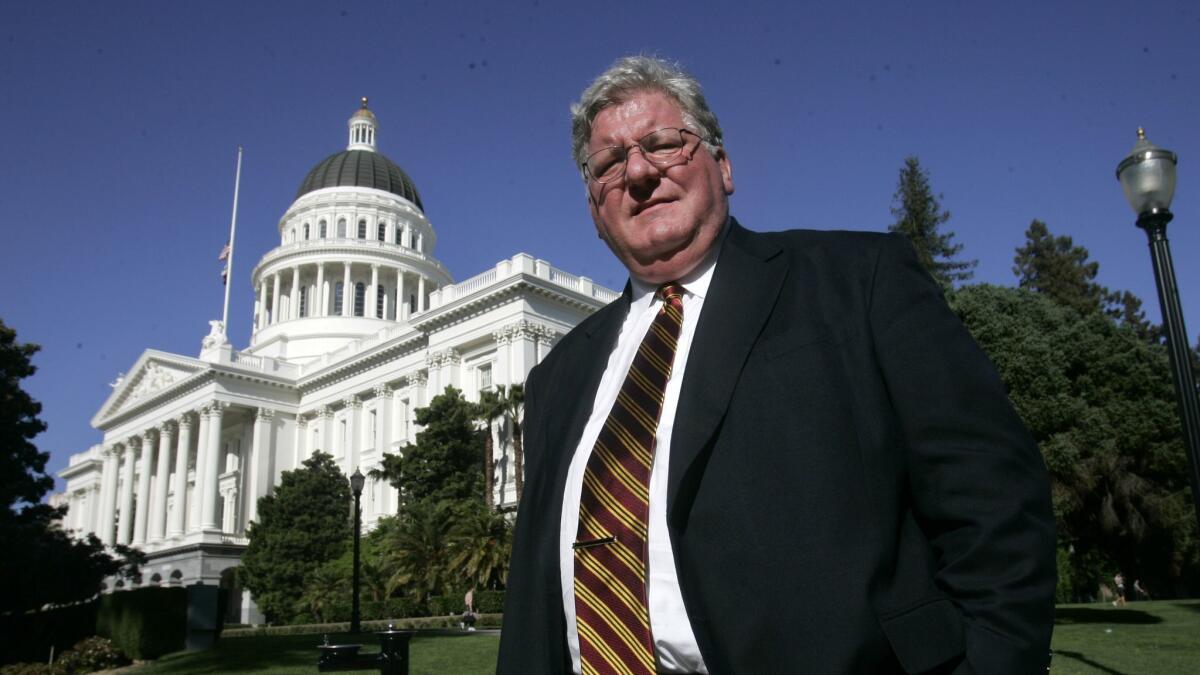 President Trump has pardoned Pat Nolan, a former Republican state legislative leader who spent years in prison after being convicted in the "Shrimpscam" FBI sting in the 1990s and later became a high-profile conservative apostle for criminal justice reform.
Reached by phone Wednesday evening, Nolan said he was "obviously very grateful."
"I had hoped to get one, but actually I'm really hopeful that the president will issue many more pardons," Nolan, 68, said. "There are a lot of other people that are incarcerated who would be better off at home with their family."
Nolan served 26 months of a 33-month prison sentence after pleading guilty in what would become one of Sacramento's most notorious political corruption cases.
"I am so grateful that God used my time in prison to open my eyes to injustice, and equipped me to advocate for the voiceless, and I am thankful that President Trump saw fit to grant me a pardon," Nolan tweeted shortly after the announcement.
Trump also announced clemency Wednesday for former newspaper mogul Conrad Black, who wrote a flattering biography of Trump last year. Black was convicted on three counts of mail fraud and one count of obstruction of justice in a scheme to bilk stockholders out of millions of dollars. He ultimately served 37 months in prison after an appeals court vacated two of the fraud convictions.
Nolan, who was elected to the Legislature in 1978 and served as Assembly GOP leader in the 1980s, was secretly videotaped accepting checks from an undercover FBI agent in a scheme to support a bill that would have helped a fictitious company open a shrimp processing plant near Sacramento.
Facing six counts of racketeering, conspiracy, extortion and money laundering in Shrimpscam, Nolan instead pleaded guilty to one count of racketeering in exchange for a lesser sentence. He maintained his innocence and said he pleaded guilty only to avoid a longer sentence that could have kept him away from his family.
In a statement released Wednesday evening, the White House characterized Nolan's decision as "a difficult choice."
"Determined to help his wife raise their three young children, Mr. Nolan chose to accept the plea," the statement read.
After leaving prison, Nolan became a prominent conservative voice on criminal justice reform. He took a job as president of Justice Fellowship, a Virginia-based group founded by disgraced Nixon White House aide Chuck Colson that advocates for sentencing reform.
Nolan met Colson, who was incarcerated for obstruction of justice in the Watergate case, while he was still in prison. He said he regarded the former White House aide as "an older brother."
Nolan called his experiences in prison transformative. Speaking to The Times in 2007, he compared incarceration to amputation: "Cut off from family, community job, church and, with your stump still bleeding, you're tossed into this boiling cauldron of anger, hatred, bitterness, sexual repression."
The former assemblyman, who is also a lawyer, lives in Arizona and leads the Center for Criminal Justice Reform at the American Conservative Union Foundation, which runs CPAC, the annual political conference for conservatives.
Over the years, changes he's proposed to the criminal justice system include the use of probation and parole to allow low-risk offenders to keep their jobs, redirecting prison construction funds toward hiring more parole officers, and expanding skills training and industry in prisons.
"It is clear that neither the liberal approach, which treats crime as a mere byproduct of poverty … nor the standard conservative approach, which boils down to little more than 'lock 'em up,' makes our communities any safer," Colson and Nolan wrote in a joint op-ed in 1997.
The White House statement said Nolan is "uniformly described as a man of principle and integrity" and highlighted his work helping pass the Prison Rape Elimination Act, the Second Chance Act and the Fair Sentencing Act, a law signed by President Obama that reduced the sentencing disparities between crack cocaine and powder cocaine offenses.
Conservatives, including former Virginia Atty. Gen. Ken Cuccinelli, had pushed for Nolan's pardon for years. Last year, conservative magazine the Spectator ran a piece urging President Trump to follow through.
For more on California politics, follow @cmaiduc.
Get our Essential Politics newsletter
The latest news, analysis and insights from our politics team.
You may occasionally receive promotional content from the Los Angeles Times.