On Politics: California to its presidential wannabes: Don't quit that day job!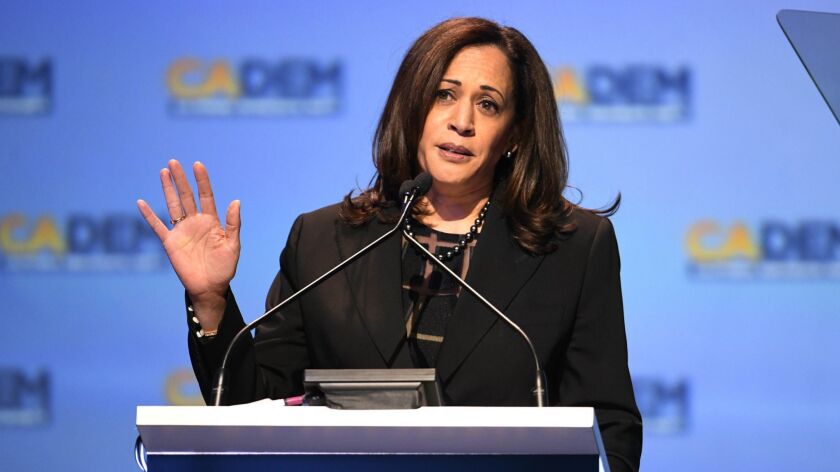 Kamala Harris has enjoyed the celebrity spotlight from the moment — not terribly long ago — she set foot in Washington, owing in good part to the assumption she will reach for history and, come 2020, run to be the nation's first black woman president.
Having just settled into her first full year as California's junior U.S. senator, it would be unseemly to admit such fast-tracked political ambitions. So Harris has quickly learned the art of the dodge.

For the record:
9:35 a.m. May 23, 2018An earlier version of this article said Kamala Harris served eight years as California attorney general. It was six years.
"I honestly am focused on 2018," she told Vogue magazine.
"Right now, I'm just focused on what's in front of me," she told New York radio's WWPM.
"Right now, we are in the early months of 2018," she said on "The Ellen Show." "There so much that's important right now."
Right now.
Harris has already worn a groove in the national Democratic fundraising circuit, hired a number of national campaign veterans and is peddling the obligatory policy and personality tome that has become a look-me-over staple of White House wannabes.
All of which has California, absent a serious presidential prospect for more than a generation, working itself into a state of complete and utter ... ennui.
When it comes to installing a Californian in the White House, a new USC Dornsife/Los Angeles Times Poll found fewer than half of registered voters, 42%, said they support a Harris bid for president. Just over 20% were opposed; the rest were indifferent.
More tellingly, fully a quarter of those surveyed said they had never heard of their United States senator, who, before her election in 2016, served six years as the state's attorney general and seven as chief prosecutor in San Francisco
Although she's ventured furthest along the presidential campaign trail, Harris, 53, is far from alone, even among California contestants.
Of the roughly zillion Democrats mentioned as potential 2020 contestants, nearly half a dozen hail from the western side of the Sierra, including Los Angeles Mayor Eric Garcetti and hedge-fund-billionaire-turned-liberal-crusader Tom Steyer. (Last seen, respectively, in the early-voting states of New Hampshire and Iowa.)
The same combination of yawns and mystery hang over Garcetti and Steyer.
Just under a third supported a White House run by the two-term Los Angeles mayor, 21% disapproved and the rest had no opinion. Thirty percent had never heard of Garcetti, 47, including nearly half those surveyed in the San Francisco Bay Area (just about 350 miles away, as hope flies on gossamer wings.)
As for Steyer, the same number — 17% — both supported and opposed a White House bid, with close to half knowing nothing whatever of the San Francisco political entrepreneur.
At the least, Steyer, 60, has proved it possible to spend more than the economic output of some Third-World countries, fighting climate change and promoting the impeachment of President Trump, among other causes, and still remain an unrecognized blur to a goodly segment of his neighbors.
The poll, conducted among 691 registered voters from April 18 to May 18, did not ask about two other sometimes-mentioned White House contenders, Reps. Adam Schiff of Burbank and Eric Swalwell of Dublin. (Located just outside L.A. and San Francisco, respectively.)
Still, given that most Californians would have a hard time picking their member of Congress from a police lineup, much less one representing a district even a few blocks away, it's unlikely the survey overlooked a secret army of Schiff or Swalwell devotees.
The results of the poll are hardly surprising.
State politics has never been a top-of-the-mind subject for most Californians, who generally tune in to campaigns just a bit before election day, the way casual basketball fans only start caring about the game once the NBA finals have started.
A USC-Times poll conducted in November found nearly 2 in 10 of those surveyed had not heard of Dianne Feinstein, who began her career in public life 60 years ago and has been California's senior U.S. senator since 1993.
There are 1960s sitcom actors with higher Q-ratings — but then elected office doesn't dazzle the way Hollywood does.
While visions of White House grandeur dance before many politicians' eyes, California voters tend to be far less impressed.
When you're the world's fifth-largest economy, a global tastemaker in technology and style and enjoy more than 800 miles of breathtaking coastline, you don't need a viable White House contender to validate your self-worth. The last several California lawmakers who tried for the presidency and failed — Alan Cranston, Jerry Brown and Pete Wilson — were all left somewhat diminished by the effort.
None of which suggests Harris, Garcetti or Steyer won't wage a serious campaign for president or, heck, maybe even emerge as the Democratic nominee in 2020.
But the humbling reaction at home is a good reminder it's a long way from here to there, and the presidential race is decided by voters over the course of a long, arduous campaign. Not by producers who fill up the studios for Washington's cable TV blah blah, or the know-it-alls on Twitter.
@markzbarabak on Twitter
ALSO
Nancy Pelosi and Kevin McCarthy are different as the Californias they represent
Ignoring the California governor's race? That's OK, it's really just starting
He struck out at baseball, but made it in politics. Now he's back to his first love
---
Get our Essential Politics newsletter
The latest news, analysis and insights from our politics team in D.C.
You may occasionally receive promotional content from the Los Angeles Times.