A letter sent to some L.A. voters sought to shame them for their voting records — and no one knows who sent it
Offended, harassed, violated. Those are some of the words voters used to describe their reactions to a letter they received this week from a group calling itself the California Voter Awareness Project.
Several people who spoke to The Times said the letter arrived just hours before polls opened in Tuesday's citywide election in Los Angeles, and included each recipient's voting history in the last three elections, along with names and addresses of neighbors and acquaintances and whether or not they'd voted. An updated chart would be mailed out after Tuesday's election, the letter warned, and "other people you know will all know who voted and who did not vote."
Exactly who sent the mailer and why is unclear: No return address or contact information was on the envelopes. Simple Google searches and a look at state and county business records turn up nothing on the California Voter Awareness Project, the name of the group that appears on the letters.
Here's what we know:
Those who received letters say they're not happy about it
All of the letter recipients who spoke to The Times said they felt their privacy had been violated.
The opening line of the letter poses a question in all caps: "WHAT IF YOUR FRIENDS, YOUR NEIGHBORS, AND YOUR COMMUNITY KNEW WHETHER OR NOT YOU VOTED?"
Terri Maynez, a 53-year-old L.A. Unified School District cafeteria worker who lives in Sylmar, said she thought the tone of the letter was threatening.
"So what does that mean? I won't be on the bad list if I vote?" Maynez said. "That's an invasion of people's privacy…. Who wants to be harassed about whether or not they voted by your neighbors?"
Elizabeth Hines, 58, a court reporter who lives in Burbank, said she was so offended that she decided not to vote Tuesday.
"I don't give a rat's ass who votes," she said, adding that she wants to know who's responsible for sending the letter. "Tell me who they are. I have that right. They know who I am, they know where I live."
George Van Duzer, 53, of Westchester, called the letter "vulgar and invasive." Van Duzer, whose voting record was listed on a letter his wife received, said he grew angrier when he realized there was no public information about the group named on the letter.
"They are obscuring who they are. This is a shadow organization."
People who received the letters live in two school board districts with competitive, multimillion-dollar campaigns
The Times spoke to nearly a dozen people who received the letter and verified their addresses. All of them live in L.A. Unified's District 4 or District 6 — school board seats in both were up for election Tuesday. Charter school advocates and teachers unions are waging expensive fights trying to influence who wins those seats.
It's not clear if the people who sent the letters hoped to influence those races or the outcome of Charter Amendment C, the citywide voter initiative on police misconduct boards — or none of the above.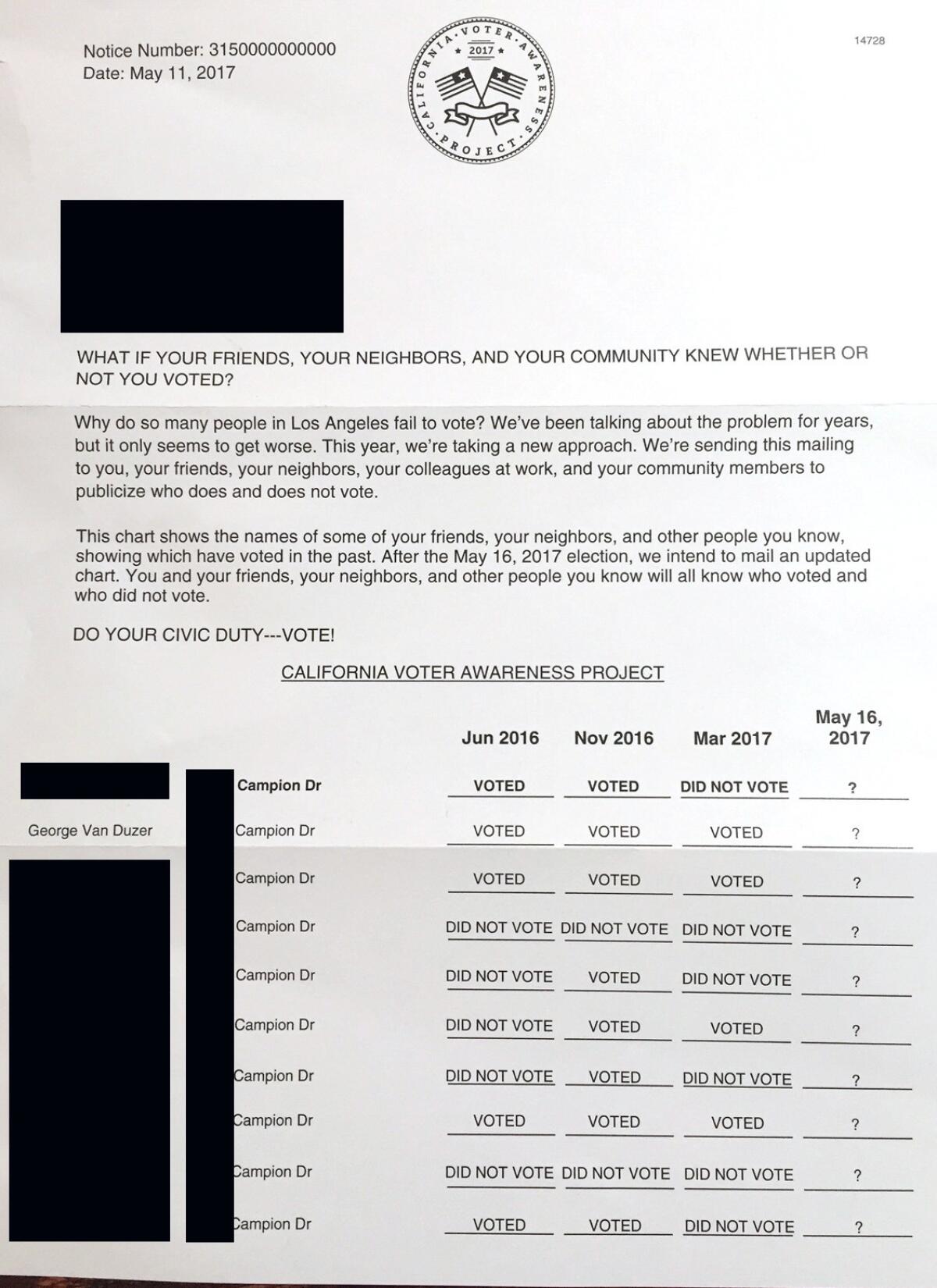 In some cases, the people named in the letters are neighbors. In others, they're friends and family
Laura Yazdi, a 28-year-old fashion blogger who lives in Encino, said her mother, who lives in Pacific Palisades, was named in her letter, but the rest of the names listed were strangers to her who have Hollywood addresses. A near-identical letter sent to her mother listed neighbors instead.
Another voter who declined to be named said she received a letter at her Westchester home that listed her voting history and the records of about a dozen neighbors, while a separate letter sent to her husband included the names of one of his clients, a high school friend and others he knew in various ZIP Codes.
There's no readily available information about the group that sent the letters — and it's causing some confusion
There's no entity called the California Voter Awareness Project registered with the California secretary of state or in Los Angeles County, and a search of court records for the name turned up empty. Spokespersons for the candidates in Districts 4 and 6 say they had nothing to do with the mailer. So did representatives for teachers union United Teachers Los Angeles and the California Charter Schools Assn. Advocates, which are running expensive independent expenditure campaigns against each other in both races.
All of the envelopes were sent using stamps, and a few of them bore a Santa Ana postmark.
When voters become aware that they're being profiled, especially by people they don't know, it can definitely creep people out.

— Kim Alexander, president of the California Voter Foundation
Some voters have mistakenly blamed two other organizations for the letter: the nonpartisan California Voter Foundation, which said it received a handful of angry calls, and the San Diego-based political committee California Voter Project, which said dozens of people contacted them to complain.
The California Voter Foundation says it has encouraged people to file a complaint with the California secretary of state. The agency also has a voter complaint hotline: (800) 345-8683.
Voter shaming isn't new — and it's been shown to be effective
Republican Sen. Ted Cruz of Texas caught flak in last year's presidential primary for using a similar play, assigning recipients letter grades for their voting history. Other similar mailers have been sent by conservative groups to voters in Washington and New Mexico.
"Nationally, it's a common tactic," says Paul Mitchell, vice president of Political Data Inc., which sells voter data to political campaigns. Research has shown that this kind of "social pressure" can positively affect voter turnout, Mitchell said, in the same way "I Voted" stickers can serve as positive reinforcement. But one thing is key, Mitchell said: The vote shaming can't be perceived as coming from a specific campaign or candidate for risk of possible blowback.
Election officials say they're looking into it — but they're not sure what they can do about it
The L.A. County registrar's office says it's received about 20 calls about the letter and its attorneys are looking into whether any laws were violated.
Secretary of State Alex Padilla says his office has received complaints, too. While state law allows for the use of election data for "election purposes," Padilla said in a statement, "we believe that better strategies exist, besides public shaming."
"Those who employ such tactics should be aware that state law expressly prohibits the use of election data to harass voters or voter households," Padilla added.
L.A. city ethics rules require that campaign mailers sent by candidates and independent expenditures clearly disclose who is sending them. But the letter, which does not advocate voting for any particular candidate or measure, might not be interpreted as a "campaign communication."
Times staff writers Javier Panzar, Howard Blume and Anna Phillips contributed to this report.
Twitter: @cmaiduc
Charter advocates bid for first L.A. school board majority
The L.A. school board race: Brutal, expensive and important
Robert Lee Ahn's 'misleading' mail tactics helped him get into L.A.'s congressional runoff. Will he use them again?
---
UPDATES:
May 17, 6:55 p.m.: This article was updated with additional information about where voters can file complaints about the letter.
This article was originally published at 10:22 p.m. May 16.
Get our Essential Politics newsletter
The latest news, analysis and insights from our politics team.
You may occasionally receive promotional content from the Los Angeles Times.