Federal judge rejects lawsuit Bernie Sanders backers had hoped would boost his California chances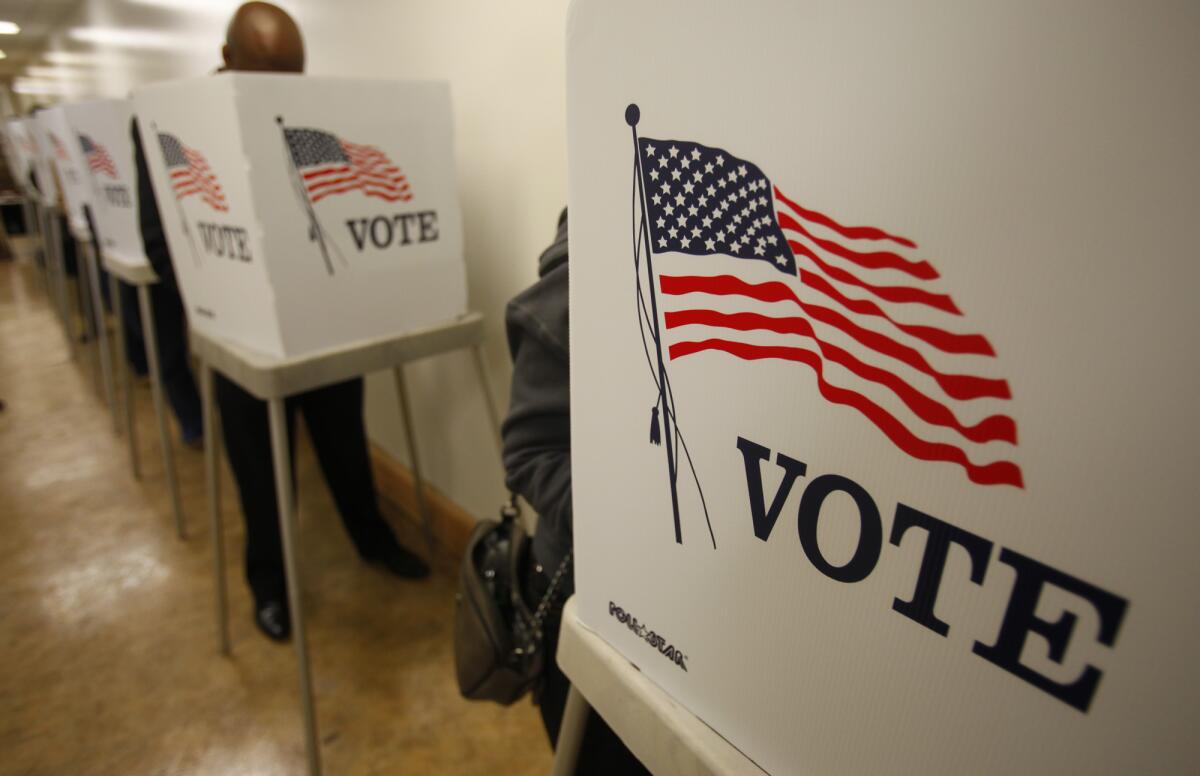 Reporting From San Francisco —
A federal judge refused Wednesday to reopen voter registration in California ahead of next week's presidential primary, telling a group led by backers of Vermont Sen. Bernie Sanders that the rights of the state's unaffiliated voters have not been harmed.
"There's absolutely no showing of any federal violation," said U.S. District Judge William Alsup.
Alsup also denied the request that volunteers at polling places be required to tell voters about the unusual rules surrounding which political parties have opened their presidential contests to unaffiliated "independent" voters.
"The citizens of California are smart enough to know what their rights are," the judge said in a brief court hearing in San Francisco.
Attorneys for the Sanders affiliated group and California's American Independent Party, both plaintiffs in the lawsuit, said they would consider asking a federal appeals court to intervene. But they also suggested a last-minute case in state court, even though the primary is on Tuesday.
The lawsuit centered on the potential confusion over presidential primary rules for voters who are independent of political parties, known in California as having "no party preference."
Next week, those 4.1 million voters will be able to cast a presidential ballot in only one of the two major party races, the Democratic contest between Sanders and Hillary Clinton. Republicans opted against opening their presidential primary to "no party preference" voters.
Two minority parties – the Libertarian Party and the American Independent Party – also will allow unaffiliated voters to cross over and cast a presidential ballot for their candidates.
Sanders supporters hope that many of those independent voters will choose him on the Democratic ballot, boosting his chances to pull off a win — or at least a strong showing — against Clinton.
The plaintiffs contended the rules have been poorly explained to "no party preference" voters and that the information offered by varying county elections officials constitutes a violation of federal equal protection laws.
William Simpich, an attorney representing the voting rights advocates and a Sanders supporter, argued in court that at the very least, poll workers should be ordered to inform "no party preference" voters of their rights in voting for a presidential candidate.
"They're being treated arbitrarily, and with a much higher degree of confusion," Simpich said of unaffiliated voters.
Alsup disagreed.
"There's not a single [prior legal] decision that says that violates equal protection," the judge said.
Attorneys for both local elections officials and Secretary of State Alex Padilla argued in court that a federal court order would be too extreme and would change the rules in the middle of an election.
Deputy Atty. Gen. Sharon O'Grady said there has been an intense outreach effort to "no party preference" voters about their right to request a ballot from one of the three parties allowing them to participate. And she said those voters can ask for a different ballot at their polling place if handed the wrong one.
"This is not a situation where they're going to be blindsided or trapped," O'Grady said.
The judge also questioned why the plaintiffs had filed a lawsuit about well-established election procedures so close to the presidential primary itself.
"The plaintiffs waited way too long," he said.
Follow @johnmyers on Twitter, sign up for our daily Essential Politics newsletter and listen to the weekly California Politics Podcast
ALSO
Are you an independent voter? You're not if you checked this box
Voter registration card offers some confusing choices for Californians
Get our Essential Politics newsletter
The latest news, analysis and insights from our politics team.
You may occasionally receive promotional content from the Los Angeles Times.