Here are two sentences about every candidate running against incumbent Republicans in Southern California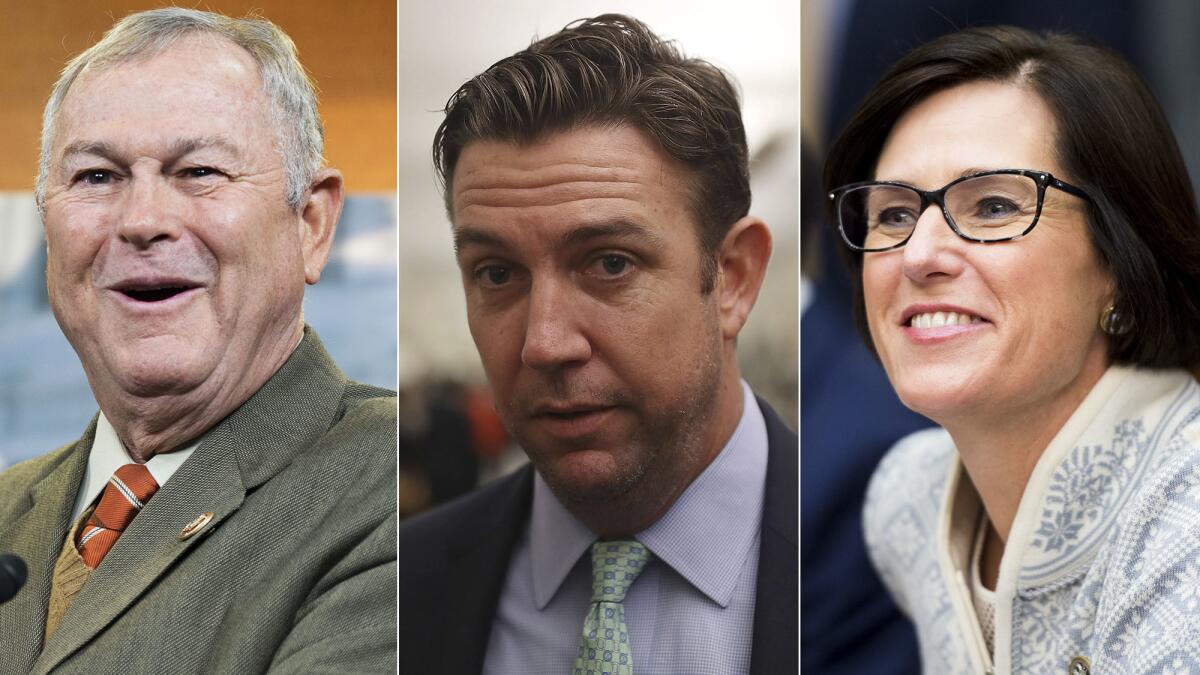 The path to control of the U.S. House goes through Orange County and San Diego, and the field is set for the first stage of the election. Democrats are attempting to unseat three congressional Republicans in contests that have crowded fields and already have attracted large sums of cash. In Los Angeles, Democrats are investing in the race to oust a Republican congressman.
Here's a quick look at the candidates who have filed to run in the June 5 primary in the 25th, 45th, 48th and 50th congressional districts and the descriptions that will appear after their names on the ballot, along with brief biographies of each compiled by The Times. The California Secretary of State's office must certify the candidates before they can appear on the ballot.
Track the congressional races that will make the difference in California »
25th Congressional District
There are more voters registered as Democratic than Republican in Rep. Steve Knight's district, which stretches from Lancaster and Palmdale in the high desert to Santa Clarita and Simi Valley. Hillary Clinton's 2016 victory is one reason why Democrats see opportunity here, and it is considered one of the state's most competitive races.
Knight (R-Palmdale) has served two terms. Before entering Congress, he was an LAPD officer for 18 years and served in the Palmdale City Council, the state Assembly and state Senate. Knight is a reliably Republican vote, but has broken with his party on climate change as a member of the bipartisan Climate Solutions Caucus. His father was a state lawmaker.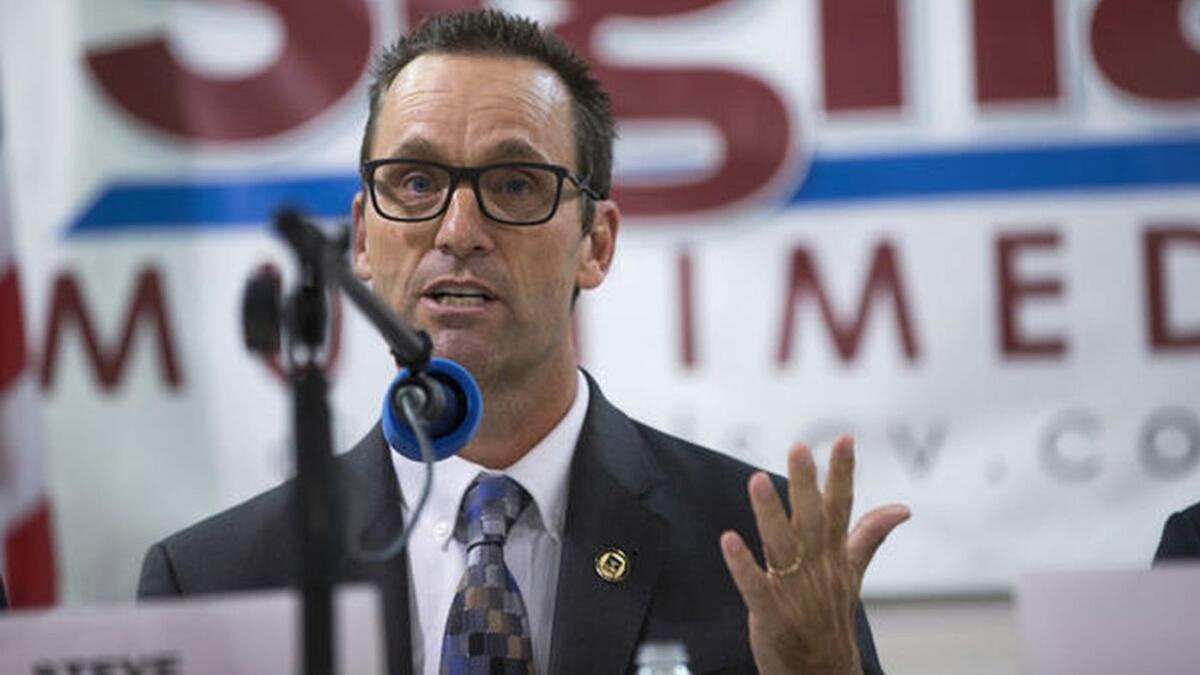 The ballot:
Knight, Republican, "Member of Congress."
Bryan Caforio, Democrat, "Consumer Rights Attorney."
Caforio, a Yale-educated lawyer who got 46.87% of the vote in 2016, has outraised Knight in quarterly fundraising as he mounts a repeat bid for this seat. He moved to the district ahead of his first attempt in 2016.
Katie Hill, Democrat, "Homelessness Nonprofit Executive."
Hill ran the statewide homelessness nonprofit People Assisting the Homeless, or PATH, before running for Congress and currently lives on a farm in Agua Dulce with her husband and several rescue animals. Hill has also outraised Knight in quarterly fundraising.
Michael Masterman-Smith, Democrat, "Cancer Scientist."
Masterman-Smith's research includes potential medical uses of marijuana, and he is chief executive of the cannabis pharmaceutical company CA Labs, Inc. He has postdoctorate degrees in molecular and medical pharmacology from the David Geffen School of Medicine at UCLA.
Mary Pallant, Democrat, (ballot designation pending)
Pallant, an insurance agent, has run for Congress twice before. She served on the Oak Park Unified School District board from 2010 to 2014.
Jess Phoenix, Democrat, "Scientist/Nonprofit Founder."
Phoenix is a volcanologist who runs an educational science nonprofit called Blueprint Earth that researches the Mojave Desert. She is running with assistance from 314 Action, a 501(c)(4) nonprofit organization formed to recruit and campaign for candidates with science backgrounds.
Sign up for the Essential Politics newsletter »
45th Congressional District
Rep. Mimi Walters has drawn several well-funded challengers and has been the target of frequent protests. Prior to entering Congress, the Republican was a state legislator and Laguna Niguel City Council member. She has been a reliably conservative vote in Congress, voting for the tax bill overhaul and to repeal the Affordable Care Act. She was first elected in 2014 and won reelection in 2016 by a comfortable margin in the district, which includes the suburban Orange County communities of Irvine, Tustin and Mission Viejo.
The ballot:
Walters, Republican, "U.S. Representative, 45th District."
Brian Forde, Democrat, "Science Technology Educator."
Forde previously served as a senior technology advisor to President Obama and currently teaches at MIT's Sloan School of Management. Born and raised in Tustin, he moved back to Walters' district last April.
John Graham, No Party Preference, "Business Professor/Author."
Graham is a retired business school professor at UC Irvine. A former Democrat, he ran against then-Rep. Christopher Cox (R-Newport Beach) three times between 2000 and 2004, never winning more than 33%.
Kia Hamadanchy, Democrat, "Public Policy Analyst."
A former congressional staffer, Hamadanchy moved back to Irvine, where he was born and raised, to run for Congress. If elected, he would be the first Iranian American member of Congress.
Dave Min, Democrat, "UC Law Professor."
Min teaches law at UC Irvine and formerly worked as an attorney at the Securities and Exchange Commission. He won the endorsement of the California Democratic Party by a narrow vote that ended in a floor fight at the state party convention.
Katie Porter, Democrat, "Consumer Protection Attorney."
Porter is also a law professor at UC Irvine. She served under then-Atty. Gen. Kamala Harris to oversee the distribution of California's portion of the $25-billion mortgage foreclosure settlement by big banks. She has the backing of Harris, now U.S. senator, and Emily's List.
California Democrats agree they have too many candidates for Congress. What to do about them is the problem »
48th Congressional District
Rep. Dana Rohrabacher has served in Congress for 15 terms. He started his political career as a speechwriter in the Reagan White House. The district hugs most of the Orange County coast, from Seal Beach to Laguna Niguel.
In the House, Rohrabacher has built a reputation as a libertarian-leaning maverick who supports legalized marijuana and improving U.S.-Russia relations. His stance on Russia also has ensnared him in the investigation into that country's interference in the 2016 election that's consuming Washington.
The ballot:
Rohrabacher, Republican, "U.S. Representative, 48th District."
Scott Baugh, Republican, "Orange County Business Owner."
A state assemblyman from 1995 to 2000, Baugh served as chairman of the Orange County Republican Party for more than a decade. He previously said he would only run if Rohrabacher, a political mentor he's been close with for decades, opted to retire; he changed his mind.
John Gabbard, Republican, "Small Business Owner."
Gabbard is a real estate developer and a Marine Corps veteran. He grew up in Indiana and is in the process of moving to Laguna Beach from his nearby home in Dana Point.
Hans Keirstead, Democrat, "Neuroscientist/Professor/Entrepreneur."
Keirstead is a stem cell researcher and former UC Irvine professor. An immigrant from Canada, he became a citizen in 2008 and served as an advisor to a 2004 ballot measure on medical research funding.
Kevin Kensinger, No Party Preference, "Licensed Investment Professional."
Kensinger lives in Aliso Viejo and works for a financial investment firm. A former Democrat, Kensinger supports single-payer healthcare and providing banks for the marijuana industry in states where pot is legal.
Michael Kotick, Democrat, "Global Business Executive."
Kotick is a former brand manager for Nestle. A Laguna Beach resident, Kotick has an MBA from Michigan State University and published a book last year on marketing.
Paul Martin, Republican, "Businessman."
Martin is a freelance writer from Costa Mesa who calls himself a "raging centrist." He says he opposes many of President Trump's policies.
Laura Oatman, Democrat, "Architect/Business Owner."
Oatman, a longtime Newport Beach resident, owns an architecture firm with her husband. She also is author of a book on health and wellness.
Stelian Onufrei, Republican, "Business Owner."
Onufrei owns a residential construction business and lives in Huntington Beach. A native of Romania, he came to the United States in 1983.
Rachel Payne, Democrat, "Technology CEO/Entrepreneur."
Payne is a former Google executive who now heads up two Southern California-based technology companies. Born in San Bernardino, she lived in Uganda for some time before moving to Aliso Viejo to be closer to family.
Brandon Reiser, Libertarian, "Business Operations Manager."
Reiser lives in Corona del Mar and is a manager at an investment firm. He was born and raised in Massachusetts.
Harley Rouda, Democrat, "Technology Entrepreneur."
Rouda is an attorney and chief executive of a real estate brokerage company. An Ohio native, Rouda also has invested in technology startups and is CEO of another company working on a mapping and tourism app.
Shastina Sandman, Republican, "Mompreneur/CEO."
Sandman is a self-described activist and Trump supporter. Her profile on Twitter, where she has 117,000 followers, describes her as a "MAGApreneur" and she designs and sells clothing with Trump's presidential campaign slogan.
Deanie Schaarsmith, Democrat, "Business Owner/CFO."
Schaarsmith is a longtime Laguna Niguel resident and owns a DUI counseling program. She grew up in Huntington Beach and graduated from Cal State Fullerton.
Omar Siddiqui, Democrat, "FBI Advisor/Attorney."
Siddiqui is a trial lawyer from Costa Mesa who has served as an advisor to the FBI and CIA. Born and raised in Southern California, Siddiqui also has a degree in engineering.
Tony Zarkades, Democrat, "Airline Pilot."
Zarkades is a commercial pilot and Marine veteran from Huntington Beach. He also previously worked as a commercial property manager and owned an ice cream shop.
Well-known Orange County Republican files to challenge Rohrabacher: 'Dana has changed' »
50th Congressional District
Rep. Duncan Hunter has served in Congress for five terms and won reelection in 2016 with 63.5% of the vote. An officer in the Marine Corps Reserve, Hunter has appealed to the large number of military voters in the district, which encompasses inland San Diego County and a small part of Riverside County. He has spent the last year fighting an FBI investigation into questionable campaign spending.
The ballot:
Hunter, Republican, "U.S. Representative."
Josh Butner, Democrat, "Governing Board Member, Jamul-Dulzura Union School District."
Butner is a school board trustee and a former Navy SEAL who was deployed multiple times to Iraq and Afghanistan. He has been endorsed by neighboring Democratic Reps. Scott Peters and Mark Takano.
Ammar Campa-Najjar, Democrat, "Local Business Owner."
Campa-Najjar is a public affairs consultant who worked in the Department of Labor during the Obama administration. He most recently worked as a communications director at the U.S. Hispanic Chamber of Commerce and has the endorsement of the California Democratic Party.
Richard Kahle, No Party Preference, "Veteran Military Officer."
Kahle says he recently moved to San Marcos after spending the last year traveling in Asia. He says he left active military duty as an officer with the U.S. Army in late 2016 and grew up mostly in Ramona and San Marcos.
Jeffrey Patrick Malloy, Democrat, "Business Owner/Realtor."
Malloy ran against Hunter in 2016, winning just 36.6% of the vote. He is a Realtor with Keller Williams and lives in Escondido.
Shamroze "Shamus" Sayed, Republican, "Small Business Expert."
Sayed is an executive at a company that provides language and translation services. Born in Canada to immigrant parents, Sayed has spent almost his entire life in San Diego County.
William Wells, Republican, "Mayor, City of El Cajon."
In addition to being the mayor, he also is a registered nurse who holds a doctorate in clinical psychology. He is CEO of Broadwell Health Inc., which provides behavioral health services.
For more on California politics, follow @cmaiduc.
ALSO
These are the candidates running against vulnerable congressional Republicans in the Central Valley
Here are the challengers who signed up for the tough task of trying to unseat California's House Democrats (in 2018, at least)
Updates on California politics
Get our Essential Politics newsletter
The latest news, analysis and insights from our politics team.
You may occasionally receive promotional content from the Los Angeles Times.