Newsom and legislative leaders decline to embrace changes to California's wildfire liability law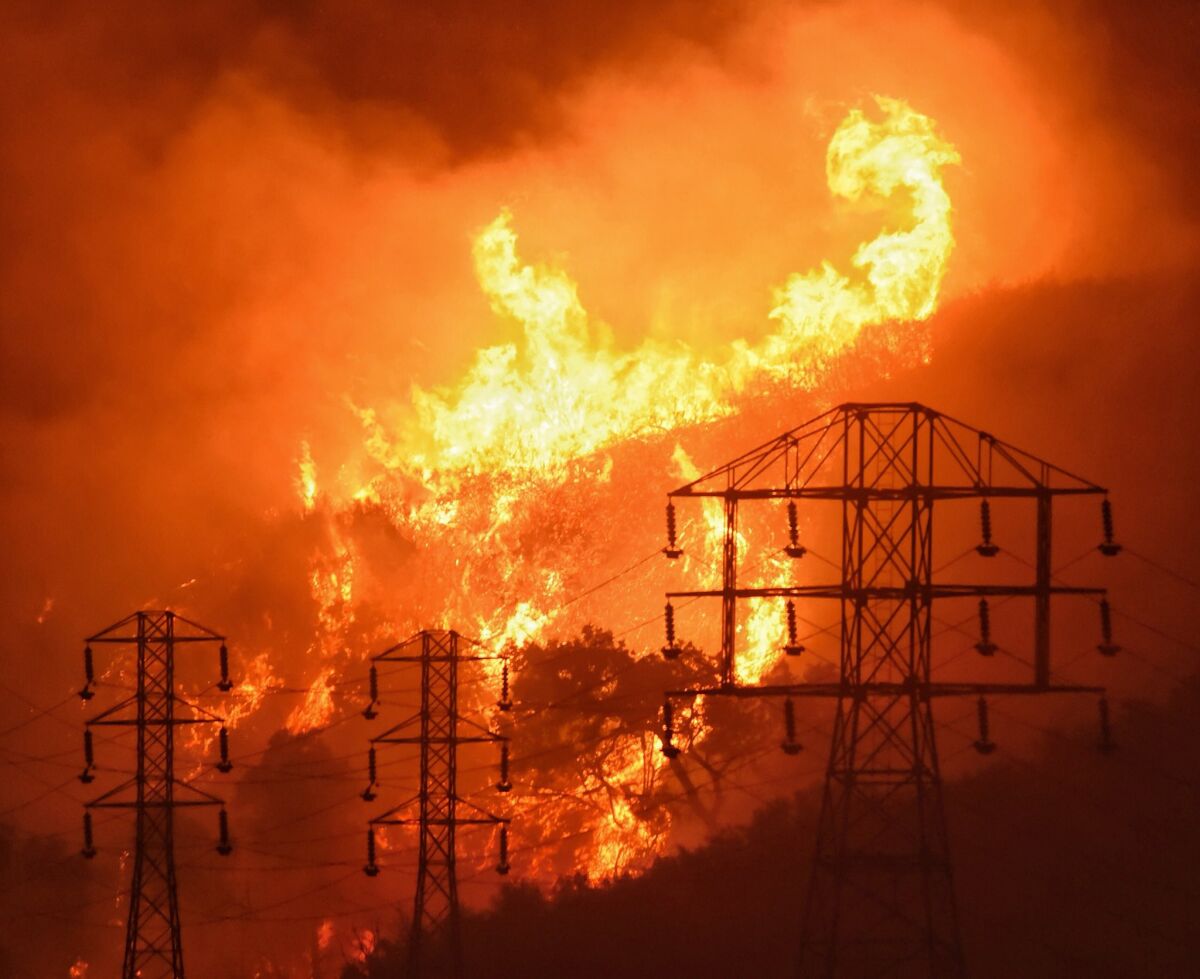 Reporting from Sacramento —
Gov. Gavin Newsom and legislative leaders on Wednesday declined to embrace requests from Wall Street to change California's controversial wildfire liability law, instead throwing their support behind a proposed multibillion-dollar fund to help utilities pay for wildfire damages and legislation to more clearly define when ratepayers would pick up the bill for claims.
The state leaders said they would continue to explore "the impact of strict liability" on ratepayers, wildfire victims and the utilities. California uses the legal principle of "inverse condemnation" to determine liability and holds utilities responsible for wildfire property damages even if negligence isn't proved.
"If the trend of massive, catastrophic wildfires persists, we may need to pursue additional changes," Newsom, Assembly Speaker Anthony Rendon (D-Lakewood) and Senate President Pro Tem Toni Atkins (D-San Diego) said in a joint statement.
The statement was made on the same day that a California commission appointed by Newsom and the legislative leaders released a report recommending the Legislature enact sweeping changes to manage wildfire liabilities. Among the commission's suggestions are changes to the state's liability law and a larger catastrophic wildfire fund to more widely spread the cost of damages among utility investors, ratepayers and homeowners insurance companies.
The comments are the governor's most prescriptive to date about how the state should address one of the most complex problems facing California.
With Pacific Gas & Electric Co. in bankruptcy proceedings and Southern California Edison vulnerable to future credit rating downgrades, another year of destructive wildfires threatens to derail the energy market unless state leaders find a way to alleviate financial pressures on electrical companies.
"This is a nonpartisan issue that is of incredible significance to the state of California," said Assemblyman Chad Mayes (R-Yucca Valley), who has introduced legislation on a wildfire fund this year. "I hate when politicians use the term and say that it's an existential threat, but I believe it in this instance."
The problem presents no easy solutions for Newsom and lawmakers.
State leaders must come up with a plan to make the utilities financially stable again, but lawmakers have been wary of any proposal that could be labeled a bailout for PG&E at the expense of ratepayers. PG&E filed for bankruptcy protection in January in anticipation of massive legal fees resulting from wildfires linked to its electrical equipment in recent years.
State law requires utilities to pay for such fires, regardless of whether a company's negligence may have caused the blaze. A law approved last year is expected to allow regulators to determine how much a utility can afford to pay and to pass on costs exceeding that threshold to ratepayers. The investor community has criticized the law for giving the California Public Utilities Commission too much discretion in appropriating costs.
The uncertainty over the potential for billions of dollars in liability to investor-owned utilities has spooked the stock market and led to credit rating declines for all three major energy providers in California. Downgrades make it more difficult for utilities to raise capital at low interest rates and have historically led to higher monthly bills for ratepayers.
State lawmakers representing fire-ravaged districts are also concerned that the courts might not require PG&E to pay all of its debts to wildfire victims, making it more difficult for people to rebuild their homes.
Neil Kalton, a stock analyst for Wells Fargo, said Southern California Edison is "one catastrophic wildfire away from having serious financial issues" like PG&E. He said it's crucial for lawmakers to do something this year.
"I think if they don't, then everyone is rolling the dice as we head into the year where wildfires are bit more common," he said.
In his State of the State speech in February, Newsom said he would convene a so-called strike force that would develop a "comprehensive strategy that we will present within 60 days" to ensure access to affordable electricity, seek justice for fire victims, protect ratepayers, prioritize the state's clean energy goals and invest in safety measures.
Lawmakers and interest groups at the Capitol were disappointed when the governor released a report in April that largely summarized the problem without providing clear directives for the Legislature to act on. The report recommended that the Commission on Catastrophic Wildfire Cost and Recovery, his strike force and the Legislature continue working on a solution.
The governor previously called for lawmakers to pass wildfire legislation before the Legislature's summer recess begins in mid-July.
The statement from Newsom and the legislative leaders on Wednesday suggests a shared desire to provide "bridge financing" to help utilities pay for wildfire costs after investigations determine the cause of a fire and before the CPUC makes a determination on whether the company can recover the losses by increasing in customer rates. Lawmakers will also pursue legislation to give the CPUC less discretion when determining cost recovery to help settle stock market uncertainty.
The administration declined to state how much money its model will require but said it would be less than the $40-billion estimates for the commission's larger catastrophic wildfire fund.
The wildfire report issued in April says the fund could be capitalized by utility investors and ratepayers and added that the state could continue a state Department of Water Resources charge on ratepayers that was implemented during the energy crisis in 2001 to provide funding. The charge is set to sunset in 2020.
A representative for the Newsom administration said the "liquidity-only" fund would not provide any caps on the potential liability that utilities could be responsible for paying. The administration's earlier wildfire report said the fund would not reduce the burden on utility customers either, but that it could stabilize the industry's credit ratings.
More stories from Taryn Luna »
Follow @tarynluna on Twitter.
Get our Essential Politics newsletter
The latest news, analysis and insights from our politics team.
You may occasionally receive promotional content from the Los Angeles Times.