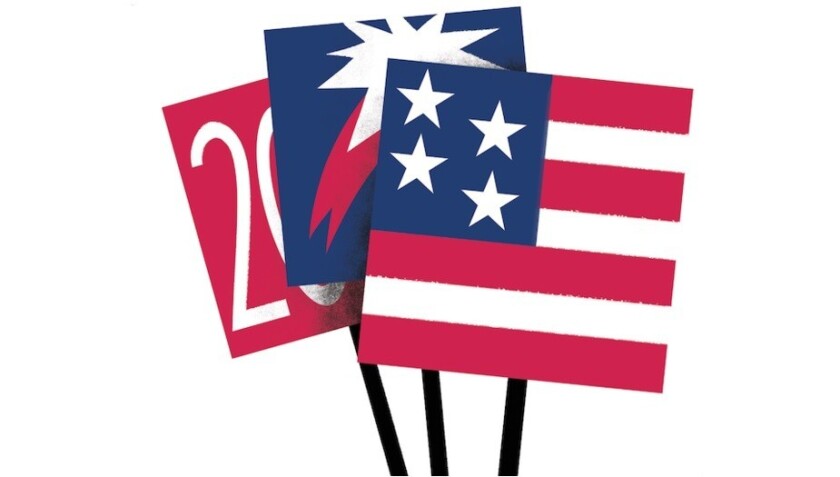 I'm Christina Bellantoni. We're welcoming the Year of the Monkey in today's Essential Politics.
New Hampshire voters have their say tomorrow, and those results will better set the trajectory of the rest of the primary season than Iowa's caucuses. The candidates — and our team — are fanned out across the Granite State with a flurry of activity.
What we've seen over the last few days is a reminder that debates matter.
CLEANUP ON AISLE 5
Sen. Marco Rubio spent Sunday working to rebound from a poor performance the night before, with backers insisting he only had a few bad minutes, and the candidate himself doubling down on the phrase he was mocked for repeating.
Voters told Evan Halper the debate made them uneasy, and as Cathleen Decker wrote in her analysis, if the governors who benefitted from the debate make a stronger showing, they can thank Rubio for the deathbed reprieves. (For the record, 13.18 million people watched.)
Your debate speed read includes Noah Bierman making a handy flow chart of all the attacks of the evening and video of Chris Megerian trying to get Donald Trump to elaborate on his "worse than waterboarding" pledge from the podium.
Decker observed Trump in New Hampshire and found his speech to be a rollicking festival of greivance. She also details the state's demographics and why that will matter Tuesday.
The Democrats face off again on Wednesday in Wisconsin.
Catch up on Saturday's events and Sunday's action on Trail Guide.
BERNING FOR CHANGE
Sen. Bernie Sanders at the moment holds a commanding lead in New Hampshire, thanks in part to its huge contingent of independent voters. Halper and Mike Memoli found a lot of sentiment like this from Sanders supporters who say they would never, ever back Hillary Clinton:
"I'd write Bernie in" if Clinton is the nominee, Kerry West, a 43-year-old independent, said while gassing up his car in Rochester. "I don't believe anything she says."
One person even told them if Sanders does not prevail, Trump would get his vote in a general election.
That story was our most-read all weekend, perhaps another data point in Sanders' strength nationally. Speaking of going viral, Sanders made a cameo on "Saturday Night Live."
MICHIGAN DETOUR
Clinton pointedly noted her rival had ducked out of New Hampshire to make that appearance in New York City, as she headed to Flint, Mich., on Sunday.
Clinton told a reporter that she was leaving for "just a few hours" to do what she can to help Flint during the water crisis. "Occasionally you go off the campaign trail," she said. "I know Sen. Sanders went to New York to be on 'SNL' and I'm going to Flint to see if we can help with the kids. That's part of it. But my commitment to this primary and to this state is absolutely rock solid."
As Memoli reports, Clinton more so than Sanders has focused on the Flint crisis, using it as an example of the myriad challenges a president has to face. She also hopes it will draw attention to the need for problem-solving, in contrast to Sanders' call for political revolution.
On Sunday, CNN announced that the two Democrats will meet for a debate in Flint on March 6, ahead of Michigan's March 8 primary.
NEW HAMPSHIRE CAVEAT
While Sanders maintains a strong New Hampshire lead, consider this stat: then-Sen. Barack Obama led Clinton in seven polls leading up to the actual vote, by an average of 8.3 points. She prevailed by 2.6 points on Election Day.
LA VOTA NEVADA
Clinton already is looking ahead to the Feb. 20 caucuses in Nevada. Bill Clinton has been campaigning in the Silver State and she released Spanish-language ads to appeal to an electorate far more diverse than the first two nominating states.
In 2008 as the battle between Clinton and Obama was just getting started, that state yielded a split vote. She earned more raw votes, thanks in part to a high turnout among women. But because Obama had a stronger statewide operation, he "won" the caucuses by earning one more delegate than his rival.
The Republican caucuses in Nevada are not until Feb. 23.
A FIGHT FOR FEMALE VOTERS
We also had strong reaction to Halper's story about Clinton's support among millennial women vanishing.
Colleen Shalby collects voter voices as women proclaim they can vote against Clinton and still be feminists.
Robin Abcarian thinks Gloria Steinem knew exactly what she was saying when she suggested young women are only supporting Sanders to get dates, and argues in her column why the iconic feminist is dead wrong.
GOLDEN STATE FOR THE TEA PARTY
Back in California, Phil Willon captures that while the tea party might be lagging at the national level, its influence with state Republicans "has become robust."
He set the scene with one of the more moderate GOP Senate candidates talking about favoring a path to legal status for people in the country illegally — and clearing a room of conservatives. The moment laid bare an uncomfortable reality facing Republican candidates as the tea party movement continues to grow across California, especially in the state's inland midsection, but still doesn't have the numbers to get an ideologically pure conservative elected as U.S. senator, governor or any other statewide post.
Instead, tea party groups are focused on city council and county supervisor races and working to assert their agenda with the state party.
OBAMA'S CALIFORNIA TRIP
President Obama is heading to California for a series of fundraisers, an appearance on "The Ellen DeGeneres Show" and a summit about the Asia Pacific region.
His first stop is Wednesday in San Jose, and he'll head south the following day.
As Essential Politics reported a few weeks ago, one of Obama's Democratic National Committee events, in Hancock Park on Thursday, will be headlined by John Legend. The concert and fundraiser is hosted by Aaron Rosenberg and Danny Rose. There is a second Hancock Park event hosted by Leah and Sam Fisher, Lisa and Ken Solomon, Sonny and Michael Lombardo.
DeGeneres' producers note that Obama's Friday interview will mark the first time a sitting president has appeared on the show in studio. Obama was last on DeGeneres' couch in 2007. Will he offer another opinion about Sanders?
Friday night, Obama will stay in Palm Springs. Early the following week, Feb. 15 and Feb. 16, Obama is hosting a summit with leaders from the Assn. of Southeast Asian Nations at Sunnylands in Rancho Mirage.
GARCETTI'S SLOW JAM
For the Los Angeles mayor with higher ambitions and a cautious approach to social media, this is one way to get attention.
SPENDING BIG IN SANTA BARBARA
Javier Panzar reports on the hundreds of thousands of dollars pouring into the congressional seat left open by the retirement of Rep. Lois Capps, with celebrity donors splitting their allegiances.
Democratic Santa Barbara County Supervisor Salud Carbajal was leading the money race with just under $1.38 million raised and $970,000 in cash on hand at the end of 2015. But 27-year-old political neophyte Justin Fareed is hot on his heels with $870,000 raised and $767,000 in the bank. Santa Barbara Mayor Helene Schneider is lagging but should still remain competitive. And this is just the kind of district where the top-two primary could come into play.
So who's giving? PACs, coal industry interests, members of Congress, even the director of "Ghostbusters" and actor Christopher Lloyd, perhaps best known as Doc Brown from "Back to the Future."
Panzar also covered the debate, which gave the lesser-known candidates in the crowded field a chance to crack jokes.
DIVIDED OVER THE SUPER BOWL
Sarah Wire tried to get California's congressional delegation to share their Super Bowl selections ahead of the game.
As for the guy who represents the district where the game was being played? Rep. Michael Honda (D-San Jose) says his focus is on security.
Our coverage of the game is here.
JUST FOR FUN
It was Wire's week to cover the intersection of politics and sports, apparently.
Here's her piece on what happened when Dub Nation went to the White House.
CATCH UP WITH OUR PODCAST
In 1911, California's constitution was amended to create a state railroad commission, an entity that over time added more and more duties and ultimately was renamed the California Public Utilities Commission.
Now, after several years of scandal and criticism, a bipartisan group of legislators wants to abolish the quasi-independent agency. On this week's episode of the California Politics Podcast, Sacramento bureau chief John Myers and his reporter roundtable analyzes the new proposal to do away with the CPUC. They also take a look at campaign fundraising in the race for the U.S. Senate and other 2016 electoral efforts.
Subscribe for free on iTunes.
WELCOME, ALLISON WISK
We announced Friday that Allison Wisk, an experienced political editor with an eye for accountability journalism and innovation, is joining our team as California politics editor.
She will start next month after more than a decade holding a variety of leadership roles at the Dallas Morning News. As the paper's deputy political editor, she helps oversee state and national political coverage, working primarily with the News' State Capitol bureau in Austin.
She has led major projects, including a yearlong examination of how government agencies have complied -- or not -- with the state's public information laws.
Her hire comes on the heels of our announcement that Liam Dillon is joining the Sacramento bureau, and just in time for what is shaping up to be a thrilling election year in California.
TODAY'S ESSENTIALS
-- George Skelton's Monday column tackles classroom size and teacher ratios.
-- Bierman crunches the super PAC spending numbers and writes that all the money in the world isn't buying votes this season — so far.
-- Dozens of boxes of office documents that former Los Angeles City Councilman Tom LaBonge and his staffers sought to destroy were instead made available by his successor. The records included planning files, letters and piles of travel receipts related to Sister Cities, a global cultural exchange program that pairs Los Angeles with other cities that had come under fire during a recent campaigns. Also among the salvaged documents were old lists of election donors, which drew scrutiny from some attorneys.
-- For cities that want to raise the minimum wage, ballot initiatives make things more complicated.
LOGISTICS
Did someone forward you this? Sign up here to get Essential Politics in your inbox daily. And keep an eye on our politics page throughout the day for the latest and greatest. And are you following us on Twitter at @latimespolitics? Please send thoughts, concerns and news tips to politics@latimes.com.
---