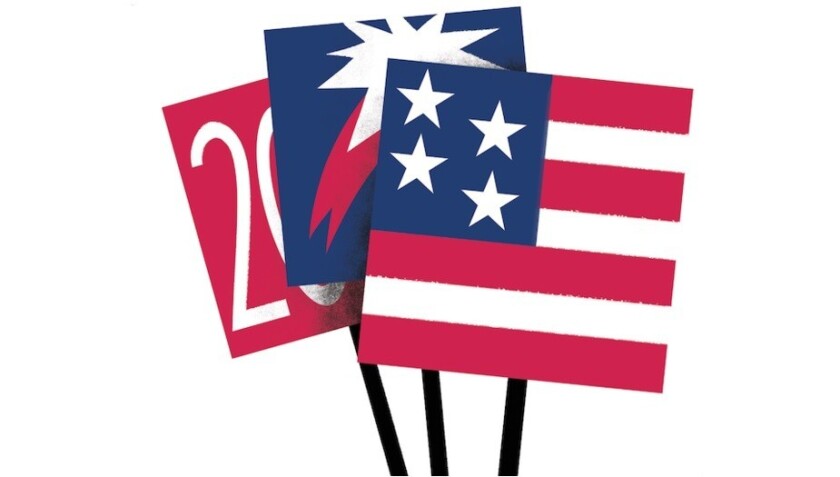 I'm Christina Bellantoni, today's Essential Politics host. And for all of the action from Tuesday's contests, let's face it, the front-runners remain the same.
On the Democratic side, Hillary Clinton dominated the evening, with victories in Illinois, Ohio, Florida and North Carolina, and a lead of less than 2,000 votes over Sen. Bernie Sanders in Missouri after the clock there struck midnight.
The story of the night might have been that Ohio Gov. John Kasich prevented a Donald Trump sweep, capturing 220,000 more votes than Trump in his home state and sending all 66 delegates into his column.
But Trump managed to prevail in Illinois, North Carolina and Florida, ending Sen. Marco Rubio's candidacy and netting at least 152 delegates.
Sen. Ted Cruz trailed Trump by less than 2,000 votes in Missouri, but failed to win anything in the four early contests. Still, the senator kept up his stump speech that he's beat Trump in nine contests "from Alaska to Maine."
Kasich's argument, of course, is that Ohio has coveted swing state status, and his was a decisive victory. But it wasn't enough.
RUBIO: 'DO NOT GIVE IN TO THE FEAR'
And second place in Florida wasn't enough for Rubio, who fell more than 440,000 votes shy of Trump's totals.
Lisa Mascaro writes that his candidacy seemed tailor-made in response to the GOP's post-2012 political autopsy, which concluded that the party's future ability to win the White House depended on doing a better job attracting younger and more ethnically diverse voters beyond its base of older, white Americans. Time magazine in 2013 declared him "the Republican savior."
His concession speech Tuesday hit on all of those themes, with the 44-year-old senator telling his disappointed fans that nasty politics would only lead to a nation where everyone hates everyone else. The remarks sounded very much like a man with a future in politics who wants to be seen as taking the high road, even if he took a detour to spray-tan land.
Naturally, that Rubio fundraiser we told you about that was planned for Thursday in Orange County has been canceled.
SOMEONE IS THINKING ABOUT NOVEMBER
This video of Clinton staff freaking out and singing Journey tells you all you need to know about the campaign's mood Tuesday night.
The candidate is looking to Arizona, with a theme you can bet you'll see in a general election should she be facing Trump. In a new Spanish-language TV ad she compares Trump to Sheriff Joe Arpaio, suggesting both are "well-known for their anti-immigrant rhetoric and agenda."
THE MATH
It takes 1,237 delegates to win the Republican nomination. Consider these numbers.
Donald Trump: 621
Ted Cruz: 396
Marco Rubio: 168
John Kasich: 138
Even if Rubio's delegates were to go into another column, it doesn't take a mathlete to figure out that no one is getting there for awhile.
SINGER HAS COMPLICATED PRIMARY PICK
Former "American Idol" contestant and 2014 congressional candidate Clay Aiken says Clinton is boring, even if he is "ready" for her to be president. But he voted for someone else in North Carolina on Tuesday.
THAT TIME KEITH RICHARDS PULLED A KNIFE TO HAVE TRUMP FIRED
Randall Roberts has the unusual Rolling Stones memory.
DEMOCRATIC DEBATE IN SAN BERDOO?
Rep. Pete Aguilar wants Clinton and Sanders to come to his district in May for the scheduled California Democratic debate ahead of the June 7 primary, saying the city "embodies the struggles and concerns faced by people in all parts of the country."
In a letter Aguilar sent to the Democratic National Committee, the freshman congressman proposed San Bernardino as a debate location and noted the city had suffered economic collapse in recent decades and the deadliest terrorist attack in the U.S. since 9/11.
SOMETHING NEW AT CITY HALL
Los Angeles elected officials on Tuesday announced the creation of the city's first Transgender Advisory Council. It will examine city hiring policies and hate crimes against transgender people.
TODAY'S ESSENTIALS
— President Obama will announce his choice for a seat on the U.S. Supreme Court at 8 a.m. PDT. Follow @latimespolitics to get the news as soon as we do.
— For the second time in two weeks the head of the state's powerful Public Utilities Commission told legislators that regulating Uber, Lyft and the ridesharing industry might be too much for his agency to handle. And, PUC President Michael Picker said, no other agency wants to do it, either. As Liam Dillon reports, ridesharing has become a huge industry in California and there's concerns that regulators aren't paying enough attention.
— An end to killing legislation in the state Assembly by refusing to move it off of the secretive "suspense file"? John Myers reports that's just what Assembly Speaker Anthony Rendon suggested in his remarks to a closed-door meeting of Democrats on Tuesday.
— Los Angeles school board member Monica Ratliff is looking to make the switch to City Hall.
— Yesterday's newsletter incorrectly included Rep. Lucille Roybal-Allard (Downey) on the list of Democrats traveling to Cuba with Minority Leader Nancy Pelosi (D-San Francisco). She is not going on the trip.
LOGISTICS
Miss yesterday's newsletter? Here you go. Did someone forward you this? Sign up here to get Essential Politics in your inbox daily. And keep an eye on our politics page throughout the day for the latest and greatest. And are you following us on Twitter at @latimespolitics?
Please send thoughts, concerns and news tips to politics@latimes.com.
---