Essential Politics: Clinton meets Hollywood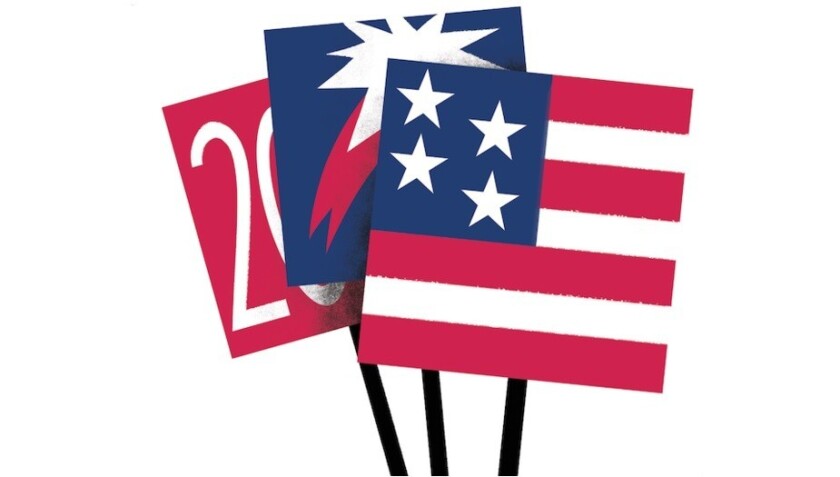 I'm Christina Bellantoni, the Essential Politics host today. Let's get started.
Hillary Rodham Clinton breezed into Los Angeles on Sunday for the three fundraisers we told you about last week, aiming to raise some cash ahead of Wednesday's end of the quarter and soothe some of her donors concerned about what's arguably been a rough summer.
The visit came with fresh polling suggesting Clinton is still ceding some ground to Sen. Bernie Sanders. (Although Joe Trippi wrote in Sunday's Los Angeles Times that pundits saying the former secretary of state's candidacy is "collapsing" are crazy since she continues to lead the Democratic field with more than 40% of the vote.)
Reports from the Hollywood Reporter and Variety from fundraisers at the home of Rob and Shari Friedman on Sunday suggest Clinton spent extra time with donors and promised to defend Planned Parenthood against GOP efforts to defund it. Among the attendees at the house of the Lionsgate Motion Picture Group co-chairman and his wife, according to the Hollywood Reporter, were "Homeland's" Howard Gordon, Hollywood political consultant Andy Spahn, longtime Clinton backer Haim Saban and Kevin Beggs of Lionsgate Television Group.
Perch, a swanky downtown rooftop bar, was the initial setting for one of the fundraisers, but the venue was switched to the newly reopened Elevate Lounge. The 21st floor surely would have been prime viewing for the supermoon total eclipse, should anyone have stuck around after Clinton moved on to her next event.
As the rich fork over $2,700 each for a photo with Clinton, it's important to take stock of how she's going after small-dollar donors at the same time. An email blast from Team Clinton on Sunday signed "Hillary" asks for $1 donations because, "I've always thought of an end-of-quarter fundraising report as an announcement of who's on our team. It's when this campaign says to the world, 'Here's who we are, and here's what we stand for.' "
She writes her team is "different" from Jeb Bush's, which she says is "made of millionaires and billionaires, and he wants to give them big tax cuts just like his brother did." She adds, "Donald Trump is the only person on his team, and, well, let's just say it's not hard to figure out who he cares about most."
NOTED
Columnist Cathleen Decker got a robocall over the weekend from Carly Fiorina related to an initiative to require parental notification for underage abortions. The call asked respondents to hit a button to get a petition. Fiorina says on the call it's not about being "pro-life" or "pro-choice," but about protecting girls' lives.
In both her 2010 Senate run and her presidential campaign, Fiorina opposed abortions under most conditions. In 2010, she supported the use of federal funds on research using discarded embryos; this year she has led opposition to Planned Parenthood's dissemination to researchers of embryos after abortion.
The call might be a reference to a measure currently collecting signatures for the ballot that would amend the state constitution to require parents or a legal guardian of a girl under the age of 18 to be notified in writing before an abortion could be performed, according to the secretary of state's website.
A group known as Californians for Parental Rights is urging support for a petition for what appears to be the same measure. People posted about a robocall on its Facebook page, but there was not any mention of Fiorina. An email sent to the group's website was not returned.
WELCOME, JOHN MYERS
If you're not following us on Twitter, you might have missed Friday's announcement that John Myers is joining the Los Angeles Times as Sacramento bureau chief. He's one of the most renowned journalists on California politics with a distinguished multimedia career covering state government and a reputation for thoughtful, explanatory reporting.
John, now senior editor at KQED, will be a critical player on the team as we expand our digital footprint in Sacramento. You'll get to know him through this newsletter after he gets started in mid-October.
TODAY'S ESSENTIALS
-- Billionaire climate activist Tom Steyer wants more Democratic debates.
-- With Speaker John Boehner headed for the exits, Majority Leader Kevin McCarthy of Bakersfield is poised to take Congress' top job and be third in line for the presidency. Don't miss Evan Halper and Noah Bierman's close look at McCarthy's fundraising prowess.
-- Our team examines what McCarthy's ascent would mean for drought policy.
-- Lisa Mascaro has the latest state of play for a possible government shutdown in the wake of Boehner's announcement.
-- Columnist Robin Abcarian writes that Fiorina's tenure at HP was bad for Silicon Valley.
-- Business columnist David Lazarus digs up an old exchange with Donald Trump, and it's pretty great.
LOGISTICS
As a reminder, Monday through Thursday, we'll send a morning email from Los Angeles. Fridays, you'll get an afternoon note with the week's best stories that provide fresh insight on the presidential campaign and other great long reads to take you into the weekend from Washington bureau chief David Lauter. Read Friday's edition here and learn more about the newsletter here.
Did someone forward you this? Sign up here to get Essential Politics in your inbox daily. And keep an eye on our new politics page throughout the day for the latest and greatest. And are you following us on Twitter at @latimespolitics? Please send thoughts, concerns and news tips to politics@latimes.com.
---
Get our Essential Politics newsletter
The latest news, analysis and insights from our politics teams from Sacramento to D.C.
You may occasionally receive promotional content from the Los Angeles Times.