It's time for the California Air Resources Board to focus on low-income areas, lawmakers say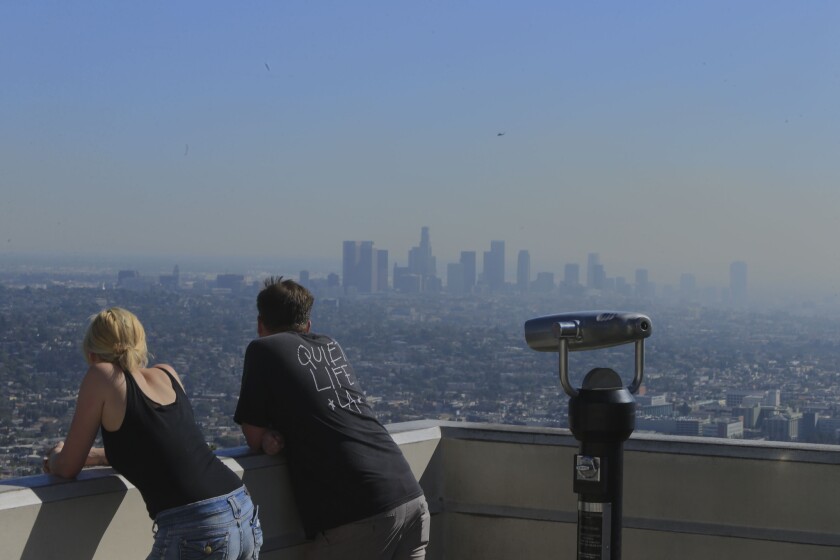 Reporting from Sacramento —
It has been called the most important climate change agency in the world, with a budget that might soon reach $1 billion, a four-fold increase in the last decade.
The California Air Resources Board's unremarkable name belies its power to influence how much you pay at the gas pump and the car you'll be driving in 30 years.
The agency's growing influence over environmental issues and the economy has increasingly led to tension among state lawmakers and Gov. Jerry Brown. The governor has counted on the agency and its longtime leader, Mary Nichols, to put into practice his sweeping goals to combat climate change around the world.
But it's the Air Resources Board's efforts to deal with pollution closer to home that led to the most recent move by the Legislature to loosen the governor's grip over the agency — a decision that could reshape how the state plans to meet its goals for dramatically reducing greenhouse gas emissions.
Last year, lawmakers passed a bill to add two members to the board — the first ones ever to not be selected by the governor. The new members of the 14-person board, chosen by the leaders of the Assembly and Senate, are supposed to represent low-income neighborhoods, which are often disproportionately affected by pollution. Advocates from those communities often felt the board failed to prioritize their needs and didn't have the resources to compete with others affected by the agency's policies.
"The Legislature got tired of folks saying, 'We go to the air board and we're treated like everyone else,'" said Dean Florez, a former Democratic state senator from the San Joaquin Valley who was appointed to one of the seats. "Industry is there with all their lobbyists and their studies. And we had nothing."
Florez and the other newly appointed board member, San Diego environmental health advocate Diane Takvorian, took their seats in February and said they plan to push for big changes to increase the agency's attention to disadvantaged communities. It's only one effort by the Legislature to assert itself.
Lawmakers criticized the Air Resources Board's budgeting and accountability over the 50 transportation-related programs it runs at a February joint oversight hearing, including measures to boost zero-emissions vehicles and regulate tire pressure. The board does not track spending or set goals for most individual programs, making it impossible for the Legislature to figure out if the programs are successful, according to a legislative committee analysis.
"We spend a lot of money on these programs," Sen. Richard Roth (D-Riverside) said, pointing at Air Resources Board executives during the hearing. "We impact a lot of people. We impact a lot of businesses. And I think it's incumbent on those of you there to set these goals and objectives and milestones, to measure progress and to come back and tell us whether we're winning or losing the battle."
The Air Resources Board's authority has grown substantially in the five decades since it was created by former Gov. Ronald Reagan. The agency's early mission was to combat car pollution and its efforts are credited with major improvements to Los Angeles' smoggy skies.
Ten years ago, lawmakers passed AB 32, the landmark effort to combat climate change by cutting the state's greenhouse gas emissions to 1990 levels by 2020. The Air Resources Board was put in charge of making sure the mandate succeeded. Other laws, plus a series of executive actions from former Gov. Arnold Schwarzenegger and Brown, have expanded the state's climate change targets as well as the Air Resources Board's reach.
Nichols, the board's chairwoman, for instance, has said all internal combustion engine cars will need to be off California roads by mid-century in favor of zero- or near-zero-emission models to meet Brown's new climate change goals.
Greater responsibility for the Air Resources Board has also come with more money. A decade ago, the board had a $240-million budget. Brown's proposed spending plan for next year would allocate nearly $1 billion to the agency.
Let's save California before we save the world.
— Dean Florez, a new member of the California Air Resources Board
Under the law, the Air Resources Board is supposed to pay particular attention to low-income neighborhoods. More than 7 million Californians live in highly polluted and socioeconomically vulnerable areas, which put them at higher risk for cancer, asthma, low-birth weights and other negative health effects, according to state research.
Amy Vanderwarker, co-director of the California Environmental Justice Alliance umbrella group of advocates across the state, said that during initial implementation of AB 32, the Air Resources Board largely disregarded an environmental justice advisory committee's recommendations for strengthening its climate change regulations on industrial emissions, refineries and power plants.
"We just really found that, at the end of the day, the Air Resources Board put those recommendations on a shelf and didn't really do anything with them," Vanderwarker said.
Those concerns feed into an impression that the agency wasn't giving low-income communities enough attention, particularly in its climate change program.
Florez and Takvorian both said that while the board has been open to concerns from the environmental justice community, it has only been as an afterthought.
"It needs to be baked into the culture of the agency," Takvorian said.
The pair also expects to take aim at a key part of the agency's strategy to reduce climate change.
As part of its cap-and-trade program, the agency wants to allow polluters to offset some of their emissions by protecting rainforests in Brazil and other countries. Doing so, the agency argues, tackles one of the largest global carbon emission problems, which benefits California.
But Florez and Takvorian said the agency's focus should instead be solely on California.
"Let's save California before we save the world," Florez said.
Nichols defended the agency's efforts to support disadvantaged communities, noting its history of cutting industrial toxins and diesel pollution. But the agency hasn't communicated well with those neighborhoods as its authority has expanded beyond its original mandate.
"If you're sitting in Barrio Logan [in San Diego] or East Palo Alto and you hear about this big powerful agency on climate change, but you don't see that agency in your community, that is an area of real concern," Nichols said.
Senate President Pro Tem Kevin de Leon (D-Los Angeles) backs the state's ambitious climate change goals, but also advocates for a greater role for the Legislature on the Air Resources Board.
Florez and Takvorian, said De Leon, will ensure climate change dollars go toward the most polluted communities and keep lawmakers informed.
"They're our voice," De Leon said. "They're our eyes and ears on the [Air Resources] Board."
Twitter: @dillonliam

ALSO:
How can gas company offset emissions from the Aliso Canyon leak? Regulators offer a plan
State lawmakers challenge Air Resources Board's power over climate change rules
---
For reporting and exclusive analysis from bureau chief John Myers, get our California Politics newsletter.
You may occasionally receive promotional content from the Los Angeles Times.