With a deadline looming, there's a deal between Gov. Jerry Brown and lawmakers on a new state budget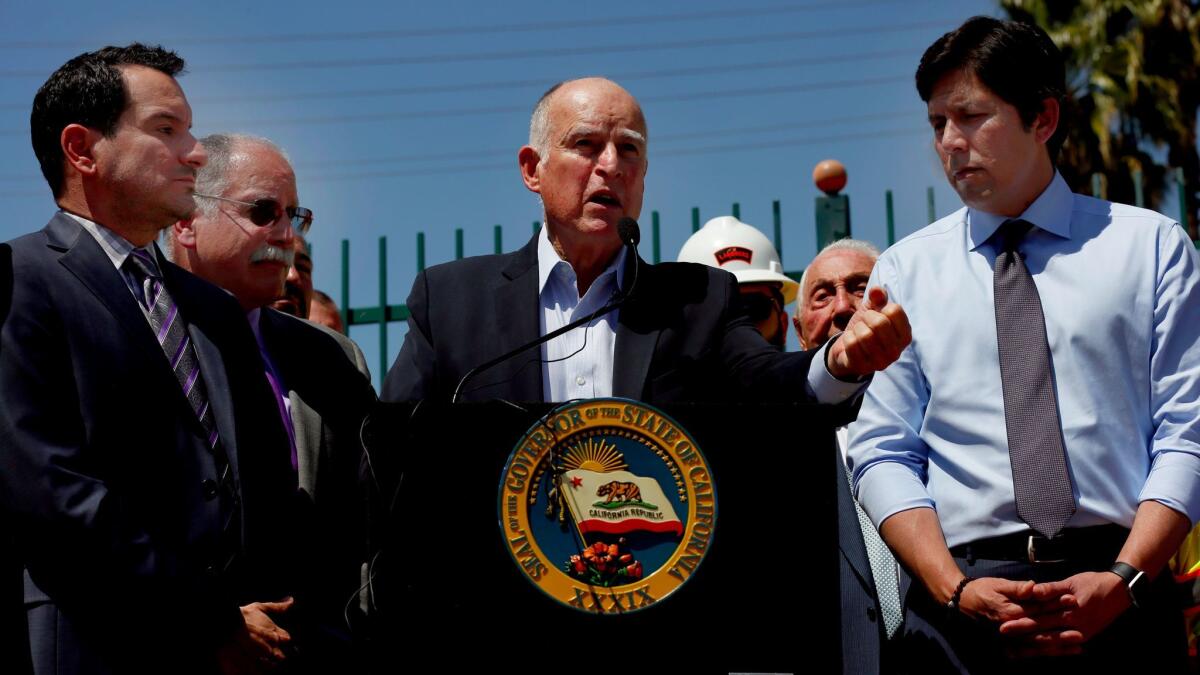 Reporting from Sacramento —
Gov. Jerry Brown and lawmakers unveiled a final state budget deal Tuesday, settling disputes over how to spend tobacco tax dollars and boosting the bottom line of California's largest public employee pension fund.
The agreement, announced by Brown and Democratic leaders of the state Senate and Assembly, paves the way for both houses to ratify the $183.2-billion spending plan Thursday — the constitutional deadline for the Legislature to take action.
"This budget keeps California on a sound fiscal path and continues to support struggling families and make investments in our schools," Brown said in a written statement.
A number of state programs will receive more money than the governor had originally proposed. Spending in the state's general fund would run about $1 billion higher than Brown proposed last month, largely made possible by higher revenue forecasts and delaying other expenses until future years.
Key to the agreement was a resolution of differences over how to spend an estimated $1.3 billion in new tobacco taxes approved by voters last fall. Under the deal struck between Brown and Democrats, $465 million of the new revenue would go toward boosting payments for doctors and dentists who see patients on Medi-Cal, the government-subsidized healthcare program for the poor.
How to spend the revenue generated by Proposition 56, the November 2016 initiative that imposed a $2-per-pack tax on cigarettes and other tobacco products, proved to be an enduring sticking point through the months-long season of budget negotiations.
The Brown administration, which has shown skepticism that increasing the Medi-Cal reimbursement rates will lead to providers seeing more of the program's patients, initially balked at directing money to doctors and dentists. Instead, the governor proposed putting most of the new tobacco tax dollars toward overall Medi-Cal expenses.
In the end, the medical and dental lobby secured higher payments, albeit less than envisioned when sponsoring the initiative last year. The money — $325 million to physicians and $140 million to dentists — would be doled out as bonuses to those who see more Medi-Cal patients. The deal also includes $50 million to increase reimbursements to reproductive health providers, such as Planned Parenthood, and $27 million for higher payments to certain care facilities for the developmentally disabled. Around $700 million would go toward general Medi-Cal costs.
The measure also contains caveats. The increased payments would be subject to approval by the Trump administration and are contingent on the federal government refraining from reducing its share of Medicaid funding. The legislation as written allows for payments to providers but does not require them, which made some interest groups wary.
The plan would not expand Medi-Cal access to young adults up to age 26 who are in the country illegally, despite support from Democrats in both houses and lobbying efforts by health advocacy groups. The proposal, which would have built on California's policy to allow children up to age 19 in the country illegally to enroll in Medi-Cal, would have cost around $230 million, according to the Brown administration.
Anthony Wright, executive director of the advocacy group Health Access, vowed to press for that expanded eligibility in the future because "the need is there."
Despite that disappointment, Wright, whose group backed Proposition 56, was generally supportive of the spending plan.
"These are welcome and needed investments," Wright said. "They are the kinds of things people supported when they voted for a tobacco tax that would allow folks to invest in our Medi-Cal program."
In all, the budget anticipates around $1.7 billion generated from the tobacco tax in the coming budget year. In addition to healthcare spending, the budget would put money toward enforcement of the tax, research and anti-smoking programs, all detailed in the initiative.
How should California spend $180 billion-plus? Here's what is under negotiation in Sacramento »
Most of the other disputes over the new spending plan were resolved last week. One item that did not seem controversial, even though its complexity had left it a work in progress, proved troubling enough to delay the budget deal's planned announcement by almost an entire day. Additional negotiations were needed to resolve concerns about Brown's proposal to make a $6-billion supplemental payment to the California Public Employees' Retirement System, or CalPERS. The money is to be borrowed from a surplus fund of cash that belongs to other state agencies, and would be replaced over time from money earmarked for debt payments.
In all, that would bring the state's CalPERS payment in the coming year to $12 billion — an effort to get a jump on a portion of the long-term unfunded liabilities facing the pension system.
Whether the final strokes of the deal will be embraced by key interest groups is unclear. Some backers of Proposition 56 have said for months their intent — reflected in the law's language — was to put the bulk of the new tax revenue toward payments to healthcare providers, in order to motivate doctors and dentists to participate in the Medi-Cal program to ensure more patients would receive care. Their cause was largely taken up by Democratic lawmakers in both houses and was also echoed last week by a handful of legislative Republicans.
"Given where we started in January, the Legislature's action to invest $546 million in Medi-Cal providers this year, with a target of $800 million next year, is a step in the right direction to improve access for the third of California patients covered by Medi-Cal," said Joanne Adams, spokeswoman for the California Medical Assn. "However, there is still work to be done to fulfill the promise of Prop. 56."
Others criticized some of the side agreements contained in bills related to the budget. One proposal unveiled Monday seeks a revamping of state election law related to removing a lawmaker from office. That could help a freshman Democrat, Sen. Josh Newman (D-Fullerton), survive a recall effort now underway that was sparked by his vote for a gas tax increase to fund new transportation repairs. One backer of the recall threatened to file a lawsuit if the provision remains in the budget.
Republicans railed against the recall provision being quietly tucked into the budget. They also warned Democrats that even the governor's somewhat cautious economic projections over the next few years suggest deficit pressures could return.
"We may look back on this year and regret we didn't do more to get spending under control," Assemblyman Jay Obernolte (R-Big Bear Lake) said.
Lawmakers are expected to send the spending plan to Brown's desk by the end of Thursday night. They must forfeit their salaries if a budget is delayed beyond June 15.
Follow @melmason and @johnmyers on Twitter for the latest on California politics.
State budget plan boosts K-12 spending and fixes Oroville, but how about those tobacco-tax dollars?
Dispute over tobacco tax money sparks a budget brawl between the governor and medical groups
---
UPDATES:
6:15 p.m.: This story has been updated with additional details on the budget plan and reaction from lawmakers.
This article was originally published at 9:10 a.m.
Get our Essential Politics newsletter
The latest news, analysis and insights from our politics team.
You may occasionally receive promotional content from the Los Angeles Times.