Q&A: What got done in California's new state budget and what didn't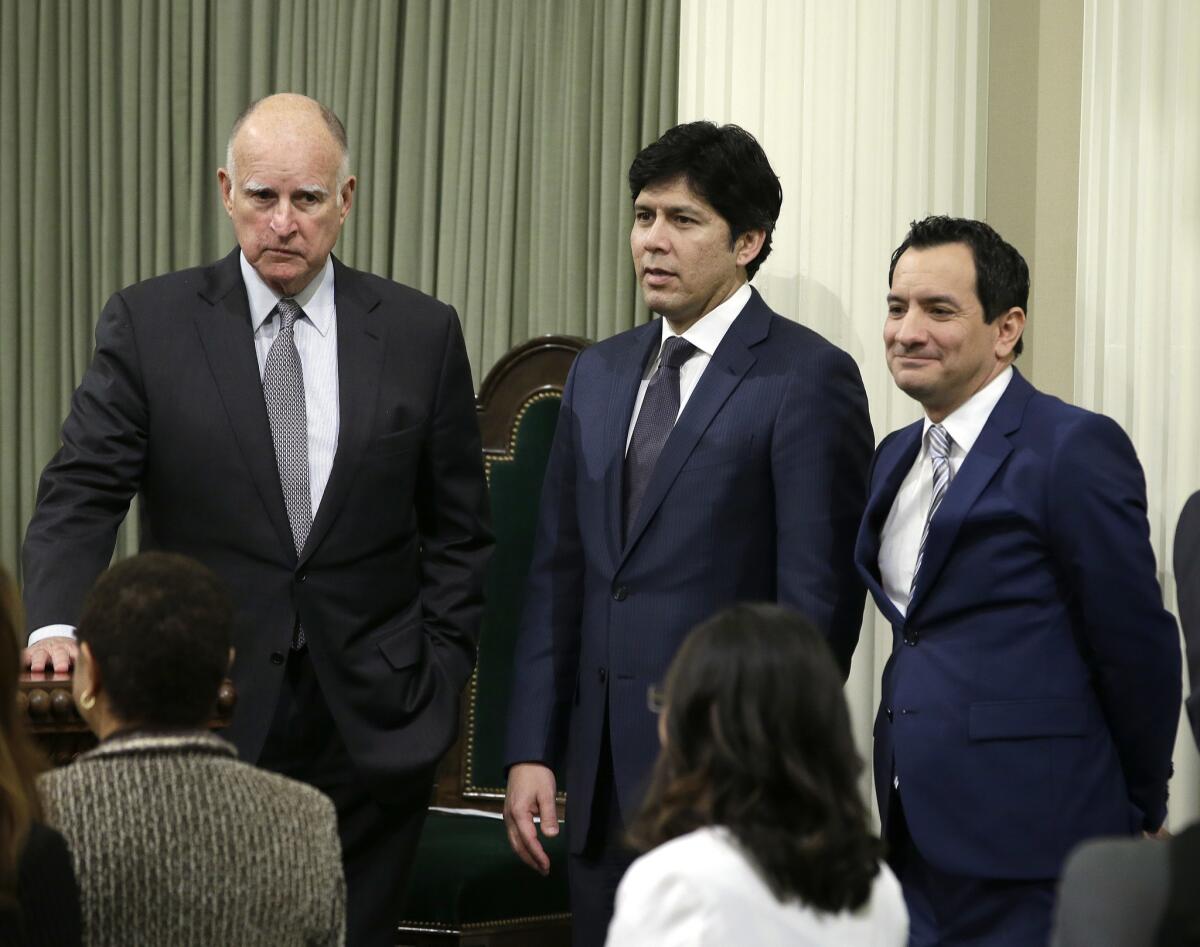 Every year in California's state Capitol, some budget issues get resolved and others get pushed further down the road. And it's a mixed bag in the new deal passed by lawmakers on Wednesday. More work on budget-related bills is expected next week.
Although the $170.9-billion spending plan includes more funding for programs that help the state's poor, a few other longstanding issues remain unresolved.
Done: Ending the 'maximum family grant' for welfare assistance
Welfare checks are distributed to families based on their number of children, but two decades ago California added a restriction. If another child was born while the family was already receiving benefits, there wouldn't be any extra money unless the baby was conceived through rape or incest.
Anti-poverty advocates have spent years trying to get rid of the rule, known as the "maximum family grant," which they said reflected accusations about about so-called "welfare queens" who have additional children to receive more government assistance. Under the change, California families enrolled in the CalWORKS program would receive an extra $136 per month per child. An estimated 130,000 children in 95,000 families would benefit.
"We have begun chipping away at the injustices of the past," said state Sen. Holly Mitchell (D-Los Angeles), who spent years pushing to remove the restriction.
Done: Child-care funding
Female lawmakers made additional funding for state-subsidized child care one of their top priorities at the beginning of the budget process this year.
The final budget deal falls short off their original goal, but rates paid to child-care providers will be increased to keep pace with California's increasing minimum wage. The extra funding is expected to total $500 million annually starting in 2019.
"We're trying to be progressive and think about the future," said Assemblywoman Cristina Garcia (D-Bell Gardens), vice chairwoman of the Legislative Women's Caucus.
SIGN UP for our free Essential Politics newsletter »
Almost done: Low-income housing
Gov. Jerry Brown upped the ante in the state's housing crisis with his revised budget in May by proposing to streamline regulations for new developments that reserve a certain percentage of their units for low-income residents. The governor was responding to a funding push from legislators, especially Assembly Democrats, who had asked for more than $1 billion in new housing subsidies.
The final budget ties the two issues together. Brown has agreed to spend $400 million to subsidize low-income housing if the Legislature passes a law making it easier to build homes. But the details of the regulatory changes still need to be worked out by the end of the legislative session in August, and no money will be spent until that happens.
Not done: Cap-and-trade spending
For the second straight year, Brown and lawmakers failed to agree on a spending plan from the state's greenhouse gas reduction fund, leaving programs for subsidizing clean cars and other efforts to combat climate change running low on cash. The state has stockpiled $1.4 billion in the fund, and some environmental advocates believe Brown is holding back the money as an incentive for lawmakers to reach a broader deal on extending the cap-and-trade program.
Legislative leaders said they hope to reach a spending agreement by the end of session in August, when they'll likely be debating a wide range of climate change issues.
Not done: Road repairs
It's been more than a year since Brown convened a special legislative session to find money to fix California's dilapidated roads, but no agreement has been reached.
State officials have estimated the price tag for all backlogged projects at $59 billion. To begin chipping away at the problem, Democrats have suggested raising the gas tax, increasing vehicle registration fees and creating an annual "road access charge." There's also been talk of a new fee for drivers of electric cars because they contribute to road maintenance through the gas tax.
Republicans want the state to use its general budget funds or even revenue from the cap-and-trade program to pay for transportation needs. None of the proposals has coalesced into a final agreement, despite prodding from labor unions and business groups who are united in a desire for more infrastructure spending.
"I still harbor hope that we can secure a deal. Let's get past this budget," Senate leader Kevin de León (D-Los Angeles) said on Wednesday, "and then we will roll up our sleeves and engage."
Twitter: @chrismegerian
ALSO:
California Legislature approves $171 billion state budget
California doesn't have enough housing, and lawmakers aren't doing much about it
Get our Essential Politics newsletter
The latest news, analysis and insights from our politics team.
You may occasionally receive promotional content from the Los Angeles Times.