Can California go its own way on federal environmental protections? These lawmakers want to try
Reporting from Sacramento —
California lawmakers want to build a regulatory wall around the state, opening a new front in their brewing war with President Trump as they try to prevent any rollbacks in federal rules from weakening environmental protections here.
The new legislation, announced Thursday by Senate President Pro Tem Kevin de León (D-Los Angeles) and his colleagues, is an attempt to ensure federal rules on air quality, water protection, endangered species and worker safety would stay on the books in California even if they're loosened in Washington. Federal standards in place before Trump took office would become enforceable by state officials in California.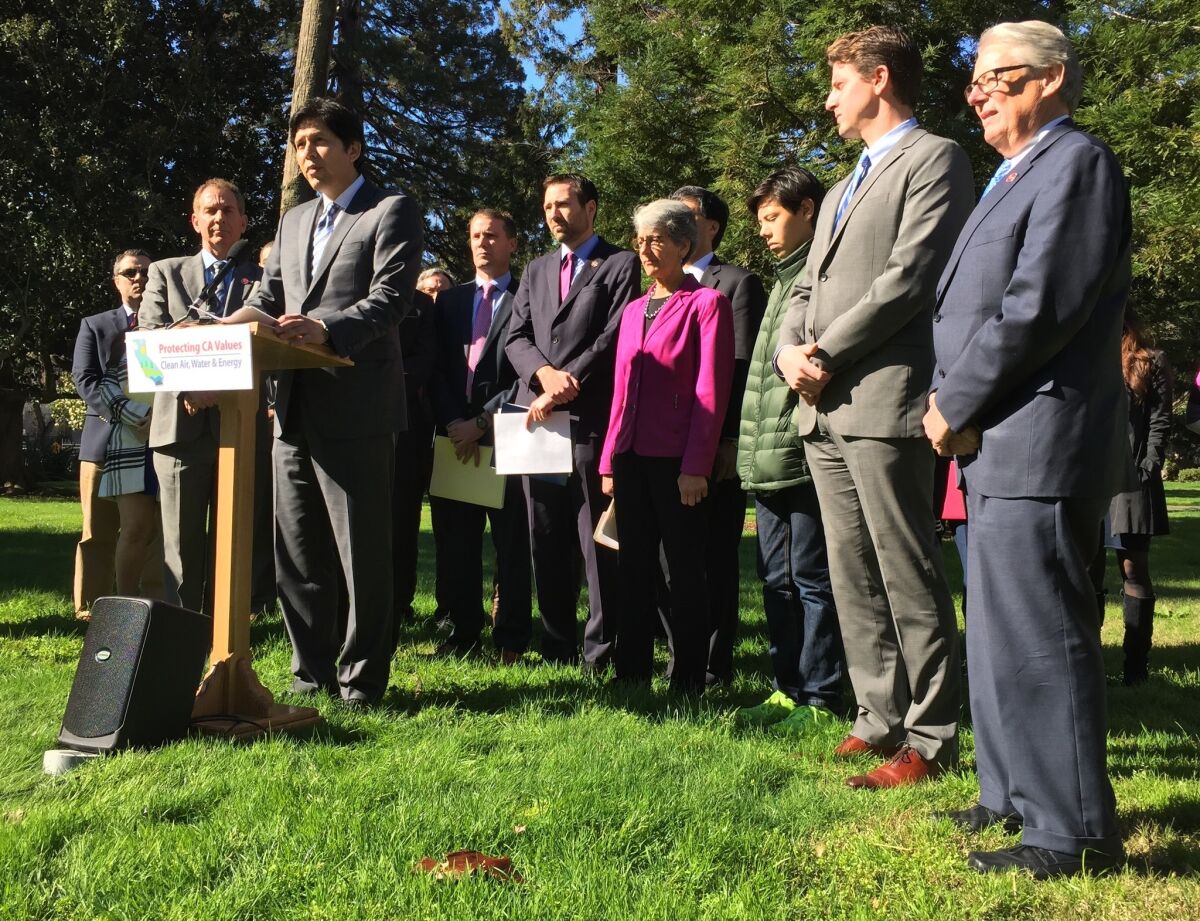 "California can't afford to go back to the days of unregulated pollution," De León said at a news conference outside the Capitol. "We're not going to let this administration or any other undermine our progress."
Another measure would try to prevent Washington from selling federal land in California to private developers without first offering it to state officials. A third proposal would protect federal workers, such as engineers and lawyers, from losing state certifications and licenses if they blow the whistle on problems at their agencies.
The sweeping package of legislation could be a prelude to drawn-out legal battles between California and Washington, and they arrive as Trump prepares to loosen federal environmental regulations.
"California will undoubtedly test the limits of what it's possible for a state to do," said Cara Horowitz, co-director of UCLA's Environmental Law Clinic. The state, she said, "has made very clear that it sees itself as the environmental resistance in the United States."
Follow live coverage from the Capitol on Essential Politics »
Trump has already signaled his intention to slash regulations enacted under President Obama, including policies for reducing greenhouse gas emissions from power plants and expanding protection of wetlands.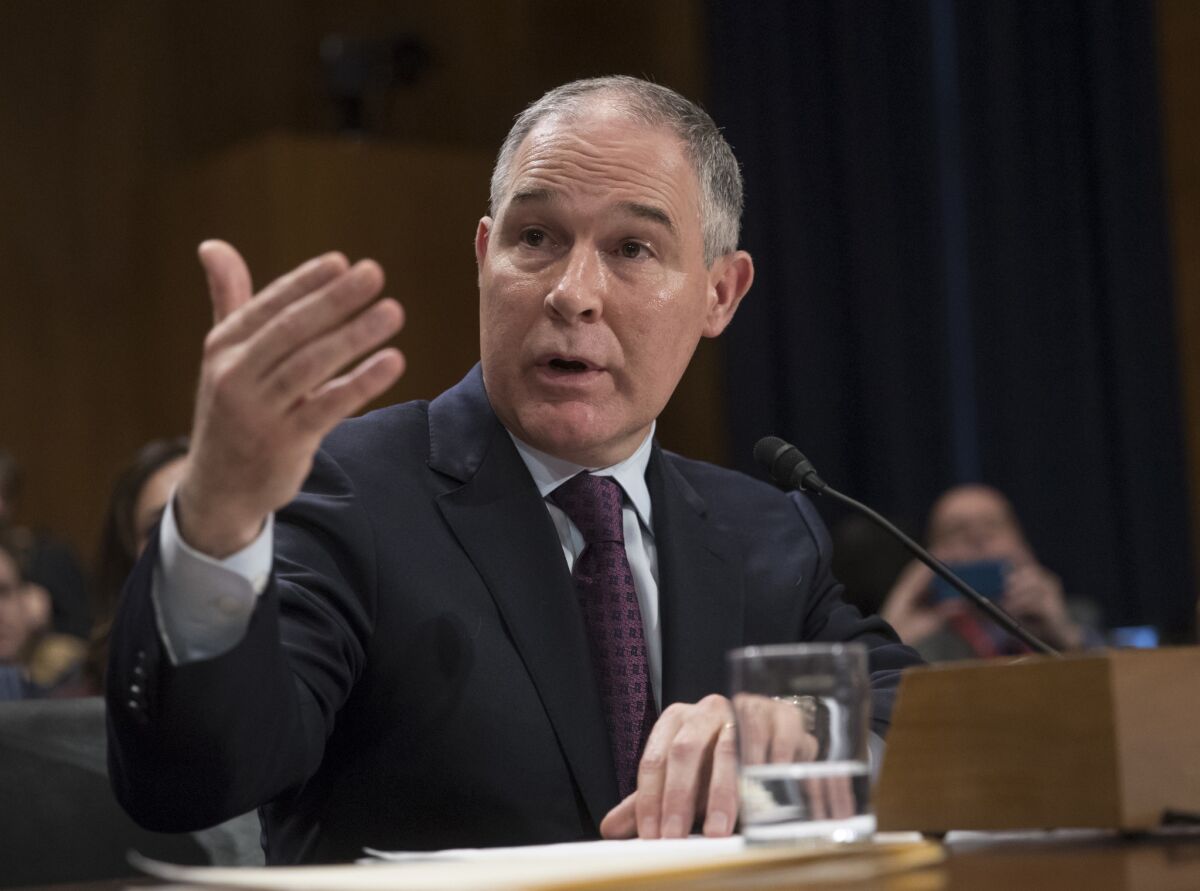 His choice to lead the U.S. Environmental Protection Agency, Scott Pruitt, fought such rules as Oklahoma's attorney general. In a recent interview, he suggested the agency may not have the authority to regulate carbon dioxide, which contributes to global warming.
Although California has some of the strongest environmental policies in the country — including an aggressive plan for fighting climate change — it relies on an overlapping network of state and federal rules.
Because of that, De León and his fellow Democrats — other bill authors include Sens. Henry Stern (D-Canoga Park), Ben Allen (D-Santa Monica) and Hannah-Beth Jackson (D-Santa Barbara) — fear changes in Washington could derail California's efforts. Their proposals would empower state regulators to enforce provisions in the federal Clean Air Act, the Clean Water Act, the Safe Drinking Water Act and other laws.
If the legislators are successful, polluters hoping for more leeway from the Trump administration could find themselves stymied in California. And some sea otters, turtles and frogs that live in the state would remain protected under state law.
This isn't the first time California has tried to play defense against a Republican administration in Washington. In 2003, when President George W. Bush was relaxing regulations, state lawmakers approved legislation to maintain higher standards for power plants and other facilities.
But the new proposals are much broader, and insulating California from changes in federal regulations is not a simple task.
"In some areas, it can be very effective," said Rick Frank, director of the California Environmental Law and Policy Center at UC Davis. "In other areas, depending on the federal laws, it might be more difficult."
For example, the state needs waivers from the federal government when it wants to enact rules on vehicle emissions that are more stringent than national standards under the Clean Air Act. The new proposals announced Thursday seem unlikely to change that, and Pruitt has already hinted he may view waiver requests from California more skeptically than previous administrations did.
Federal lands could be another difficult issue. Roughly half the land in California is owned by the federal government, including forests and mountains under the stewardship of the National Park Service.
"The federal government has far greater latitude with how it manages federal land," Frank said.
But he said state officials may have a stronger hand in other areas, such as protecting wetlands and endangered species, where California already has an extensive set of rules in place.
The new legislation is part of a wave of proposals from California lawmakers angling to throw roadblocks in the path of Trump, who remains highly unpopular in the predominantly Democratic state.
They've proposed measures to provide legal assistance to immigrants in the country illegally and to prevent local law enforcement in the state from working with immigration authorities. Legislative leaders hired former U.S. Atty. Gen. Eric H. Holder Jr. as outside counsel to oversee a team of lawyers in potential legal battles with the Trump administration.
There's even talk of using the state's strict environmental rules on new developments to block building a wall along the southern border with Mexico. However, legal experts don't expect that strategy to be effective if construction moves forward.
Twitter: @chrismegerian
ALSO
Trump's EPA pick poised to survive Senate fight, but his brewing battle with California will be harder to win
As the White House changes course on climate change, California stubbornly presses forward
---
Life is stressful. Our weekly mental wellness newsletter can help.
You may occasionally receive promotional content from the Los Angeles Times.