Host of next United Nations climate conference turns to California in the global warming battle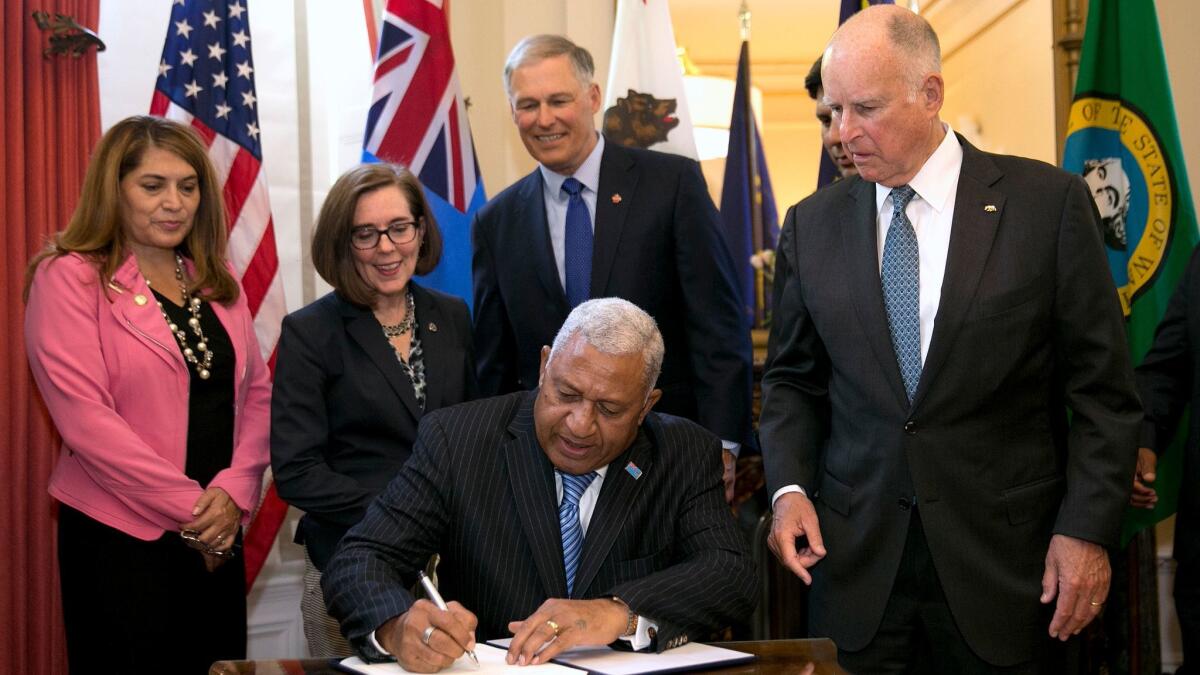 Reporting from Sacramento —
As the president of this year's United Nations conference on climate change, Fiji's prime minister is responsible for rallying countries to battle global warming.
But on Tuesday, that effort drew him not to a national capital but to Sacramento, where he endorsed Gov. Jerry Brown's ambitious plans on climate change.
Prime Minister of Fiji Frank Bainimarama signed an international agreement that California has spearheaded with states and provinces around the world to set tougher targets for reducing greenhouse gas emissions, a symbolic step intended to help counterbalance President Trump's decision to withdraw from the Paris deal on climate change.
"If there's one thing we have all learned over the last two weeks, for every action, there is a reaction," Bainimarama said during a ceremony in the governor's mansion. "People of all walks of life across America have spoken very loudly, telling the world that America will continue to tackle climate change."
He announced that Brown will be a "special advisor for states and regions" at the November conference in Germany, where countries will flesh out more details on the agreement reached in Paris.
"Are you with me, governor?" he asked.
"I'm with you!" Brown replied.
Bainimarama, who represents an island nation threatened by rising sea levels, is trying to demonstrate to the rest of the world that progress can still be made to reduce emissions despite Trump's retreat. He joked that Trump's decision to pull the country out of the Paris agreement will make the next round of negotiations, which are set for Germany in November, "very exciting" but insisted that the fight "must move on."
"It has nothing to do with politics," he said. "It has to do with our existence."
While only national governments have had a formal seat at the table during United Nations negotiations, the announcement comes at a time when there's talk of finding a larger stage for state and local leaders like Brown. He's spent the last few years promoting the "Under 2 MOU," a coalition aiming to reduce emissions enough to prevent global temperatures from rising more than 2 degrees Celsius.
"We're going to be there [for the climate negotiations]. We're going to play an important role," the governor said on Tuesday while joined by Washington Gov. Jay Inslee and Oregon Gov. Kate Brown.
Brown has traveled widely to talk about climate change in recent years, and he's gaining a higher profile for his work on the topic in contrast to Trump. He recently returned from China, where he sat down with the Chinese president, and last week he met with Germany's environmental minister in San Francisco.
"There's no question that if you want action on these issues from the United States governments, you have to work with leaders like Gov. Brown," said Terry Tamminen, a former state environmental official now serving as chief executive of the Leonardo DiCaprio Foundation, which works on climate issues. "Not only is the Trump administration incapable of handling issues like this, they're openly hostile."
Tuesday wasn't the first time someone of Bainimarama's stature has visited Sacramento. When Costa Rican diplomat Christiana Figueres was the top United Nations official on climate change, she came here before the Paris summit in 2015 to praise California's leadership.
But her visit came at a time when the Obama administration was committed to reaching an international accord to reduce greenhouse gas emissions, something that was achieved in Paris two years ago. Bainimarama arrived here soon after Trump pulled the country out of the agreement.
Building a counterweight to Trump, however, hasn't been easy. Most of the country's emissions come from areas that haven't pledged support for the Paris accord or joined an agreement like California's Under 2 MOU, according to numbers compiled by the Washington-based nonprofit Climate Interactive.
"The target is further out of reach. It's incumbent on all of us to make sure everyone else who's in succeeds," said Elizabeth Sawin, co-director of Climate Interactive.
Carl Pope, the former executive director of the Sierra Club who co-wrote a book on climate change with Michael Bloomberg, is optimistic that the economics of clean energy will help turn the corner from fossil fuels.
"Lots of people are going to get us to the Paris goal without thinking about the Paris goal," he said.
Twitter: @chrismegerian
ALSO:
Trump is creating a void on climate change. Can California persuade other states to help fill it?
China is now looking to California – not Trump – to help lead the fight against climate change
Get our Essential Politics newsletter
The latest news, analysis and insights from our politics team.
You may occasionally receive promotional content from the Los Angeles Times.