Newsletter: Essential Politics: The credits and the cash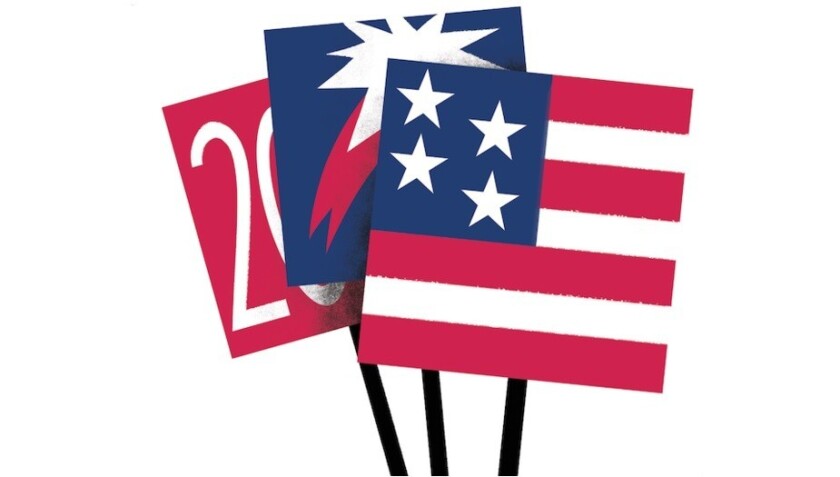 For three hours today, major industries that discharge greenhouse gases into the atmosphere will ponder how many pollution credits to buy and at what price. Make no mistake, the political implications here in California are huge.
Good morning from the state capital. I'm Sacramento Bureau Chief John Myers, and we begin today with a quick check on the politics of climate change playing out on multiple fronts over the next few weeks — a high-stakes debate for Democrats like Gov. Jerry Brown, the business world and environmental advocates.
CAP AND TRADE CASH: HOW MUCH AND HOW TO SPEND IT
The most fascinating part of what happens today won't be seen by any of us, and we won't know for at least a week any of what happened.
State environmental officials will participate in a private auction of greenhouse gas pollution credits, where companies and corporations weigh whether they want to buy "allowances" to emit greenhouse gases above the mandated level at which regulators have them capped.
Thus, the often discussed cap-and-trade program.
While the auction happens today, the first summary of the results won't be made public until next week. Full results, including how much money was collected from auctioning off these pollution credits, won't be published until next month.
As we reported in June, the springtime auction of credits was a flop and sparked major concerns about the fate of policies that depend on hundreds of millions of dollars in cap-and-trade cash.
That, though, is only part of the story. The legality of the state's ability to raise cash from the auctions is being threatened in court, and Brown may be struggling with finding enough support in the Legislature to extend the landmark 2006 law that launched California's climate change quest.
As always, we'll have the latest on climate negotiations and all of the action from the final month of legislative sessions on our Essential Politics news feed.
And check out our new bill tracker page, too, where we're keeping tabs on the biggest state Capitol battles.
AND NOW, EXTREME VETTING
Back on the presidential beat, Donald Trump has returned to one of his signature issues as he tries to change the narrative of campaign chaos.
That narrative gained a new slogan on Monday: "extreme vetting." As Noah Bierman reports, the comments made in Ohio may end up as a de facto Trump doctrine.
" We should only admit into this country those who share our values and respect our people," said Trump.
Here's a closer look at what the candidate might actually mean by "extreme vetting."
ONE DONALD, TWO PARTIES: HE'S NOW ALSO THE AMERICAN INDEPENDENT PARTY NOMINEE
Meantime, Trump will make a special kind of election history in California on election day: the first candidate in at least 80 years who will be the nominee of two different political parties.
This past weekend, leaders of California's American Independent Party voted to give Trump and Indiana Gov. Mike Pence their spot on the Nov. 8 ballot. Under state election law, that means Trump's name will have two parties listed beside it: Republican, American Independent.
As for the candidate's response?
"Mr. Trump's campaign did not seek the endorsement or nomination of the American Independent Party," Tim Clark, Trump's state director, said in an emailed statement.
BIDEN AND CLINTON: HELLO, SCRANTON
A long-awaited campaign trip for Vice President Biden and Hillary Clinton to Biden's hometown of Scranton, Pa., was reframed at the last minute to more sharply contrast with Trump's terrorism talk.
And as Michael Memoli reports, Biden didn't mince words on how he views the impact of the Trump campaign on U.S. soldiers serving in Iraq.
"If my son were still in Iraq, and I say to all those who are there, the threat to their life has gone up a couple clicks," Biden said.
POLICE BODY CAMERA VIDEO OF OFFICER DEATHS MAY BE RESTRICTED
Lawmakers in Sacramento haven't reached any consensus on how to handle the sticky privacy and transparency issues presented by police body cameras this year.
But one body camera measure advanced narrowly through the state Senate on Monday, one that would block the release of footage showing an officer's death.
Lawmakers in support said it would protect the privacy of officer families, while those opposed believed it could harm trust between the public and police, as Liam Dillon reports.
NIXON LIBRARY'S NEW VIEW ON HISTORY
The official library of the late President Richard Nixon was once known as just "another Southern California theme park" whose reality level was "slightly better than Disneyland." The original Watergate exhibit there, approved by Nixon himself, depicted the episode as a "coup" orchestrated by Nixon enemies and suggested the infamous 18½ minutes missing from a key recording may have been deleted due to a "mechanical malfunction."
That narrative was revised in 2011, with a refreshed and more critical Watergate exhibit that hewed more closely to the historical record. In October, a $15-million renovation of the rest of the museum's 70 plus exhibits will reopen with the aim of building an unflinching but well-rounded portrait of a complicated man and his presidency — the latest step in an angst-ridden effort to lend the library a greater level of credibility and accuracy.
VIETNAM WALL PUSH
Burbank Rep. Adam Schiff joined a push by Vietnam veterans to have the names of 74 men who died outside the war zone added to the Vietnam Veterans Memorial Wall in Washington, D.C., Sarah Wire reports.
Schiff, who's been battling pneumonia, hopped on a bike for a few miles alongside 74-year-old veteran Del Francis, who was finishing a 1,550-mile trek from Texas to Washington to draw attention to the issue.
MONDAY'S MISSING CAPITOL INFORMATION
Due to a formatting error, a few items were omitted from yesterday's newsletter mid-sentence on actions taken by lawmakers in Sacramento in last week's clearing of the appropriations "suspense file."
With apologies and without further ado:
— Legislation that sought to address a 2007 U.S. Supreme Court ruling that found the state's sentencing policies unconstitutional was shelved. It would have required a jury to weigh all aggravating factors that could lead to longer sentences for felony offenders.
— A measure that would have provided $15 million in funding for law enforcement agencies seeking to analyze DNA evidence and investigate cold cases was spiked as well. While not his most high profile bill, it did hold a meaningful personal connection for author Assemblyman Mike Gatto, whose father was killed nearly three years ago in an apparent home invasion. The case remains unsolved.
— A measure to stiffen penalties for trafficking fentanyl, a powerful opiate, also failed to advance. The drug was linked to a string of overdoses and deaths in Sacramento County earlier this year.
— Diapers and tampons could become cheaper in California if the Senate approves two measures that also cleared the suspense file.
TODAY'S ESSENTIALS
— San Francisco activist Gloria La Riva will be the presidential nominee for the Peace and Freedom Party.
— The bipartisan commission that has organized presidential debates for decades has settled on which polls will determine who does, or doesn't, get an invitation to appear on stage this fall.
— Trump campaign chairman Paul Manafort is fighting back against charges of accepting money from pro-Russian groups in his work with the former president of Ukraine.
— Hollywood actors may soon be allowed to keep their age confidential on entertainment job websites, under legislation that cleared the state Senate on Monday.
— Rescue a pet from a hot car? You'd be free from any legal liability for smashing a window under a bill moving through the statehouse.
— Several Democrats in California's congressional delegation had their private emails and cellphone numbers posted online late last week as part of the hack on the Democratic Congressional Campaign Committee.
— Former U.S. Rep. Duncan L. Hunter is being sued over allegations that he failed to follow through on an agreement to secure American citizenship for two children when they were formally adopted decades ago.
— California lawmakers paved the way Monday to rein in the ability of police departments to seize property from suspected criminals.
LOGISTICS
Miss yesterday's newsletter? Here you go. Did someone forward you this? Sign up here to get Essential Politics in your inbox daily. And keep an eye on our politics page throughout the day for the latest and greatest. And are you following us on Twitter at @latimespolitics and @LATpoliticsCA?
Please send thoughts, concerns and news tips to politics@latimes.com.
---
Get our Essential Politics newsletter
The latest news, analysis and insights from our politics teams from Sacramento to D.C.
You may occasionally receive promotional content from the Los Angeles Times.