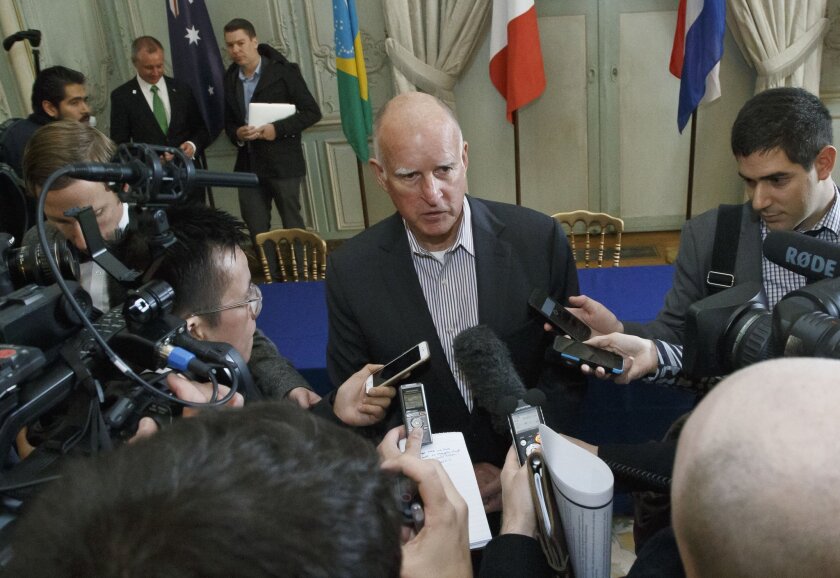 Reporting from Sacramento —
California's two-year legislative session will come to a close at the end of August, which means the next few weeks will see a sprint of public policy infused with interest-group politics on as many as 1,500 bills.
The August proceedings in the second year of a legislative term, before lawmakers return home for the fall campaign season, are historically fraught with intense last-minute negotiations and private deals.
In short, it's seen as an opportunity to push through controversial plans by twisting the arms of lawmakers either in need of support for the November election or those who are ineligible to run again because of term limits and thus are more willing to cast votes that once had been too politically dangerous.
Even with a large number of issues on tap, a few key policy battles likely will garner the most significant attention. Here are a few worth watching.
A climate change clash: Will lawmakers extend California's landmark law?
Next month, the state law that mandates a rollback to 1990 greenhouse gas levels celebrates its 10th anniversary. And it has sparked an intense debate about whether the law needs to be renewed and, if so, whether to also expand the state's climate change goals.
Two measures are at the center of the discussion.
Senate Bill 32 by Sen. Fran Pavley (D-Agoura Hills) would lower carbon emissions in California to 40% below the 1990 levels by 2030.
A statewide public poll last week found that, in concept, 68% of Californians are in support of the proposal. The bill has been linked to another climate change effort, Assembly Bill 197 by Assemblyman Eduardo Garcia (D-Coachella). That proposal seeks more legislative input on California's climate change strategies and also would create six-year terms for members of the powerful state Air Resources Board, an agency largely under the direction of Gov. Jerry Brown.
There's a significant political backstory to this debate. Last summer, the oil and gas industry successfully blocked an effort to mandate fuel limits on California vehicles — a fight that pitted environmental and business-aligned Democrats in the Legislature against each other. And add to that Brown's efforts this summer to find common ground with the oil industry amid concerns that a pending lawsuit could squash California's cap and trade system, which forces companies to buy greenhouse gas pollution credits.
Gov. Jerry Brown in talks with oil companies about climate change programs »
Assembly race centers on climate debate »
A final push on affordable housing, and a tough one for Brown
When striking a state budget deal in June, Brown and lawmakers agreed to spend $400 million on low-income housing subsidies if the Legislature passed a bill in line with the governor's idea to streamline local approval for developments that reserved units for low-income Californians.
Now, comes the hard part.
No legislator has championed the governor's streamlining plan to date, and major opposition has emerged from powerful labor and environmental groups. They argue that housing developments to be fast-tracked under Brown's plan would wrongly sidestep additional environmental review. One debate that's proved especially thorny is whether the measure would require developers to pay construction workers higher wages.
Follow what's happening in Sacramento »
Summer showdowns over policing, Stanford rape case likely to spark legislative action
Legislators often are sparked to take action by news events, and pending efforts on police conduct and criminal sentences for rape may take on a new intensity in the Capitol.
Several closely watched bills on police body cameras and other law enforcement transparency issues already have died this year, as lawmakers failed to reach agreement to either loosen or further strengthen state laws that keep most police information private. One measure still in play from Assemblyman Evan Low (D-Campbell) seeks to restrict the release of any body camera footage showing the death of an officer.
Low also is the author, along with Assemblyman Bill Dodd (D-Napa), of a bill introduced in the wake of the much-publicized Stanford University rape case. Responding to criticisms that the assailant, a former student, should have been sentenced to prison, Assembly Bill 2888 would remove probation as an option for certain felony sex crimes. A separate bill inspired by the Stanford case, Assembly Bill 701 by Assemblywomen Cristina Garcia (D-Bell Gardens) and Susan Eggman (D-Stockton), would require more sex crimes be treated as rape and not a lesser offense. Several lawmakers also have publicly backed the effort to recall Santa Clara County Superior Court Judge Aaron Persky.
Also closely watched is an effort that has tried and failed before, requiring a criminal conviction before law enforcement agencies can keep property taken during an arrest.
A return to the politics of pot, with voters waiting in the wings
A year after approving the first statewide system to regulate the sale of medical marijuana, lawmakers are expected to grapple this month with several follow-up measures. And all of this comes just months before voters consider Proposition 64, a ballot measure to fully legalize pot in California.
One proposal, Assembly Bill 2243 by Assemblyman Jim Wood (D-Healdsburg), would impose an excise tax on distributors of $9.25 per ounce of medical cannabis flowers.
Other bills to be considered would allow landlords to bar tenants from using medical marijuana in apartments and call for USC to study the effect of marijuana on driving skills. And because banks face potential federal sanctions if they process the proceeds from sales of marijuana, one pending proposal would allow the state and counties to collect cash tax payments from medical cannabis businesses.
Sign up for our daily Essential Politics newsletter »
Shaking up the California Public Utilities Commission
A strong push from lawmakers to reform the state agency regulating California's electric and gas industries led to Brown's agreeing to support a package of bills that would strengthen the agency's oversight and transparency.
The plan to change the marching orders of the California Public Utilities Commission comes after numerous criticisms of the agency's too-chummy relationship with energy companies, including its handling of last year's Aliso Canyon gas leak.
Many details of the reform package, however, have yet to be put down on paper through actual legislation — and the clock is ticking. The key issues include how the agency would shift some of its authority over Uber, Lyft and other ride-hailing companies to other regulators.
Beset by scandals, the state's energy regulator is facing a massive reorganization »
A ballot in the mail for everyone?
Lawmakers will consider a sweeping proposal by month's end that seeks to boost voter participation across California, after elections that have seen as many as three of every four registered voters simply take a pass on casting a ballot.
Senate Bill 450 would allow counties to mail every voter a ballot and to switch from traditional polling places to "vote centers" that are open before election day and spread around in convenient community locations.
The bill as currently written would allow 14 counties to use the new system in 2018 and would allow all other California communities to use it in the 2020 elections.
Introduced by state Sen. Ben Allen (D-Santa Monica) and supported by Secretary of State Alex Padilla, the proposal is modeled after revisions to the elections process in Colorado that significantly boosted voter turnout in 2014.
The challenge, though, is finding a system that everyone likes. If fully implemented, it would require mailing out more than 17 million ballots. And questions have been asked about voter education, how to pay for the new effort and access by disabled voters.
Los Angeles County, home to the single largest concentration of California's voters, would get a special exemption from mailing everyone a ballot. The proposal also means the county would have to provide more vote centers per capita than other counties.
Last-minute wheeling and dealing
For some of the most controversial items that got bogged down in Capitol politics months ago, the end of session offers one more chance to try to forge compromise.
Two proposals worth watching in that category involve gambling: a bill to legalize Internet poker sites operated by Native American tribes and legislation to license fantasy sports websites. Both efforts remain under discussion but have missed some procedural deadlines, usually a sign that legislation is dead.
But at the end of a two-year legislative session, no proposal is truly dead until the final gavel falls on Aug. 31. Lawmakers routinely carve out the contents of existing bills and insert new language on completely different topics. In the final weeks of 2014's legislative session, lawmakers took a bill dealing with the sale of fireworks and quickly turned it into a $7.5-billion water bond, later approved by voters that fall.
Known at the Capitol as the "gut and amend" process, it means privately negotiated deals can be written and passed in a matter of hours. This summer, though, there could be a price to pay for political wheeling and dealing: Proposition 54, to be considered by voters this fall, would require all bills be subject to public review for at least three days before passage. Backers of that campaign would no doubt use any controversial actions this month as fuel for their effort to change the rules.
ALSO
Gov. Jerry Brown in talks with oil companies about climate change programs
Follow what's happening in Sacramento
---