Early votes show California voters favor letting state legislators be suspended without pay for misconduct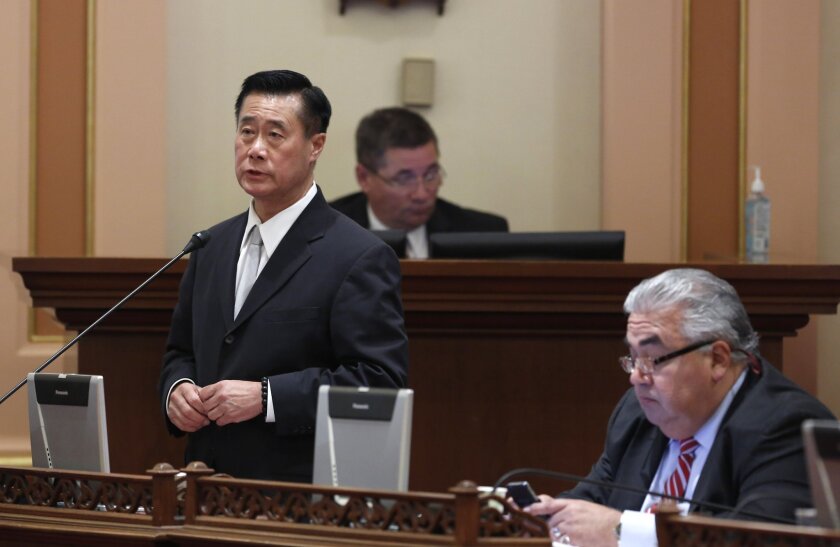 Reporting from Sacramento —
In the latest backlash to a series of legislative scandals, early election returns Tuesday showed California voters approving a ballot measure that would allow the state Assembly and Senate to suspend members without pay for misconduct.
The ballot measure would allow the Assembly and Senate to suspend a member of its house without pay based on a two-thirds vote of that house. Only a vote by the Assembly would be needed to suspend an assemblymember, and the same would be true in the Senate.
James Mayer, president and CEO of California Forward, a government accountability group, welcomed the support as a leading proponent of Proposition 50, which was placed on the ballot by the Legislature as an amendment to the state Constitution.
"It puts the Senate and the Assembly in a better place to respond to another ethical problem should it arise," Mayer said.
The measure's opponents included Sen. Joel Anderson (R-San Diego), who said he was "disappointed" by the early returns.
"People thought they were voting for this to penalize legislators when they are actually giving them more power," Anderson said after the results began coming in.
He is worried the new authority can be used to punish dissenting lawmakers.
The measure stemmed from the 2014 federal indictment of Democratic Sens. Leland Yee of San Francisco and Ronald Calderon of Montebello in separate bribery cases and the felony conviction of Democratic Sen. Roderick Wright on charges of lying about living in his district.
Calderon was suspended for accepting bribes from an undercover FBI agent posing as a film executive seeking tax credits, and from the owner of a medical firm in exchange for action on legislation involving workers' compensation.
The Senate voted to suspend the three legislators, but they continued to draw their salaries until they left office because the state Constitution does not allow withholding pay from lawmakers on suspension.
Calderon and Yee each received $63,000 in pay during the eight months they were on suspension, which sparked public outrage and the call for changes to the law.
Opponents of the ballot measure said suspensions deprive residents of representation in the Legislature, so lawmakers should instead permanently expel those engaging in misconduct.
Republican blogger Jon Fleischman also opposed the measure as meaningless.
"When you realize [the senators] weren't willing to remove a legislator, Sen. Rod Wright, even after a jury found him guilty of multiple criminal felonies, you realize this is a joke," Fleischman said.
Supporters of the measure say Anderson's concerns that the majority party might use the suspensions without pay to punish dissenters were addressed by having the constitutional amendment require a two-thirds vote of the house to suspend a member without pay rather than a simple majority, which was the standard before.
It is rare for other states to suspend legislators, according to the National Conference of State Legislatures, which tracks state laws and policies. The group said its records indicate only Florida and Pennsylvania have done so.
Follow @mcgreevy99 on Twitter
ALSO
Calif. Senate proposes new 'Standards of Conduct' after scandals
Corruption scandals spawn ballot measure that would let lawmakers suspend colleagues without pay
Assemblyman Calderon backs Proposition 50 ballot measure spurred by his uncle's legal problems
---
Get our Essential Politics newsletter
The latest news, analysis and insights from our politics teams from Sacramento to D.C.
You may occasionally receive promotional content from the Los Angeles Times.