Capitol Journal: Brown should compromise and settle for just one delta tunnel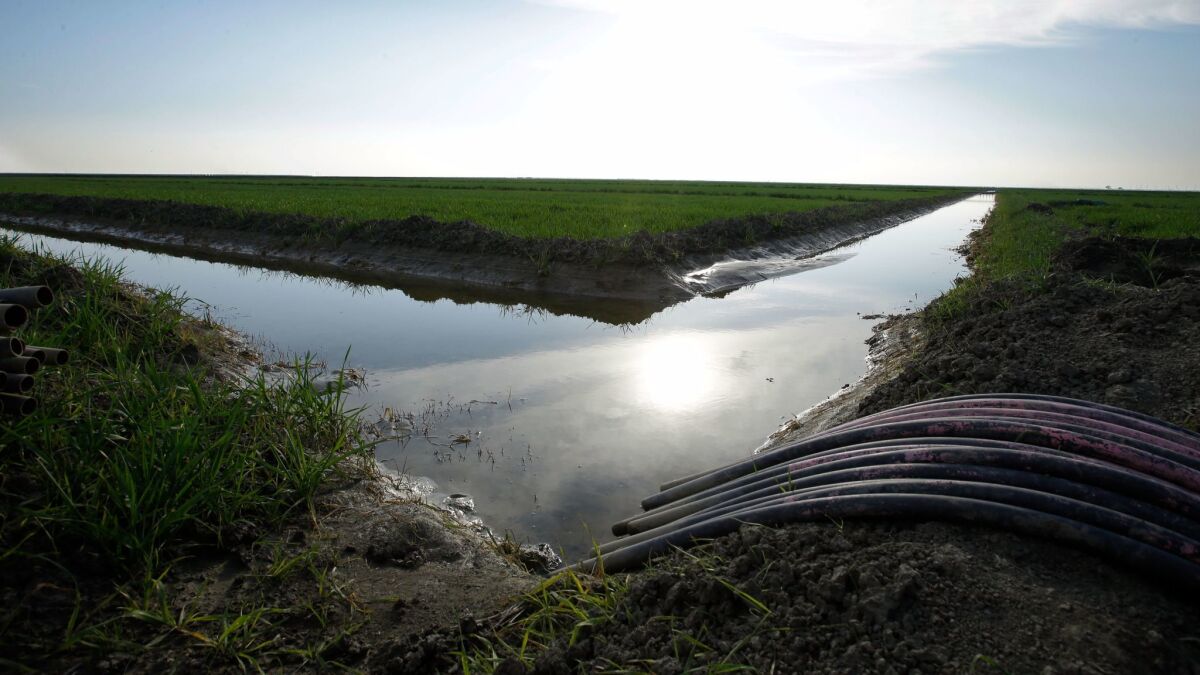 Reporting from In Sacramento —
U.S. Sen. Dianne Feinstein recalls Gov. Jerry Brown pitching her to support his costly twin-tunnels water plan. He showed her the environmental analysis and she was shocked.
Shocked not at the contents, but at the documents' size.
"He had the environmental impact reports on his picnic table in his office," she told me last week. "They were 5 feet tall and 10 feet wide."
It's doubtful Feinstein had a measuring tape, but her calculation seemed in the ballpark. The reports totaled 90,000 pages. That's the equivalent of 180 books, each with 500 pages.
Brown has said his twin-tunnels proposal has been subjected to "more environmental review than any other project in the history of the world."
I don't know about that. But I do know that a lot of environmentalists still strongly oppose the plan, fearful of its damage to salmon, other endangered fish and drinking water in the Sacramento-San Joaquin River Delta.
Feinstein spoke of the monstrous pile of reports as if it symbolized the huge $17-billion project itself. The proposal would re-plumb the delta, the mixing bowl of water for 25 million Californians and 3 million acres of cropland.
Brown hasn't persuaded Feinstein the project makes sense, that it is necessary to stabilize water deliveries from the fragile delta. She hasn't taken a hard position either way. But "I have concerns," she said in our interview.
"Two big 40-foot-wide tunnels? Running 150-feet underground for 35 miles? When I look at that and see what it would take to get down to them if something happens. There has to be all these shafts. It's awfully hard for me to see this is the way to go."
"Why do you need 80 feet of diameter in tunnels?" continued the senator, who has negotiated several major water bills in Congress.
Every time I've asked a state water official why one tunnel won't do and two are needed, the answer is "redundancy." If one goes bad, there's a backup.
That seems like a very expensive luxury. Like every pool owner needs an extra one if the chemicals go bad.
"If they need a new canal," Feinstein said, "I haven't got a problem with that."
Brown tried to build a so-called Peripheral Canal to carry Sacramento River water around the delta when he was governor in 1982. But voters blocked it in a statewide referendum.
The tunnels would be gouged through the delta's heart, amidst pear orchards, a large waterfowl sanctuary and past marinas and small communities. The monster pipes would siphon fresh water from the Sacramento River before it could flow, as it has for eons, through the West Coast's largest estuary. The water would go directly to southbound aqueducts.
"Communities would be disrupted for 12 to 15 years of construction," complains Sacramento County Supervisor Don Nottoli, chairman of the Delta Counties Coalition. "There'd be millions of tons of muck and thousands of trucks hauling it on narrow levy roads.
"The environment and delta farming are taking a back seat to the thirst of 25 million people in Southern California and farms in the San Joaquin Valley. They're sacrificing this region in order to sustain folks south of the delta."
That's how political power works. In the delta, you hear a lot of comparisons to Los Angeles' cynical draining of the Owens Valley in the eastern Sierra a century ago.
But opposition to the tunnels isn't just an anti-L.A. thing. Not even Los Angeles Mayor Eric Garcetti supports this project.
"I oppose the two tunnels as is. But I do support one tunnel," Garcetti told the Sacramento Press Club last week.
The project would be financed by the water users, meaning hundreds of farmers and millions of Southern Californians. Garcetti said he fears the cost for Angelenos would exceed the benefit.
"The ratepayers of Los Angeles will be saddled with a disproportionate share," he said. "I think that's unfair."
The mayor added: "Are we going to build something that will help agriculture in the Central Valley, but we're going to disproportionately pay for it?"
"Secondly," he said, "I want to make sure there are environmental protections and state [financial] support for what we're doing in Los Angeles."
He's trying to make the city more self-sufficient on water — cleaning up aquifers, capturing storm runoff, recycling — and not be so dependent on Northern California.
Brown has been lobbying Garcetti hard. "I want to stay at the table," the mayor said, "and see what we can do."
Former L.A. Mayor Antonio Villaraigosa, who's running to replace Brown, also opposes the project. So does another gubernatorial aspirant, former state schools chief Delaine Eastin. Two other contenders, state Treasurer John Chiang and Lt. Gov. Gavin Newsom, aren't wild about it either.
But last week was a good one for what Brown has dubbed WaterFix. The Metropolitan Water District of Southern California board approved a $4.3-billion buy-in. The Kern County Water Agency said it was interested in paying $1 billion. Last month, however, the huge Westlands Water District in the San Joaquin Valley bowed out of a $3-billion stake.
For the first time, Brown might be ready to deal.
"The project can be altered to reduce the costs," he told Times reporter Bettina Boxall, while adding: "The state needs the water. We're not going to commit suicide."
The last thing Brown needs is tunnel vision. He should compromise on a project that's smaller, more environmentally friendly and less costly. One tunnel at most.
Follow @LATimesSkelton on Twitter
ALSO
Will politics pass by Sen. Dianne Feinstein as both parties veer to extremes? Let's hope not
History is repeating itself for Gov. Brown's delta tunnels project
Everyone is at odds over Gov. Brown's delta tunnels plan — here's a compromise that could stop the fighting
---
Life is stressful. Our weekly mental wellness newsletter can help.
You may occasionally receive promotional content from the Los Angeles Times.