Capitol Journal: Few are paying attention to California's Senate contest — because it may be putting them to sleep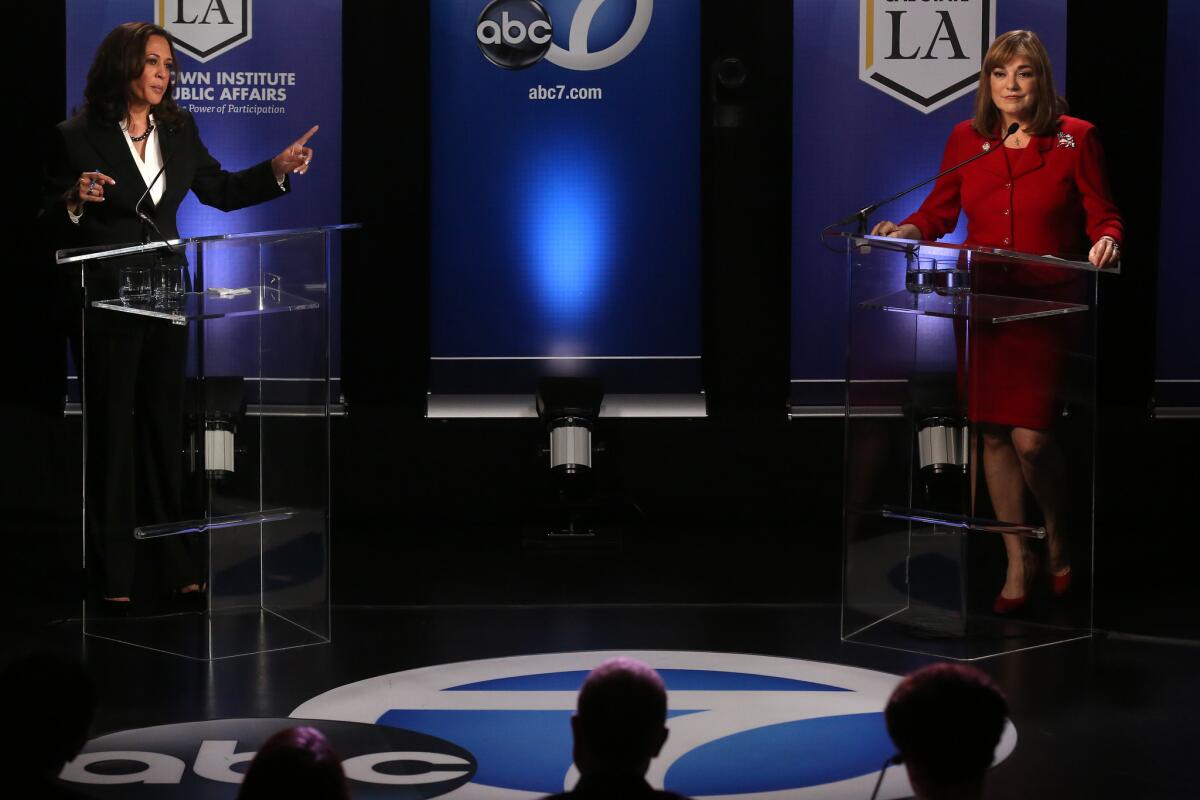 Reporting from Sacramento —
California's U.S. Senate race should be stimulating voters. Instead, it's making them snooze.
The contest is for the most coveted elective office the state is offering this year. It's at the top of the state ticket. The winner will replace retiring Democrat Barbara Boxer.
But it's drawing all the interest of a mosquito abatement board seat.
California has had many compelling Senate fights in the past: Boxer-Carly Fiorina. Dianne Feinstein-Mike Huffington. Jerry Brown-Pete Wilson. Alan Cranston-Max Rafferty.
But Kamala Harris-Loretta Sanchez? Snore.
State Atty. Gen. Harris, 51, a former San Francisco district attorney, is comfortably leading U.S. Rep. Sanchez, 57, a two-decade Orange County congresswoman. Harris is ahead in every poll by an average of 13 percentage points.
Both candidates are Democrats. Many Republicans — 42% in one recent survey — say they won't even bother to vote in that contest.
Harris and Sanchez held their only general election debate last week at Cal State L.A. Sanchez had turned down an earlier debate planned for Sacramento, asserting she wanted four in Southern California. Front-running Harris said forget it.
The hourlong debate was too regimented. The moderator and a panel tried to cram in too many questions, leaving only moments for each reply. Keeping on schedule was deemed more important than drawing out substance. That, no doubt, annoyed viewers.
The event was televised in Los Angeles with no statewide TV hookup. Fortunately for news junkies, it was carried live on CSPAN. Unfortunately, it aired at the same time as the San Francisco Giants wild-card playoff game. Maybe a dozen or so watched the debate in Northern California.
About the only thing in the debate that drew broad attention was Sanchez's exhibiting a hip-hop "dab" move near the end as the moderator again cut her off for talking over her allotted time. The dab — left arm extended, right arm bent at the chest, head bowed — is a dance move and also a touchdown celebration popularized by Carolina Panthers quarterback Cam Newton.
So why is this contest so undeservedly boring? A few reasons:
— The candidates are essentially yawners. Harris is overly cautious. Sanchez is noncomformist, but not particularly in an intriguing way, the dab aside. Harris is polished and articulate, but too often she robotically utters platitudes. Sanchez, frankly, is often hard to follow.
— On issues, there's not much difference between the two — maybe a few degrees of variance here and there. Both, deep down, are liberal Democrats.
— The fiery presidential race is consuming all the political oxygen. There also are 17 state propositions on the ballot, covering issues ranging from the death penalty to marijuana legalization to condoms in porn. The Senate race isn't even an afterthought for most Californians.
— The national political parties aren't interested. The winner will be a Democrat no matter what. There's no reason to send campaign money. Spend it in other states where there are tight partisan battles.
— The business community also isn't getting involved. Originally it was thought Sanchez might attract corporate backing because perhaps she'd be more business-friendly than Harris. But Sanchez couldn't make the sale.
— Central Valley agriculture interests were seriously considering supporting Sanchez. But she turned them off by lobbying the Legislature for the expansion of farm workers' overtime pay. The United Farm Workers union asked her to. Ironically, the union later endorsed Harris.
"The perspective of the business community is that maintaining the Republican majority in Congress has to be the highest priority," said Marty Wilson, political strategist for the state Chamber of Commerce. "Especially if Hillary Clinton is president."
The priority for California business is denying Democrats a supermajority in the state Legislature.
Sanchez's chief strategist, veteran consultant Bill Carrick, points to another reason why the Senate race is running under the radar: Reporting staffs, especially on newspapers, have been severely reduced in recent years and are spread thin. Most political reporters are assigned to the presidential contest.
Carrick disputes the counter-contention that Sanchez really isn't campaigning very much. She is, he insists. She's just not being covered.
Meanwhile, Harris is the overwhelming establishment favorite, with a dream list of endorsers: President Obama, Vice President Joe Biden, Gov. Jerry Brown, the state Democratic Party and — after the debate — Sens. Feinstein and Boxer.
That's a tough hill for the underfunded Sanchez to climb, even during an anti-establishment election year.
This is the first statewide contest in California in which both runoff candidates are from the same party. That's because of our embryonic open-primary system, in which the top two vote-getters advance to the November election, regardless of party.
Some politicians and professors blame that for the lack of voter interest. Nonsense.
Would the contest be more engaging if Harris were facing the top GOP primary finisher, little known Duf Sundheim, a former state party chairman who attracted less than 8% of the June vote? Doubtful.
It might have been more interesting if former Los Angeles Mayor Antonio Villaraigosa had run. But he decided to wait until the 2018 governor's race. Two congressmen — Adam Schiff of Burbank or Xavier Becerra of Los Angeles — could have been more competitive. But they didn't want to surrender their House seats.
Harris looks like she's walking to victory. She could trip, but that isn't her cautious style.
Follow @LATimesSkelton on Twitter
ALSO
Why did Loretta Sanchez 'dab' at the debate? Her makeup artist's daughter told her to, her campaign says
Buttressed by the support of top Democrats, Kamala Harris shores up her lead after U.S. Senate debate
Kamala Harris and Loretta Sanchez trade jabs over who will work harder in the Senate — oh, and Sanchez dabs
Get our Essential Politics newsletter
The latest news, analysis and insights from our politics team.
You may occasionally receive promotional content from the Los Angeles Times.