Kamala Harris and Loretta Sanchez trade jabs over who will work harder in the Senate — oh, and Sanchez dabs
Reporting from Sacramento —
In their only scheduled debate before election day, the two Democrats vying for California's open U.S. Senate seat clashed as much over personal style as policies in what was a frenzied and often caustic event compared with a campaign that has seemed to amble through a long, sleepy few months.
Neither candidate, Atty. Gen. Kamala Harris nor Orange County Rep. Loretta Sanchez, seemed willing to admit during Wednesday night's debate that the two might share similar positions on a number of issues.
Instead, the women returned time and again to their different approaches to public service. Sanchez made clear that she viewed Harris as a candidate who "talks a good story," while Harris took aim at what she suggested were gaping holes in Sanchez's congressional record.
At times, the veteran congresswoman seemed exasperated with the national attention her opponent has received in the Senate race. Harris has been endorsed by President Obama, Vice President Biden, Gov. Jerry Brown and a number of prominent interest groups aligned with Democratic party politics.
"Don't listen to the establishment," Sanchez said toward the end of the debate. Another time she referenced "Mrs. Harris and her cronies."
Harris, on the other hand, attempted to aim straight at the main selling point of her opponent's campaign: Her long experience in Congress. In particular, Harris criticized Sanchez for both overseas trips and her absences at key committee meetings.
"You can have a lot of stamps in your passport, but you've got to show up," Harris said. She later said California deserves a senator who "shows up and who gets things done."
The back and forth over Sanchez's attendance record continued. Sanchez missed more floor votes in the House — more than 1 in 5 — than all but two other members in 2015, according to Congressional Quarterly. That's a drop from her previous terms in Congress, when she cast votes more than 90% of the time in all but one year.
"My opponent has somehow insinuated that I have not been to work," Sanchez said.
"My opponent," countered Harris, "has passed one bill in her 20 years in office, and that was to rename a post office."
(The measure, naming the facility in honor of Orange County's first Latino postmaster, became law in 2002. Sanchez has co-sponsored 179 bills that have become law.)
There were answers from both candidates that seemed to need further explanation. For Sanchez, it came in a discussion of California's water needs.
"We have to convey water, and we have to store water," she said. The notion of needing to "convey" water may be support for a plan that includes twin water tunnels beneath and around the Sacramento-San Joaquin River Delta.
In a discussion of terrorism and Islamic State, Harris said the United States "needs to go where ISIS exists."
"And that means Syria, and Libya and going to Iraq," she continued. It was unclear, though, if Harris had been advocating for ground forces in any or all of those countries.
Nor did either candidate seem to answer a question about whether they would have voted to override President Obama's veto of a bill allowing families of Sept. 11, 2001, attack victims to sue Saudi Arabia for any role the country may have played in the plot.
Sanchez did not vote on the bill, one of only five House members to do so.
The Democrats debated twice during the primary season, appearing in events alongside the three top Republicans in the race. This, however, was their only head-to-head matchup. While Harris had earlier agreed to a second meeting, Sanchez held out and demanded four debates. In the end, only one debate was agreed to by both candidates.
Sign up for our daily Essential Politics newsletter »
The candidates also sparred over Sanchez's comments made shortly after the Dec. 2 mass shooting in San Bernardino. In an interview with Larry King, Sanchez suggested broad support among Muslims for a caliphate, a strict Islamic state.
In the debate, Harris said Sanchez had undercut the U.S. anti-terror effort with those comments.
"The congresswoman has helped by calling 20% of Muslims inclined to commit violence," Harris said. "That is playing in the hands of ISIS and all that they are doing to try and recruit young Muslim men in our country and around the world."
In the 2015 interview, Sanchez offered a range of 5% to 20% of Muslims who were caliphate supporters. Though later criticized by Muslim groups, the Democratic congresswoman has stood by her comments. Wednesday night she called Harris' jab "completely false."
The debate on the campus of Cal State Los Angeles was not broadcast live on television in Northern California and comes in the wake of polls showing the race may be Harris' to lose. It is the first-ever statewide contest between two Democrats, each vying to replace retiring four-term Democratic Sen. Barbara Boxer.
In a USC Dornsife/Los Angeles Times poll last month, Harris had a sizable 14-point lead on Sanchez among those surveyed. But 36% of the respondents were still undecided and 16% — mostly Republicans and unaffiliated "independent" voters — said they planned to skip voting in the Senate race.
Both candidates expressed support Wednesday for a comprehensive overhaul of federal immigration policies, as well as an invigorated effort in the war on terrorism and protection of abortion rights.
They also both endorsed more transparency in police activities, including body cameras. But Sanchez criticized Harris for not taking an active role in the discussion of police accountability bills in Sacramento this year.
Kamala Harris watches as rival Loretta Sanchez strikes a pose after her closing statement during their U.S. Senate debate held at Cal State L.A.
(Rick Loomis / Los Angeles Times)
Kamala Harris, left, and Loretta Sanchez shake hands after their debate.
(Rick Loomis / Los Angeles Times)
Sanchez and Harris afterward.
(Rick Loomis / Los Angeles Times)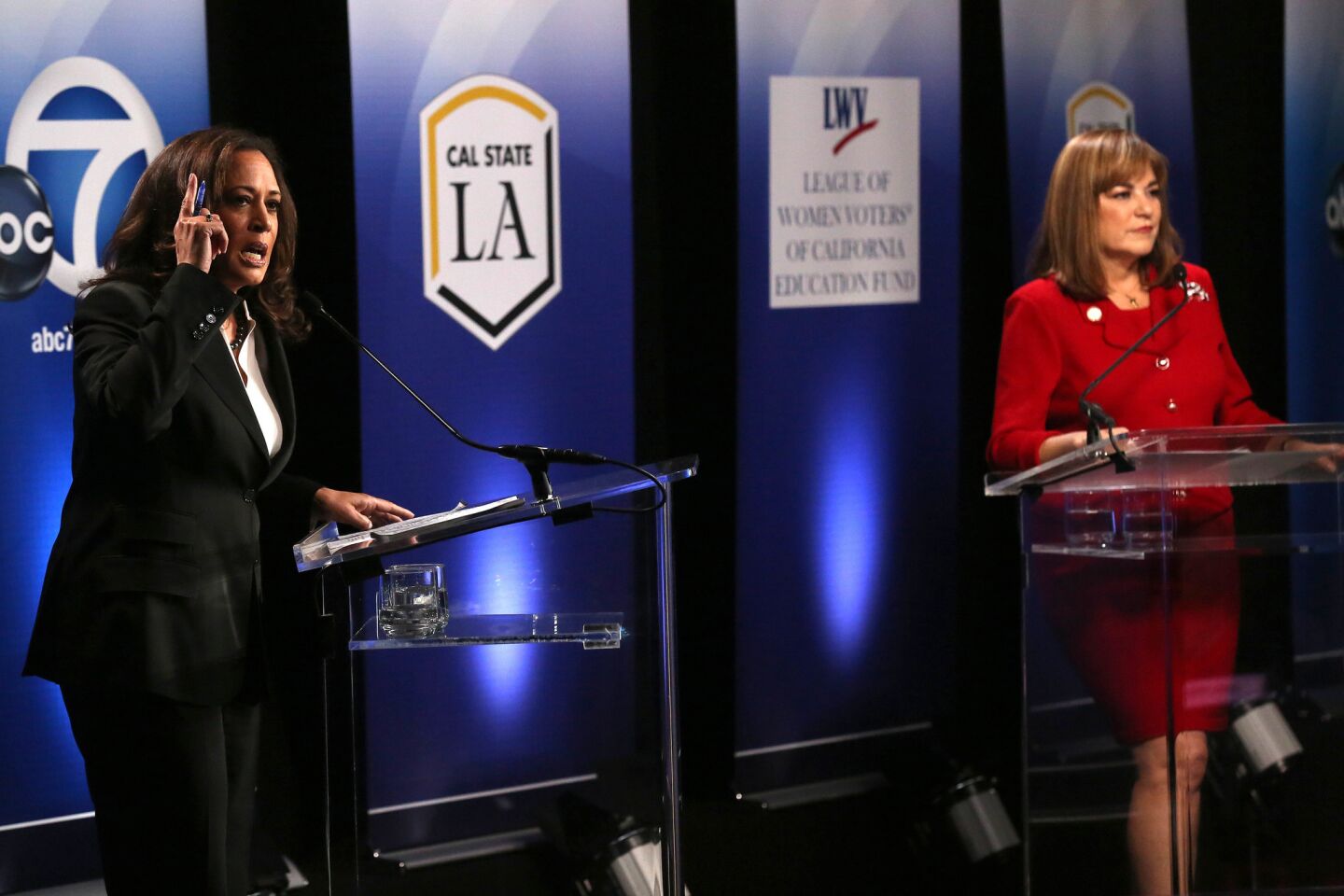 Senate candidates Kamala Harris and Loretta Sanchez appear Wednesday at Cal State L.A. in their only head-to-head debate.
(Rick Loomis / Los Angeles Times)
Loretta Sanchez answers a question.
(Rick Loomis / Los Angeles Times)
The Senate candidates on stage.
(Rick Loomis / Los Angeles Times)
Kamala Harris during the debate.
(Rick Loomis / Los Angeles Times)
The debate at Cal State L.A. is the only time the Senate candidates will meet face to face during the general election campaign.
(Rick Loomis / Los Angeles Times)
Sanchez gestures during the debate.
(Rick Loomis / Los Angeles Times)
Harris, left, and Sanchez during the debate.
(Rick Loomis / Los Angeles Times)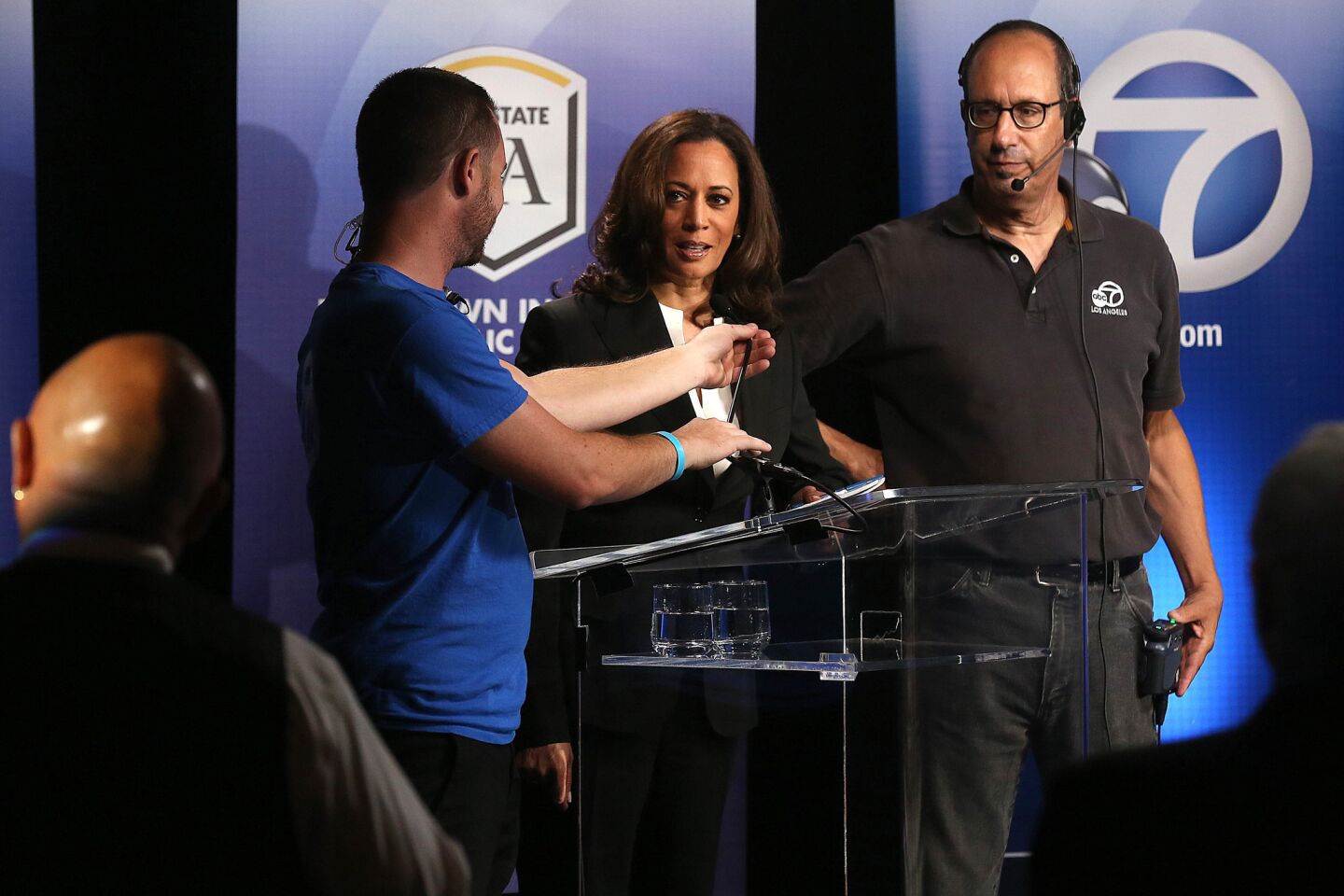 Kamala Harris does a mic check with stage workers before the debate at Cal State L.A.
(Rick Loomis / Los Angeles Times)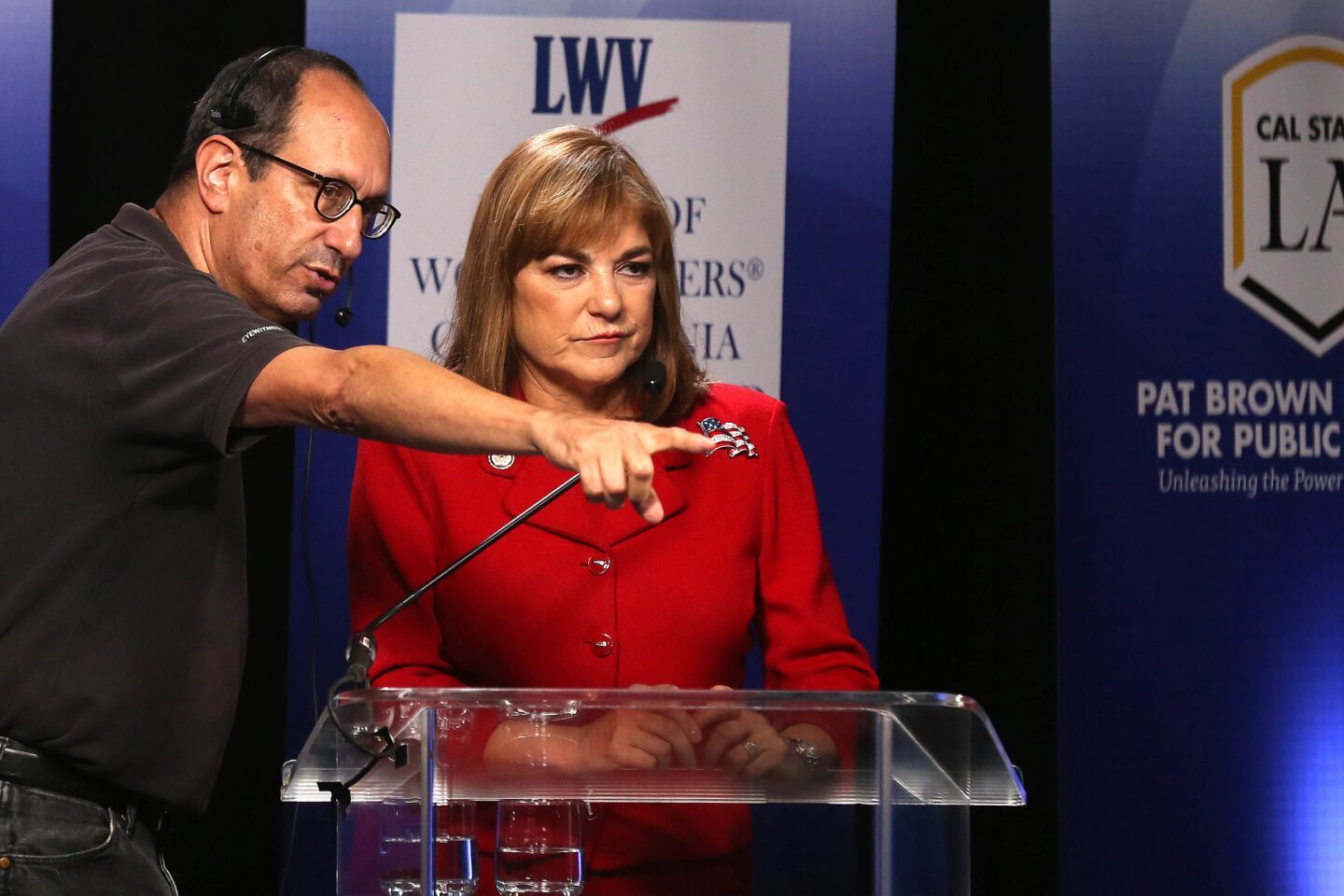 A stage worker consults with Loretta Sanchez before the start of the debate.
(Rick Loomis / Los Angeles Times)
Harris later struck back in a discussion about decriminalizing possession of marijuana, accusing Sanchez of voting in Congress for "policies in this country that have led to mass incarceration of people."
Crime and punishment also came up in the debate in the context of Proposition 57, the Nov. 8 ballot measure proposed by Brown that would overhaul prison parole rules with an eye toward allowing the early release of some felons convicted of nonviolent crimes.
Sanchez accused Harris, as attorney general, of writing a misleading ballot summary that failed to explain to voters the potential violent past of some of the felons.
"She has failed to lead on, supposedly, the area that is her expertise," Sanchez said.
They also wrestled over the source of some past campaign donations. Harris accused Sanchez of taking "hundreds of thousands of dollars from the for-profit college industry," including money from the defunct Corinthian Colleges that were ensnared in legal action.
Sanchez criticized Harris for taking money from Republican presidential nominee Donald Trump and failing to do more about his real estate education seminars branded as Trump University.
"She was taking his money in her campaigns to fly around in first-class airfare," said Sanchez.
Neither campaign finance accusation is likely to play a major role in the campaign, nor is campaign cash in general. As of June 30, Harris' campaign reported $2.6 million in the bank while Sanchez had less than $1 million. As the party's official nominee, Harris also has received substantial campaign help from the California Democratic Party, which voted to endorse her this year.
The debate ended on a lighter note, as Sanchez went over allotted time for a closing statement and "dabbed" once the moderator finally cut her off. Harris was captured by the television cameras making a funny face as her rival did the dance move popularized by NFL quarterback Cam Newton. Laughing, she said, "So, there is a clear difference between the candidates in this race."
Follow @johnmyers on Twitter, sign up for our daily Essential Politics newsletter and listen to the weekly California Politics Podcast
Times staff writers Christine Mai-Duc, Sarah Wire and Phil Willon contributed to this report.
ALSO:
Renaming of post offices becomes attack line in Senate debate
Sanchez dabbed. Harris threw shade.
Latest poll shows Kamala Harris' lead growing in U.S. Senate race
Get our Essential Politics newsletter
The latest news, analysis and insights from our politics team.
You may occasionally receive promotional content from the Los Angeles Times.