Cellphone encryption bill pits police against tech industry and privacy advocates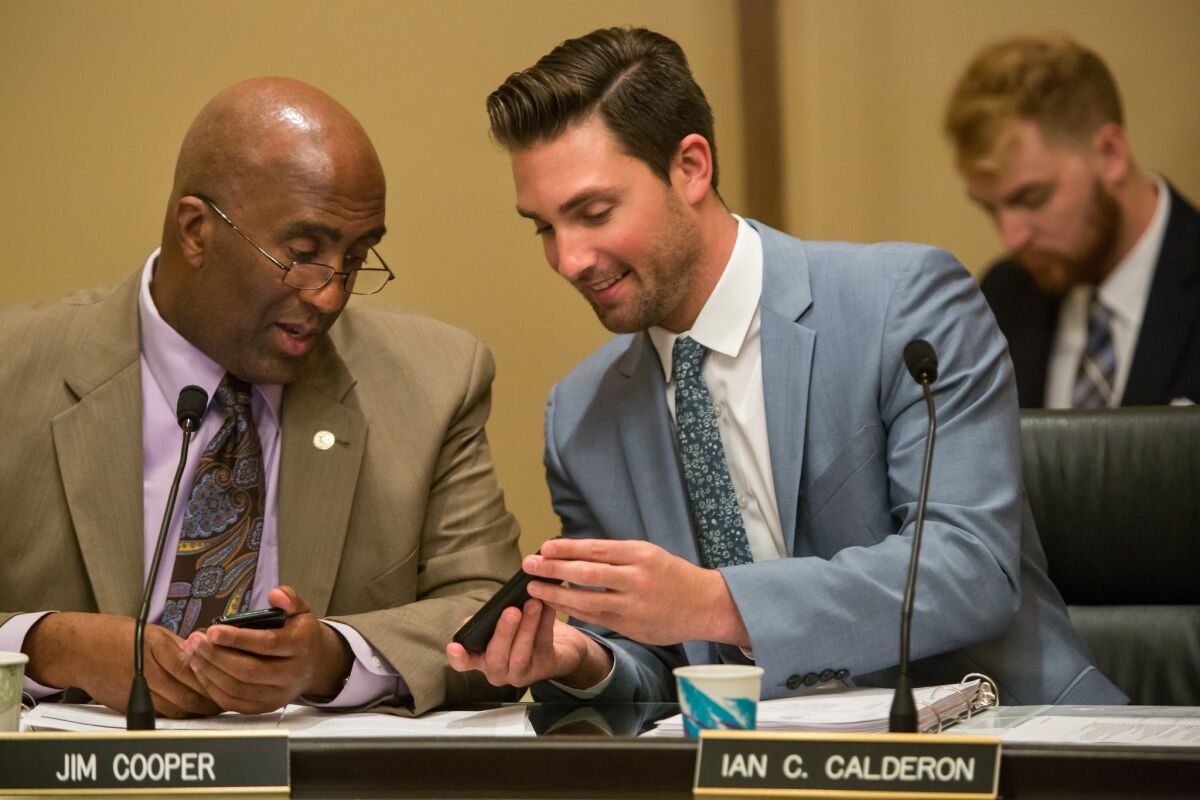 Reporting from Sacramento —
A Democratic state legislator is taking aim at smartphone encryption, arguing the strict security measures to protect cellphone data hamper law enforcement's ability to crack down on human traffickers and other criminals.
Assemblyman Jim Cooper (D-Elk Grove) has introduced a measure that would require all cellphones produced and sold in the state to have the capacity to be unlocked, setting the stage for battle with tech companies and privacy advocates.
See more of our top stories on Facebook >>
Cooper, who unveiled his legislation Wednesday, said that data would be accessed only with a court order, limiting the impact on everyday phone users.
"It's not the boogeyman. It's not NSA. It's not Edward Snowden," Cooper said, adding that "99% of the public will never have their phone searched with a court order.
"We're talking phones that are involved with human trafficking, which is an issue right now."
But consumer advocates see wide-reaching repercussions in the proposal.
"This is [a] terrible policy that is entirely infeasible from a technical perspective," said Andrew Crocker, an attorney with the Electronic Frontier Foundation, a civil liberties group. "There is no way to ensure that phones can be decrypted by the police and not the 'bad guys.' It's not about privacy but security — the security of innocent people's devices against hackers, thieves and others."
Cooper's proposal may also run into resistance from tech companies, who have made encryption a default feature in smartphones in recent years.
"What the companies are responding to is what consumers want — they expect privacy and security," said John Doherty, a lobbyist for TechNet, an industry association. "Given all the justifiable attention that's paid to hacks and breaches and leaks, I think a lot of the tech companies said we have to make a system that is as secure as possible."
Cooper, a former captain in the Sacramento Sheriff's Department, has staked out a "tough-on-crime" stance as a lawmaker. He touted his measure at a news conference while flanked by law enforcement representatives, who said the decryption capability is necessary to access evidence, such as texts and photos, in trafficking cases and other criminal activity.
"This evidence is crucial to holding those exploiters accountable and prosecuting them to the fullest extent of the law," said Natalia Luna, Sacramento County's chief deputy district attorney. "Currently, the only way to access this data is by the user or permission of the user and a pass code, allowing the criminal to use the phone not only as a sword but as a shield."
But Samantha Corbin, a lobbyist for the Electronic Frontier Foundation, said that requiring devices to a have a "backdoor" that could undo their encryption would "erode the security of everyone in California who has a smartphone in exchange for the simple potential that law enforcement can do their job with more ease — without regard to consumer protection, security or constitutional rights."
She said that consumers, or tech-savvy criminals, could turn to third-party encryption software to lock their phones, a product not addressed in Cooper's proposal.
Corbin said she expected privacy groups and tech companies to unite in opposition to the bill — an alliance, she acknowledged, that is generally rare in the Capitol.
Most of the early salvos from Cooper were aimed at the tech industry, which he said should put "people over profits" in supporting his bill.
"We're fighting multibillion-dollar companies that have the best lawyers in the world and the best lobbyists in the world," Cooper said. "But we're not going to give up."
Follow @melmason for more on California government and politics.
ALSO
After drone crashes into power lines, West Hollywood cracks down
Nielsen will monitor Facebook to measure buzz about TV programs
Wireless-only phone users have become a one-stop shop for scam callers
---
Life is stressful. Our weekly mental wellness newsletter can help.
You may occasionally receive promotional content from the Los Angeles Times.