In a bid to ease student debt, California considers a role in helping refinance private loans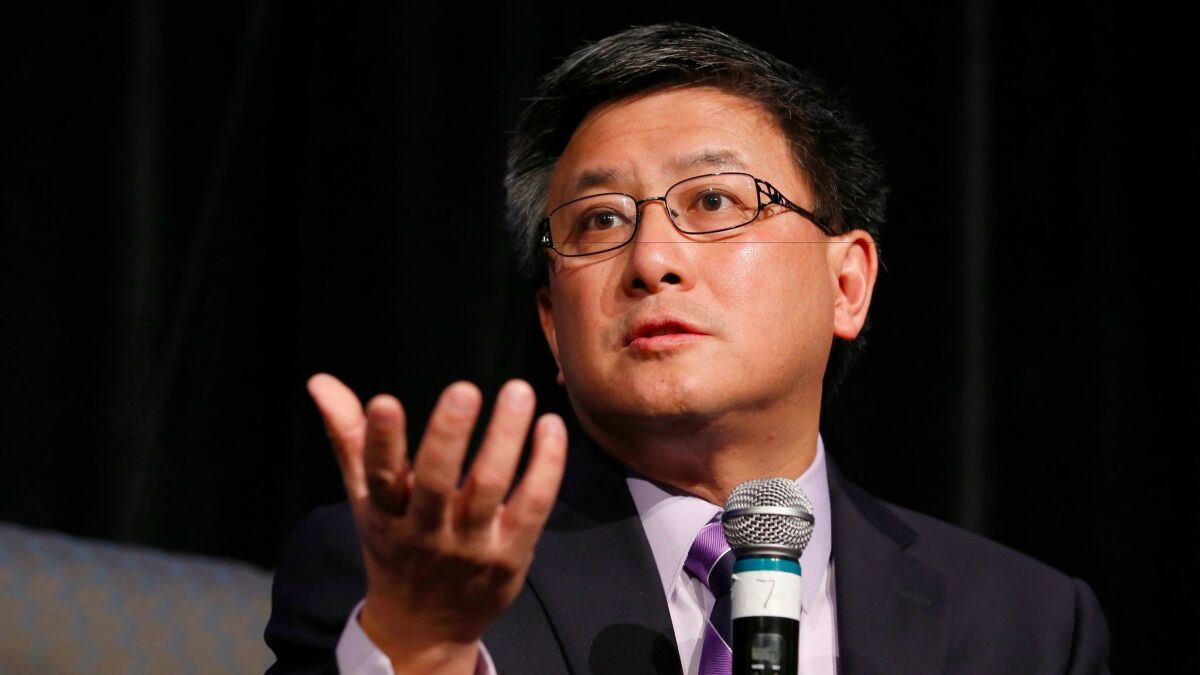 Reporting from Sacramento —
State treasurer and gubernatorial hopeful John Chiang is wading into the increasingly high-profile debate over college affordability with a new push for California to play a role in alleviating the burden of high-interest private student loans.
Chiang is sponsoring legislation that would create a $25-million fund that would offer a degree of protection to student loan providers. With the state assuming some of the risk, the measure's proponents say financial institutions will be more likely to offer lower interest rates to those carrying student debt.
"We know that unfortunately too many Californians, too many Americans, are saddled with extraordinary debt," Chiang said in an interview, touting his plan as an effort to "try to get them out of debt as quickly as possible."
The proposal, which is being carried in the Legislature by Sen. Ben Allen (D-Santa Monica), is among a swell of measures introduced in the Legislature this year aimed at tackling the high cost of college. Allen and Chiang will unveil the legislation at a Capitol news conference Tuesday.
Assembly Democrats have proposed a sweeping "debt-free college" plan that would help offset living expenses in addition to tuition. Other lawmakers have proposed freezing tuition at University of California and California State University campuses, or doing away with tuition altogether at those institutions and community colleges by imposing a tax on millionaires.
Debate on college affordability spurs California lawmakers to offer proposals to help students »
The measure by Chiang and Allen, which is backed by the powerful labor group Service Employees International Union, would aid those already yoked to student debt. The assistance would be open to California residents with private student loans of $25,000 or less that are currently employed and have an associate, bachelor's, graduate or technical degree.
Under the plan, borrowers would apply to a financial institution for loan refinancing. Once the lender approves, a credit package would then go to the California Educational Financing Authority, which is run by the treasurer's office. The authority would agree to offer first-loss protection on up to 10% of the loan, meaning the state would guarantee that portion in event of a default.
Public and private student debt totals more than $1 trillion nationally. California residents, compared to other states, carry a relatively low level of debt. College seniors graduating in 2015 averaged about $22,000 in debt, according to the Institute for College Access and Success, a nonprofit that advocates on affordability issues. Nationwide, borrowers averaged about $30,000 in debt.
Federal student loans have interest rates that range from about 3% to 8%, while rates for private loans can hover between 9% and 12%.
This is not the first time California has tackled student debt. The treasurer's office once used bonds to finance student loans, but the program eventually shuttered after it was found to be unsustainable.
The renewed interest in college costs, propelled largely by Vermont Sen. Bernie Sanders' insurgent campaign for president, has brought the issue back to the forefront, as well as the state's healthier fiscal outlook.
"The state, for a long period of time during the recession, was trying to get our balance sheet in order. We didn't have necessarily the financial strength to address issues such as education costs," said Chiang. Now, he said, "we've gotten to a much better place."
The proposal also enables Chiang to carve out a niche on a high-profile issue as the 2018 governor's race begins to heat up. Allen said he welcomed the exposure that comes along with having a gubernatorial hopeful attached to the bill.
"It's not a bad thing to give this issue greater prominence, whether it be through his current position or his run [for governor]," Allen said. The senator said Chiang's reputation as "a good fiscal steward, not someone who's known for his profligacy," also gives the proposal a boost.
The treasurer's office estimates that a $25-million fund could help refinance about 16,000 loans.
Securing that money could be an uphill battle. While California's budget landscape is far more stable than it was in the recession, Gov. Jerry Brown has projected a $1.6-billion shortfall in the coming budget year. The proposal is also competing for cash with several other proposals to combat college costs.
"While helping graduates that have borne the cost of their higher education through private loans is reasonable, the committee may wish to consider whether policy should focus on expansion of need-based aid programs or other types of financial assistance," noted an analysis by the Senate committee on education, which approved the measure earlier this month. The bill will be considered by the Senate panel on banking and finance next week.
Debbie Cochrane, vice president of the Institute for College Access and Success, said the refinancing effort may not have as much impact as other measures to make college less costly.
"Decreasing an interest rate by a half a percentage point is unlikely to make or break anyone's payment," Cochrane said. "What we need to be focused on is how do we keep students from needing to borrow private loans in the first place by supplying them with more need-based grant aid, or giving them more information on how to avoid private loans."
Cochrane also noted that by limiting eligibility to a small pool of borrowers — those who have completed their degree and are continuously employed — the proposal excludes those most burdened by debt.
"When you think about who's struggling with debt, it always comes down to students who didn't complete their program," Cochrane said. "These borrowers would be precluded from benefiting under the bill."
Allen acknowledged his proposal was limited to those with attractive borrowing profiles — people with good credit history, a job and a degree.
And "yet they're still getting totally screwed by the system," Allen said. "Doesn't that show how messed up things are?
"It's not going to solve the entire student debt crisis — not by a long shot," Allen continued. "But I really do think it's a smart step in the right direction and it really will make a difference for a number of Californians who are drowning in debt right now with minimal risk to the state."
Among those looking for relief is Tara Chandler, a social worker in Los Angeles County, who carries a monthly debt payment of $969, more than half of which is from private loans. Despite making about $90,000 a year, Chandler said she is "married" to her debt and unable to think about other steps toward financial health, such as buying a house.
"I make a really nice salary and should be living a normal, middle-class lifestyle and I'm not," said Chandler, 35. "I'm paycheck to paycheck."
A member of SEIU, Chandler said it makes sense for the labor group to throw its weight behind the student loan issue.
"I know that I'm not alone. I have a lot of peers that are in the same situation," she said. "We are all these altruistic giving people who want to be of service to the community and we're all struggling."
To read the article in Spanish, click here
Follow @melmason on Twitter for the latest on California politics.
California Democrats unveil a sweeping financial aid plan to help students avoid debt
Cal State trustees approve controversial tuition hike
---
Life is stressful. Our weekly mental wellness newsletter can help.
You may occasionally receive promotional content from the Los Angeles Times.