Volkswagen's required $800-million investment in California draws criticism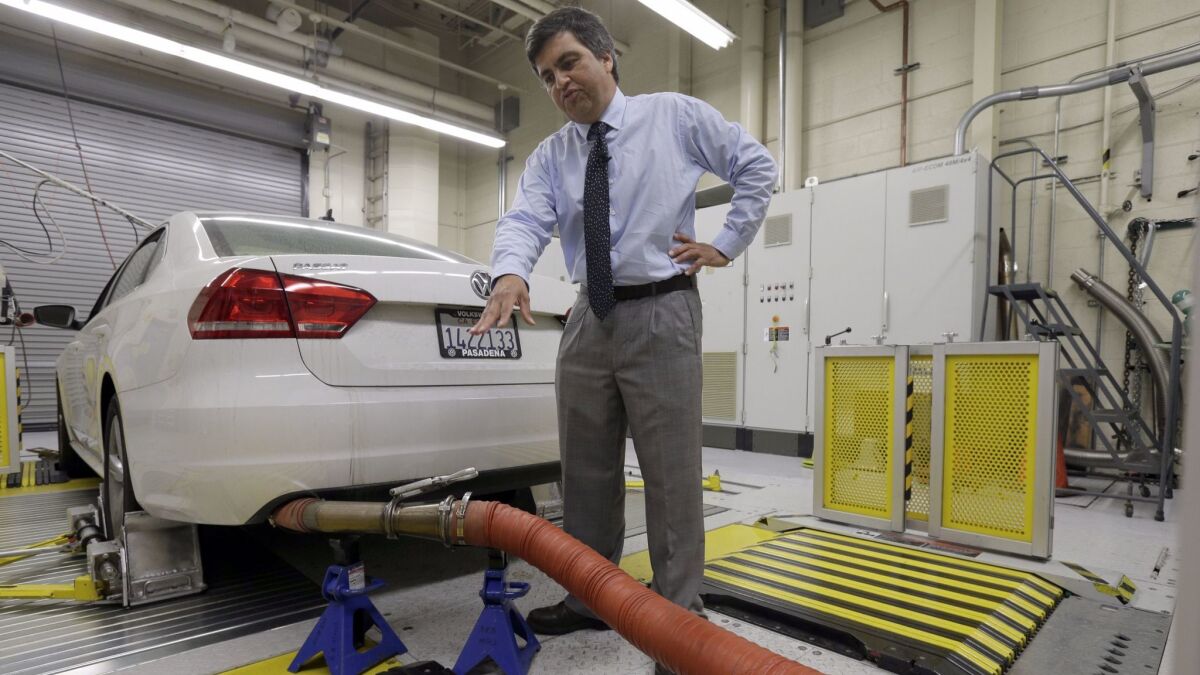 For California engineers who usually toil in obscurity in state laboratories, the Volkswagen investigation was a rare moment in the spotlight. They helped discover how the German automaker was illegally evading emissions rules, leading to billions of dollars in settlements and an international recall of vehicles that were falsely promoted as running on "clean diesel" engines.
But the money generated by the Volkswagen case has been the source of increasing criticism from some lawmakers, advocates and regulators.
The controversy centers on $800 million that the company is required to spend in California to support zero-emission vehicles with charging stations and other promotional efforts such as advertising about the benefits of electric cars. The investment is one part of a larger legal settlement negotiated by state and federal officials, and it's considered an extraordinary opportunity for California to boost its lagging effort to get more clean cars on the road.
Unlike other penalties that Volkswagen must pay, the company has more control over how the $800 million will be spent, and it's allowed to profit from the charging stations it's required to install.
"It sounds like a good opportunity for Volkswagen," state Sen. Tony Mendoza (D-Artesia) said during a recent legislative hearing. "I don't think it's much of a punishment."
Since Volkswagen can make money off of the charging stations, lawmakers are concerned the company will place them in areas best for its bottom line — wealthier neighborhoods that already have more electric cars, not disadvantaged communities where officials want to see investments. A survey released last year showed that 75% of California drivers who received state rebates for plug-in vehicles earned at least $100,000 a year and 90% lived in single-family homes. The highest concentrations were in the Bay Area and Los Angeles.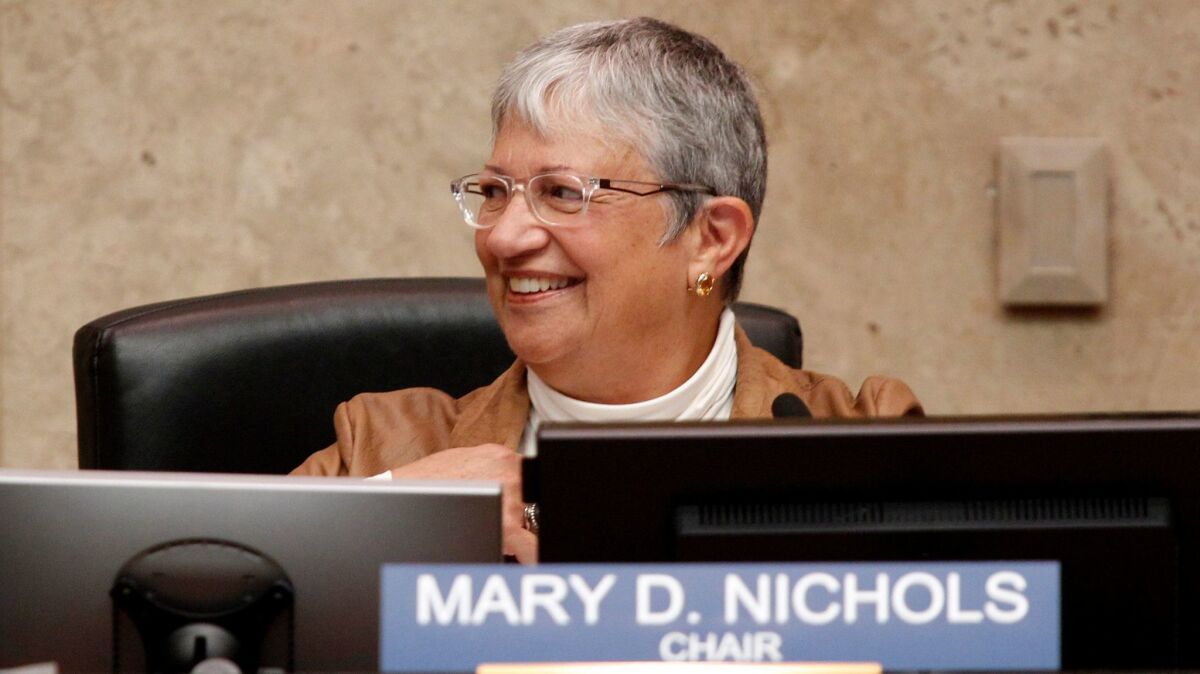 "I'm not seeing the infrastructure get to the place where it's needed quite yet," state Sen. Toni Atkins (D-San Diego) said during the hearing.
The Air Resources Board has until Friday to collect input about the first phase of Volkswagen's decade-long investment, which includes $200 million over the next 30 months. Afterwards, the agency's staff can decide whether to accept the proposal.
One member of the board, former state Sen. Dean Florez, wants the agency to send the plan back for revisions.
"We are mesmerized by the money so much, we aren't really thinking about where the money is going," he said. "And that's alarming."
Volkswagen's plan includes 400 charging stations at workplaces, apartment buildings, store parking lots, highway pit stops and other locations. Florez is among those concerned that there won't be enough work done in disadvantaged communities. The company's plan calls for focusing on "locations where access and utilization is expected to be highest," which advocates fear will prioritize wealthier regions like the Bay Area.
Electrify America, the subsidiary created by Volkswagen to install the charging infrastructure, told the Air Resources Board that 25% to 35% of the money would go to disadvantaged communities, short of the state's request for 35% or more.
Brendan Jones, chief operating officer for the subsidiary, said it is "continuing to refine" the plan.
"I can't commit today on where we'll be on a percentage," he said. "Frankly, it's in flux and it's in motion right now."
Follow live coverage from the Capitol on Essential Politics »
When it comes to disadvantaged communities in the Central Valley, Florez is concerned the stations will be built only along highways — convenient for people passing through the region, but not for people who live there. In the sparsely populated region, driving to a highway to charge an electric car means "you're going to be out of a charge by the time you get back home," Florez said.
Florez isn't the only board member with concerns. Hector De La Torre, a former assemblyman from South Gate who now sits on the board, pointed out that Volkswagen isn't spending any money on fueling stations for hydrogen vehicles.
If the state is going to see a big investment in zero-emission transportation, De La Torre said the money should support multiple options to see which one becomes most successful with consumers.
"We don't know if it's going to be one or the other," he said. "But for now, we want to see both."
He's hopeful that Volkswagen can revise the plan.
"We're in a good place, besides a little tweaking on the details," De La Torre said.
More criticism is coming from ChargePoint, a Campbell, Calif., company that installs charging stations. ChargePoint representatives fear an influx of Volkswagen stations could scramble the marketplace and create unfair competition.
"This is a business plan allowing the largest automaker in the world to inject itself in California's EV charging market and profit from its wrongdoing," said Anne Smart, the company's vice president of public policy, at a recent Air Resources Board hearing.
Former Michigan Gov. Jennifer Granholm, who works on clean energy issues at UC Berkeley and briefly served on ChargePoint's board of directors, told lawmakers that Volkswagen "could bigfoot California's growing [electric vehicle] businesses right out of the market."
Jones, the Electrify America executive, said it doesn't want to overlap with efforts already underway.
"We need to complement that investment and spread," he said.
Air Resources Board Chair Mary Nichols said the money will be a boost for the state.
"If done well, this investment will benefit Volkswagen in their new ventures into the [zero-emission vehicle world]," she said. "But it will also benefit equally ... the other firms and stakeholders that are involved."
Twitter: @chrismegerian
ALSO
California's vow to reduce auto pollution may be setting up a full-out war with Trump
California regulators launch new campaign against harmful climate pollutants
Get our Essential Politics newsletter
The latest news, analysis and insights from our politics team.
You may occasionally receive promotional content from the Los Angeles Times.