Prisoners say state threatens reprisals over hunger strike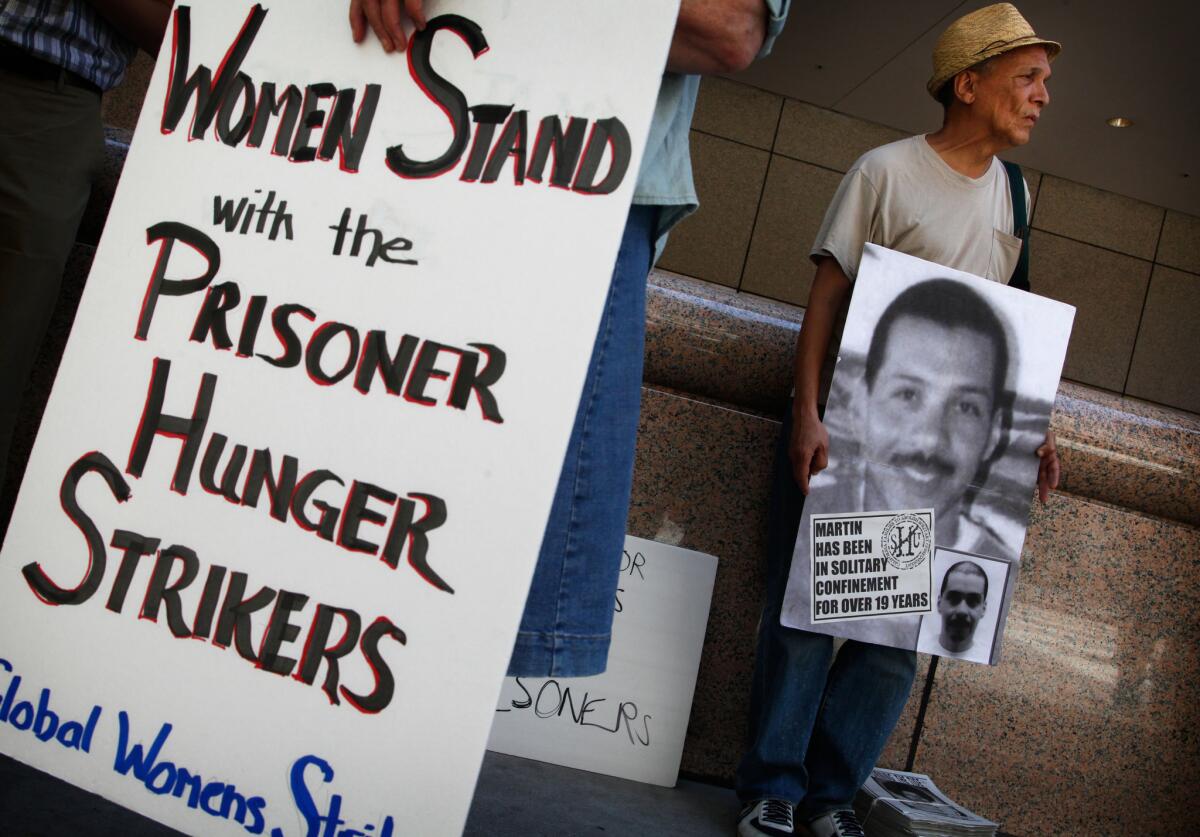 SACRAMENTO — State prisoners said Wednesday evening that corrections officials are threatening to search their cells, seize their food stashes and possibly move them to solitary confinement if they continue their meal strike.
Leaders of the protest said, through outside advocates, that they were prepared for such a crackdown, which would mirror actions taken in past hunger strikes.
Deborah Hoffman, the lead spokeswoman for the California Department of Corrections and Rehabilitation, declined to confirm the measures described by inmates but said they "might be part of our normal policy."
"There is a process in place when an inmate misses his ninth consecutive meal — and it is a process — it doesn't all happen at once, can take days," Hoffman said in an email.
Wednesday dinner was the ninth meal served since the protest began Monday at two-thirds of California's prisons and among state offenders housed elsewhere. Nearly 29,000 inmates were continuing to reject meals, down slightly from 30,000 on Monday, with about 1,700 inmates still failing to go to their prison jobs or classes.
They are protesting solitary confinement conditions, food quality and what they describe as inadequate rehabilitation and education programs and a lack of warm clothing, among other issues.
Inmates told The Times they were concerned that retaliatory measures would escalate what so far has been a quiet protest.
Threats of such steps had "been alluded to for several months" as the meal action was being planned, said Isaac Ontiveros of the Oakland-based Prisoner Hunger Strike Solidarity Coalition, an inmate advocacy group helping the prisoners circulate their demands.
Prison officials "stated that if they wanted the world to think they were going hungry, then it would be made so they were hungry," said an inmate at a Central California facility.
In addition to food confiscation, inmates said, they may be subject to mental health and medical evaluations, denied visitors and mail packages and subject to rules violations that could eventually affect their chances of winning parole.
ALSO:
California prison protest enters third day
Jerry Brown extends private prison contracts
Brown asks Supreme Court for delay in prison reductions
Follow strike updates on Twitter @paigestjohn
Get our Essential Politics newsletter
The latest news, analysis and insights from our politics team.
You may occasionally receive promotional content from the Los Angeles Times.