Essential Politics: Ron DeSantis versus the College Board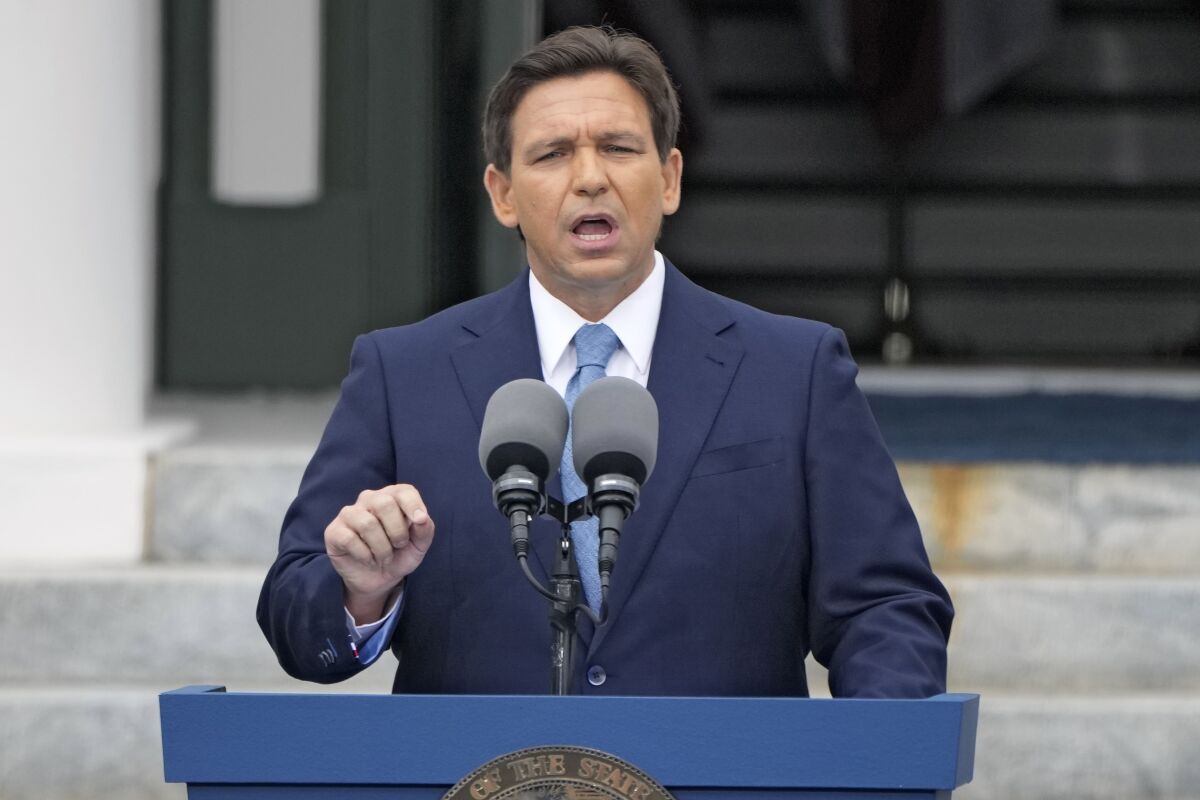 WASHINGTON —
Florida Gov. Ron DeSantis, a potential candidate for the 2024 Republican presidential nomination, is threatening to cut his state's ties with the College Board, the organization that develops Advanced Placement classes for college-bound high school students. The College Board is accusing the Florida Department of Education of "slander."
If DeSantis follows through on his threat, tens of thousands of AP students may find their college credits are no longer accepted by Florida universities.
How did we get here? To understand what's happening now, it's useful to remember a bit of recent history.
In the wake of the murder of George Floyd in 2020, many Americans felt compelled to denounce police brutality and white supremacy.
Individuals, politicians and corporations posted long statements condemning white supremacy and systems of oppression to their social media feeds. Schools began emphasizing anti-racist teaching and Fortune 500 companies announced initiatives to prove they cared about racial injustice.
The College Board, which had long considered creating an AP African American Studies course, accelerated the development of a curriculum for the new class.
Many people believed the cultural shift that followed Floyd's killing was long overdue. But others came to believe that the summer of 2020 had shifted the culture too far in the wrong direction. Many conservatives publicly criticized this new wave of so-called "wokeness" as a sort of political correctness run amok, and vowed to stoke and fight a culture war until all relics of this era were gone.
Conservative activists, politicians and political donors went after the New York Times' 1619 Project, which focused on the history of slavery in the U.S. Right-wing backlash ultimately led the University of North Carolina to deny a tenured position to Nikole Hannah-Jones, the Pulitzer Prize-winning journalist (and UNC alum) who conceived of the 1619 Project.
Some states also passed laws banning the teaching of critical race theory, an academic framework that became a catch-all term for not only diversity initiatives but also ethnic studies and other only tangentially related subjects that conservative activists argued did not belong in the classroom.
There is little indication that this college-level framework was systemically taught in K-12 schools. But conservatives believed that progressives were "seeking to reengineer the foundation of human psychology and social institutions through the new politics of race," Christopher Rufo, the journalist who launched the right-wing crusade against critical race theory, told the New Yorker.
Conservatives wanted to fight back. Critical race theory was "the perfect villain," Rufo said.
Florida, DeSantis, and the Republican-dominated Florida legislature led the way in banning the decades-old framework from the state's public schools.
Next, DeSantis and Florida conservatives turned their fire toward the College Board's still-in-development AP African American Studies course.
After they complained, the curriculum changed. Did it change because of GOP fury? What does this mean for the future of the class?
Hello, I'm Erin B. Logan. I cover national politics and the White House for the L.A. Times. This week, we are going to discuss racism, Florida and education.
Get our Essential Politics newsletter
The latest news, analysis and insights from our politics team in D.C.
You may occasionally receive promotional content from the Los Angeles Times.
Why all the fuss about African American Studies?
The College Board had toyed with creating a Black Studies advanced placement class since at least 2007. But it wasn't until the national anti-racism protests spawned by Floyd's killing that the organization began developing a formal curriculum.
Last February, after consulting with top scholars, the College Board put forth a framework for the class. Students would learn about reparations, Jim Crow, mass incarceration, queer studies and feminist thought.
Florida Republicans claimed that the new curriculum ran afoul of Florida's laws regulating what can be taught in classrooms. Last month, DeSantis banned the class from Florida schools, claiming the AP course "significantly lacks educational value."
In a Jan. 12 letter to College Board, the state's education department confirmed the class would be banned from the state.
Last week, the College Board seemed to respond to the pressure, removing the some required writings from Marxist Angela Davis and feminist scholar bell hooks and made some of the more controversial topics, including Black Lives Matter, optional rather than required.
The College Board initially denied that the changes were prompted by Florida Republicans' outrage. A Feb. 7 letter, however, indicates that the nonprofit had been in frequent communication with the state's education department.
In a statement on Saturday, the College Board said it regretted "not immediately denouncing the Florida Department of Education's slander, magnified by the DeSantis administration's subsequent comments, that African American Studies "lacks educational value."
"Our failure to raise our voice betrayed Black scholars everywhere and those who have long toiled to build this remarkable field," the statement said.
What happens next?
This week, DeSantis suggested that Florida may completely cut ties with the College Board.
"Nobody elected [the College Board] to anything," DeSantis said Monday. College Board is "providing service. And so you can either utilize those services or not."
He added: "They have provided these AP courses for a long time, but there are probably some other vendors who may be able to do that job as good or maybe even a lot better."
Check out "The Times" podcast for essential news and more
These days, waking up to current events can be, well, daunting. If you're seeking a more balanced news diet, "The Times" podcast is for you. Gustavo Arellano, along with a diverse set of reporters from the award-winning L.A. Times newsroom, delivers the most interesting stories from the Los Angeles Times every Monday, Wednesday and Friday. Listen and subscribe wherever you get your podcasts.
The latest from the campaign trail
—Nikki Haley, the former South Carolina governor and United Nations ambassador, announced her candidacy for president Tuesday, becoming the first major challenger to Trump for the 2024 Republican nomination, the Associated Press reported.
—Former Vice President Mike Pence is planning to fight a subpoena by the special counsel overseeing investigations into efforts by former President Trump and his allies to overturn the results of the 2020 election, according to people familiar with his thinking, the Associated Press reported.
—Sen. Dianne Feinstein, California's longest-serving senator, will not run for reelection next year, marking the end to one of the state's most storied political careers, Times writer Jennifer Haberkorn reported.
Enjoying this newsletter? Consider subscribing to the Los Angeles Times
Your support helps us deliver the news that matters most. Become a subscriber.
The view from Washington
—The intractable conflict between Israelis and Palestinians over land, rights and safety has entered a new phase, one plumbing new depths of hatred and radical intransigence that the U.S. government no longer seems in a position to resolve or even mitigate, Times writer Tracy Wilkinson reported.
—As U.S. Navy divers and salvage crews plucked pieces of downed aerial objects from the Arctic Ocean to the waters off South Carolina, the Biden administration on Monday was racing to learn what the latest mystery vessels were and who launched them, Times writers Tracy Wilkinson and Courtney Subramanian reported. Pentagon and State Department officials say they are confident that the balloon downed on Feb. 4 off the Atlantic Ocean coast — after it traversed the U.S. for 96 hours and had Americans on high alert and looking skyward — was part of a vast Chinese spy project.
—President Biden has fired embattled Architect of the Capitol Brett Blanton, who oversees the historic building and its grounds, as pressure mounted for his removal following a scathing inspector general's report of personal and management lapses, the Associated Press reported.
The view from California
—Months before he became chief of staff to Mayor Karen Bass, Chris Thompson was a registered lobbyist at City Hall tasked with making sure that preparations for the 2028 Olympic and Paralympic Games ran smoothly, Times writer Dakota Smith reported. Now, Thompson says he will stay away from those issues even as he runs Bass' 200-person office during the critical first year of her administration.
—Bass ordered city officials on Friday to prepare a list of the city's surplus and unused properties over the next three weeks, the first major step in identifying which ones will be used for building homeless housing, Times writer David Zahniser reported. Bass, in her third executive directive on homelessness since taking office in December, said she wants city officials to vet each of those sites by March 31 to determine which would work best for temporary or permanent housing — an aggressive timetable for a city that has been struggling for years to respond to the crisis.
—Supervisors at the Los Angeles Department of Water and Power's security division bolstered their paychecks by working regular hours at overtime rates, according to a report from the utility's Office of Inspector General, Times writer Dakota Smith reported.
Sign up for our California Politics newsletter to get the best of The Times' state politics reporting. And don't forget to follow me on Twitter and send pictures of your adorable furbabies to me at erin.logan@latimes.com.
Life is stressful. Our weekly mental wellness newsletter can help.
You may occasionally receive promotional content from the Los Angeles Times.