On Capitol Hill, the GOP civil war turns physical, with Kevin McCarthy on the front line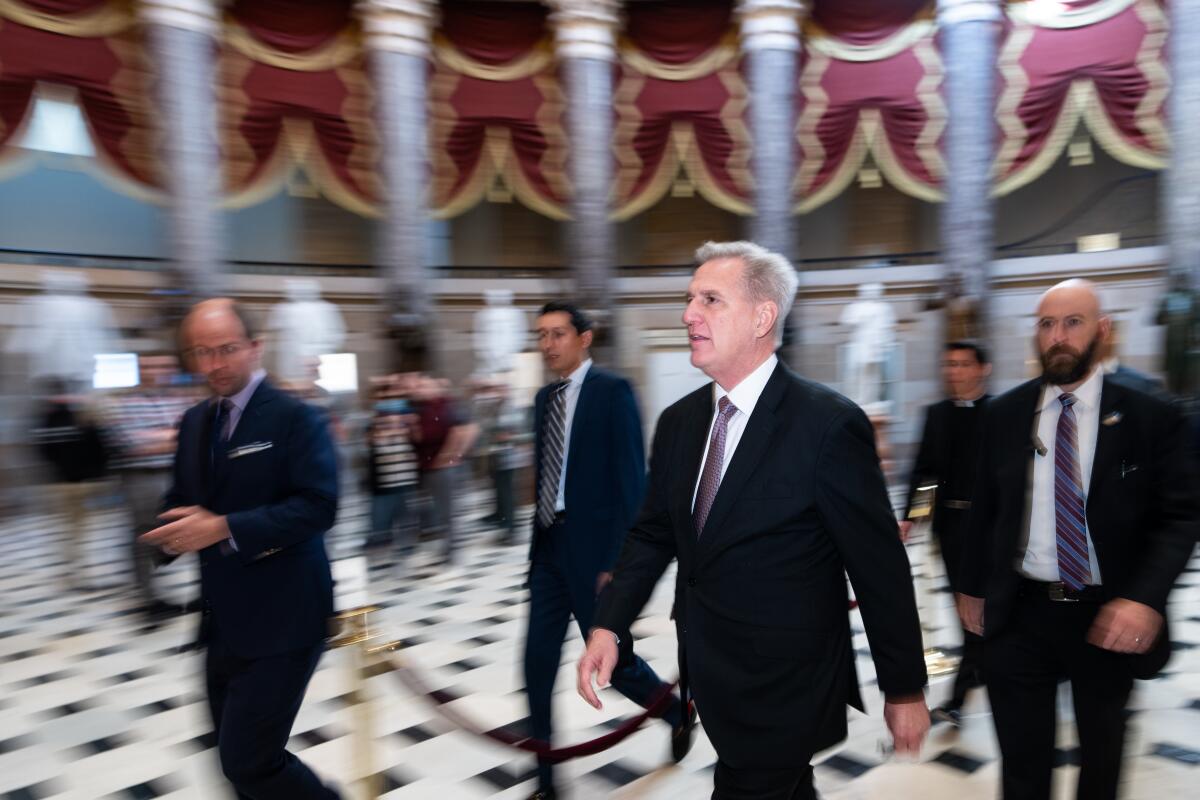 WASHINGTON —
Congress, in my humble opinion, is the best beat in Washington. Not only do you have (mostly) unfettered access to lawmakers, but you also get a front-row seat to all the drama unfolding on Capitol Hill.
The drama tends to be substantive — fights over philosophical differences, for example, are commonplace. But this week, the drama was dumb and, at some points, violent.
On Tuesday alone, lawmakers quarreled publicly at least four separate times. The girls are fighting!
Usually, these sorts of clashes are between members in opposing parties. (One GOP lawmaker called a Democrat a "smurf" during a formal hearing.) But yesterday, the fighting was overwhelmingly Republican-on-Republican, a sign that the acrimonious GOP civil war triggered by the ouster of House Speaker Kevin McCarthy is far from over.
Hello, friends. I'm Erin B. Logan, a reporter covering national politics for the L.A. Times. This week, we're going to talk about petty drama that is, as Gretchen Wieners might say, so not fetch.
Get our Essential Politics newsletter
The latest news, analysis and insights from our politics team.
You may occasionally receive promotional content from the Los Angeles Times.
The Burn Book got leaked
Perhaps the most notable altercation on Tuesday took place between McCarthy (R-Bakersfield) and Tennessee Rep. Tim Burchett, one of the eight GOP rebels who, with Democratic help, removed the Californian from the speaker's chair last month.
Burchett contends that McCarthy intentionally elbowed him in the back. "It was a clean shot to the kidney," he told reporters. Though McCarthy denied the elbow was intentional, blaming the contact on a tight hallway, a reporter present backed Burchett's account, noting that the Tennessean quickly ran to confront the ex-speaker.
Though Burchett said he would not file a formal ethics complaint, Florida Rep. Matt Gaetz, the McCarthy gadfly who led the coup against his leadership, quickly demanded a formal probe into the "assault."
McCarthy was not the only Californian to find himself embroiled in drama.
Georgia Rep. Marjorie Taylor Greene criticized Rep. Darrell Issa (R-Bonsall) for voting against an impeachment probe into Homeland Security Secretary Alejandro Mayorkas. Issa called the Georgian a "hard-working member of Congress, but I believe she lacks the maturity and the experience to understand what she was asking for."
In response, Greene made a post on X, the platform formerly known as Twitter, dismissive of the Californian and shared a video of former President Trump repeating an insult.
(Issa told The Times in a statement that he did not "kill" the impeachment, but instead voted to force the hearings to be public. "If we impeach Mayorkas today, Senate Democrats will feel free to reject it today. We want hearings where Democrats are forced to go on the record and finally have to defend Biden's historic border disaster," he said.)
Darrell Issa is right, I am a hardworking member of Congress who puts the American people first.

But we all know what Darrell Issa lacks…

🏈🏀⚾️🎾🎱 https://t.co/j4YX9Gc5Fp

— Rep. Marjorie Taylor Greene🇺🇸 (@RepMTG) November 14, 2023
A fight nearly broke out on the other side of the Hill, too. During a Senate hearing, Oklahoma Sen. Markwayne Mullin challenged Teamsters General President Sean O'Brien, who was testifying, to a fistfight. After asking the witness if he was willing to fight, Mullin stood and seemed about to remove his wedding ring.
Vermont Sen. Bernie Sanders quickly raised his voice and told them both to cool off.
When reporters caught up with Mullin later that day, they asked if he heard about the altercation between Burchett and McCarthy, the senator's longtime friend. Mullin said he had and criticized the Tennessean, saying he had already kicked him out of his bipartisan workout group earlier this month.
"I don't have a problem with your differences," Mullin told the Hill. "But I do have a problem when you can't respect or trust the individual that's in front of you."
Mullin said he doesn't trust Burchett and that he "lacks character."
A cake filled with rainbows and smiles
Physical violence was once unremarkable among Washington officials.
Former Treasury Secretary Alexander Hamilton was famously killed in 1804 in a duel with then-Vice President Aaron Burr in New Jersey. In 1856, abolitionist Massachusetts GOP Sen. Charles Sumner was caned inside the old Senate chamber by a pro-slavery Democrat in the run-up to the Civil War.
But in the 21st century, physical violence is not as common on the Hill.
"You have certain norms of behavior and if they get degraded, they become the new normal," said Norman Ornstein, a political scientist at the American Enterprise Institute, a Washington-based center-right think tank. "And then they can be degraded further, and it becomes the new normal."
Ornstein noted that previous congressional leaders were sticklers for decorum. "Those norms have been degraded beyond belief," he said. "If there's no formal sanction," or scoffs from colleagues bothered by the unprofessional actions, "norms are going to deteriorate and you're going to have people who are not bound by the normal ground rules of how you operate."
McCarthy's altercation with Burchett is perhaps most concerning because he was just a few weeks ago the House speaker, Ornstein said.
"He may not be the speaker anymore anymore, but we ought to hold our leaders to a higher standard," he said.
The latest from Trumpland
—Donald Trump is pushing for his federal election interference trial in Washington to be televised, joining media outlets that say the public should be able to watch the case unfold, the Associated Press reported. The Justice Department is opposing the effort, arguing that the judge in the case does not have the authority to ignore the long-standing policy against cameras in federal courts.
—A federal judge in Florida on Friday declined to delay Trump's classified documents trial, calling a request by the former president's defense lawyers to postpone the date "premature," the Associated Press reported. But she pushed back other deadlines in the case and signaled that she would revisit the trial date later.
—A Michigan judge ruled Tuesday that Trump will remain on the state's primary ballot, dealing a blow to the effort to stop the former president's candidacy with a Civil War-era constitutional clause, the Associated Press reported.
Enjoying this newsletter? Consider subscribing to the Los Angeles Times
Your support helps us deliver the news that matters most. Become a subscriber.
The view from Washington
—Replacing McCarthy with Louisiana Rep. Mike Johnson was supposed to result in more conservative governance, Times writer Erin B. Logan (that's me!) reported. But on Tuesday afternoon, Johnson became the latest GOP House speaker to require Democratic help to avert a government shutdown.
—The Supreme Court on Monday issued a code of conduct for itself for the first time, while acknowledging the rules are "not new" and simply restate the principles it says its justices have long followed, Times writer David G. Savage reported. But this modest effort is unlikely to end the controversy created by Justice Clarence Thomas and his free luxury vacations, paid for by Texas real estate billionaire Harlan Crow.
—A man and woman accused of operating a commercial sex ring with wealthy and prominent clients in Massachusetts and the Washington suburbs appeared in court Monday, but a hearing on whether they should remain behind bars while they await trial was delayed until next week, the Associated Press reported.
The view from California
—Since Karen Bass became Los Angeles' mayor in December, she has been confronted with a school strike and a historic tropical storm, Times writers Julia Wick, David Zahniser and Dakota Smith reported. But 11 months into a relatively placid first year, the indefinite closure of the 10 Freeway, a vital piece of civic infrastructure, presents a new and potentially thorny challenge for Bass.
—Biden and Chinese President Xi Jinping will meet Wednesday in Northern California, Biden administration officials said, for talks on trade, Taiwan and managing fraught U.S.-Chinese relations in what will be the first engagement between the leaders of the world's two biggest economies in nearly a year, the Associated Press reported.
—Paul Pelosi, husband of former U.S. House Speaker Nancy Pelosi, offered chilling details in federal court on Monday of the night he was attacked and bludgeoned with a hammer; the suspect is now on trial facing charges of attempted kidnapping and assault, Times writer Hannah Wiley reported.
That's it, friends! Sign up for our California Politics newsletter to get the best of The Times' state politics reporting and to follow me on Instagram for the latest updates of my dear fur child, Kacey.
Get our Essential Politics newsletter
The latest news, analysis and insights from our politics team.
You may occasionally receive promotional content from the Los Angeles Times.