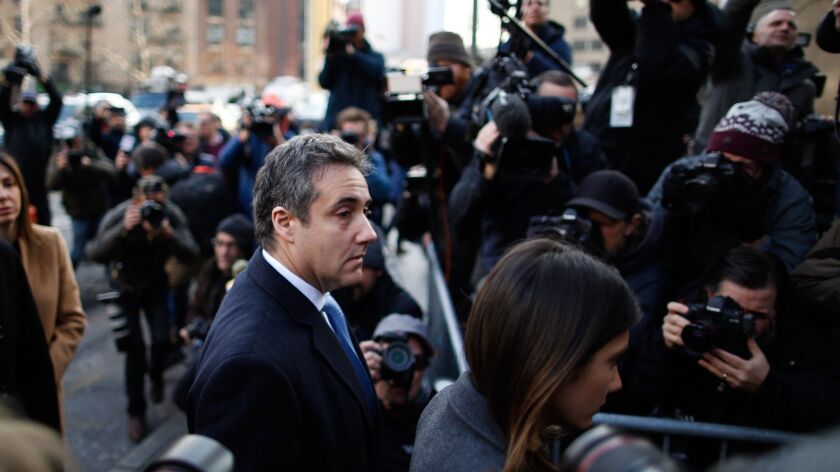 WASHINGTON —
Donald Trump was in close contact with Michael Cohen as his longtime lawyer arranged hush money payments to two women during the 2016 presidential campaign, according to court documents revealed Thursday that showed the criminal investigation was wider than previously known.
Although Trump later denied knowing about the payments, he and Cohen spoke frequently at key moments as Cohen raced to keep Trump's alleged extramarital affairs under wraps weeks before the election.
They had two phone calls shortly before Cohen began transferring money to buy the silence of Stormy Daniels, an adult film actress, and then spoke again two days later after $130,000 was sent to a lawyer for Daniels, according to phone records cited in an affidavit.
The affidavit was used more than a year ago to obtain court-approved warrants to search Cohen's home, hotel room and office. He pleaded guilty last year to campaign finance violations in connection with the secret payments.
The National Enquirer, a tabloid run by a Trump ally, also sent $150,000 Karen McDougal, a former Playboy playmate.
Although federal prosecutors in New York have said Trump himself directed the illegal scheme, they told U.S. District Judge William H. Pauley III this week that they were closing the case.
"The government has effectively concluded its investigations," prosecutors wrote in a status report that was unsealed on Thursday.
After learning the case was closed, Pauley directed prosecutors to release hundreds of pages of documents, including the affidavit, that had previously been heavily redacted. He called the contents a "matter of national importance"
No further charges appear forthcoming in the case, but the documents showed the probe was broader than determining who was criminally liable for the campaign finance violations.
Prosecutors also examined "whether certain individuals . . . made false statements, gave false testimony or otherwise obstructed justice," according to the status report.
Although the names are redacted, the affidavit could cause problems for Hope Hicks, who served as Trump's campaign spokeswoman and White House communications director. She's now an executive vice president and chief communications officer at the Fox Corporation.
According to the affidavit, she told a federal agent that she didn't learn about Trump's alleged affair with Daniels until November 2016. However, phone records show she was in regular contact with Cohen, the point person for preventing the public from learning about the affair, before then.
On Oct. 8, a month before the election, Cohen, Trump and Hicks held a three-way phone call, the affidavit said. At the time, they were dealing with fallout from the "Access Hollywood" tape, where Trump could be heard boasting about groping women, and there were fears that Daniels could go public with her own story.
Within the next hour, records show, Cohen worked the phones rapidly. He spoke again to Hicks; then David Pecker, the National Enquirer publisher; then Dylan Howard, another publishing executive; then Hicks again; then Pecker again, and finally Trump.
"At least some of these communications concerned the need to prevent Clifford from going public," the affidavit said.
A lawyer for Hicks did not respond to a request for comment. Cohen's representatives declined to address what he said about Hicks' involvement during lengthy interviews with prosecutors.
During closed-door testimony to the House Judiciary Committee last month, Hicks denied being present for any conversations between Cohen and Trump involving Daniels.
Rep. Jerrold Nadler (D-N.Y.), chairman of the House Judiciary Committee, sent Hicks a letter on Thursday saying her testimony "appears to be inconsistent with evidence unsealed this morning." He said that "anything other than complete candor can have very serious consequences," and asked her to "clarify this matter" by Aug. 15. It is a crime to lie to Congress.
Cohen is serving a three-year prison sentence for the campaign finance violations and other crimes, and he's repeatedly bemoaned the fact that he's the only one to face charges in connection with the hush money payments.
"I and members of the Trump Organization were directed by Mr. Trump to handle the Stormy Daniels matter, including making the hush money payment," he said in a statement issued from prison. "The conclusion of the investigation exonerating the Trump Organization's role should be of great concern to the American people and investigated by Congress and the Department of Justice."
Rep. Adam Schiff (D-Burbank), chairman of the House Intelligence Committee, said it was important to determine whether Atty. Gen. William Barr, who was appointed by Trump this year, played a role in bringing the investigation to a close.
"The inescapable conclusion from all of the public materials available now is that there was ample evidence to charge Donald Trump with the same criminal election law violations for which Michael Cohen pled guilty and is now serving time in prison," Schiff said in a statement.
Kerri Kupec, a Justice Department spokeswoman, declined comment.
Trump has denied any wrongdoing.
"We are pleased that the investigation surrounding these ridiculous campaign finance allegations is now closed. We have maintained from the outset that the president never engaged in any campaign finance violation," said his lawyer, Jay Sekulow, in a statement.
---