Trump picks new national security advisor, but no clear path on Iran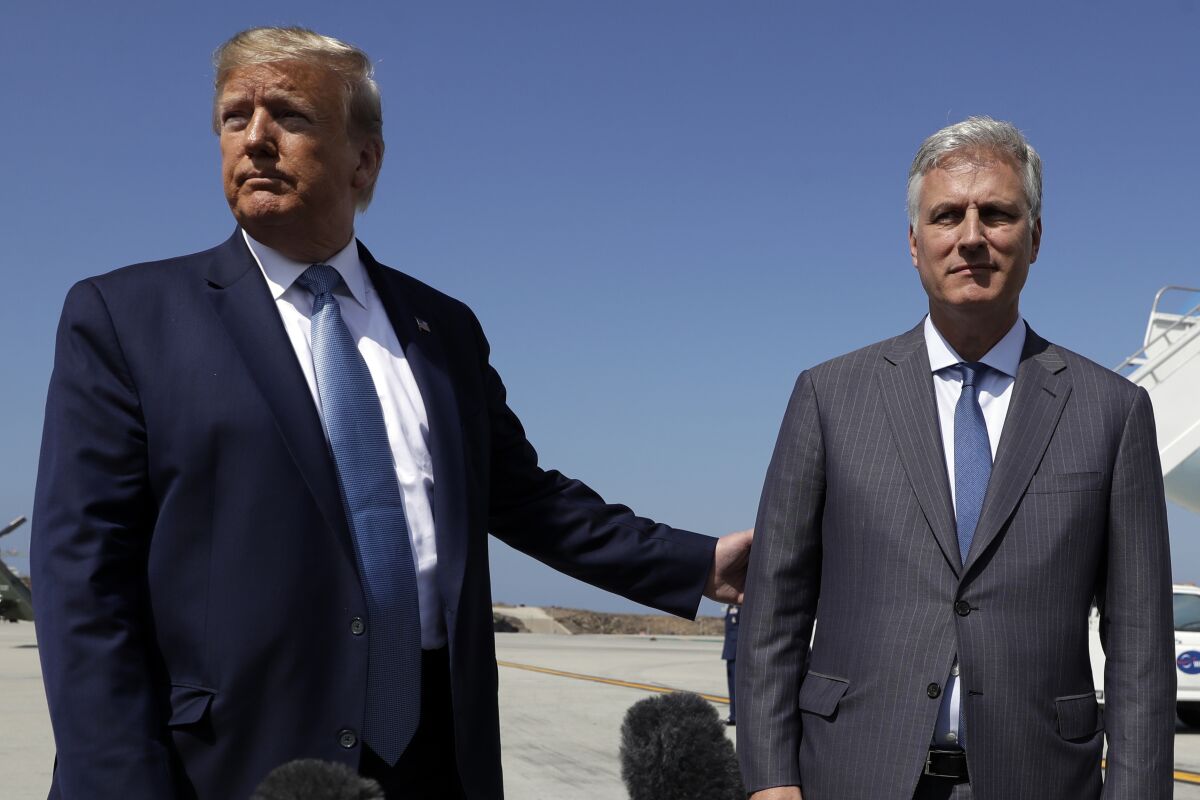 WASHINGTON —
President Trump named Robert C. O'Brien, the State Department's special envoy for hostage affairs, as his fourth national security advisor on Wednesday, but the White House struggled to offer a coherent response to Iran for its suspected role in the fiery attack on two major oil facilities in Saudi Arabia last weekend.
Trump's announcement thrusts the little-known Los Angeles lawyer into a maelstrom of foreign policy challenges, none more pressing than the crisis with Iran, where the president has wavered between his desire to project toughness and his reluctance to risk a new Middle East war as he seeks reelection.
Introducing O'Brien to television cameras and reporters on the tarmac at Los Angeles International Airport, where he was traveling between fundraisers, Trump suggested he could still order military action but he did not repeat the bellicose threats that he's used in the past.
"If we have to do something we'll do it, without hesitation," he said, adding, "There's plenty of time to do some dastardly things."
Trump carefully avoided echoing more pointed comments from Secretary of State Michael R. Pompeo, who described the attack on Saudi Arabia as an "act of war" while flying to Riyadh, the Saudi capital, on Wednesday.
Pompeo said he was "working to build out a coalition to develop a plan" to deter Iran.
Iran has denied responsibility for Saturday's predawn attack, and assembling an international coalition against it could prove difficult. Trump angered some allies last year by pulling out of the 2015 nuclear deal with Iran, which other major powers still support. No European government has publicly blamed Iran for the current crisis.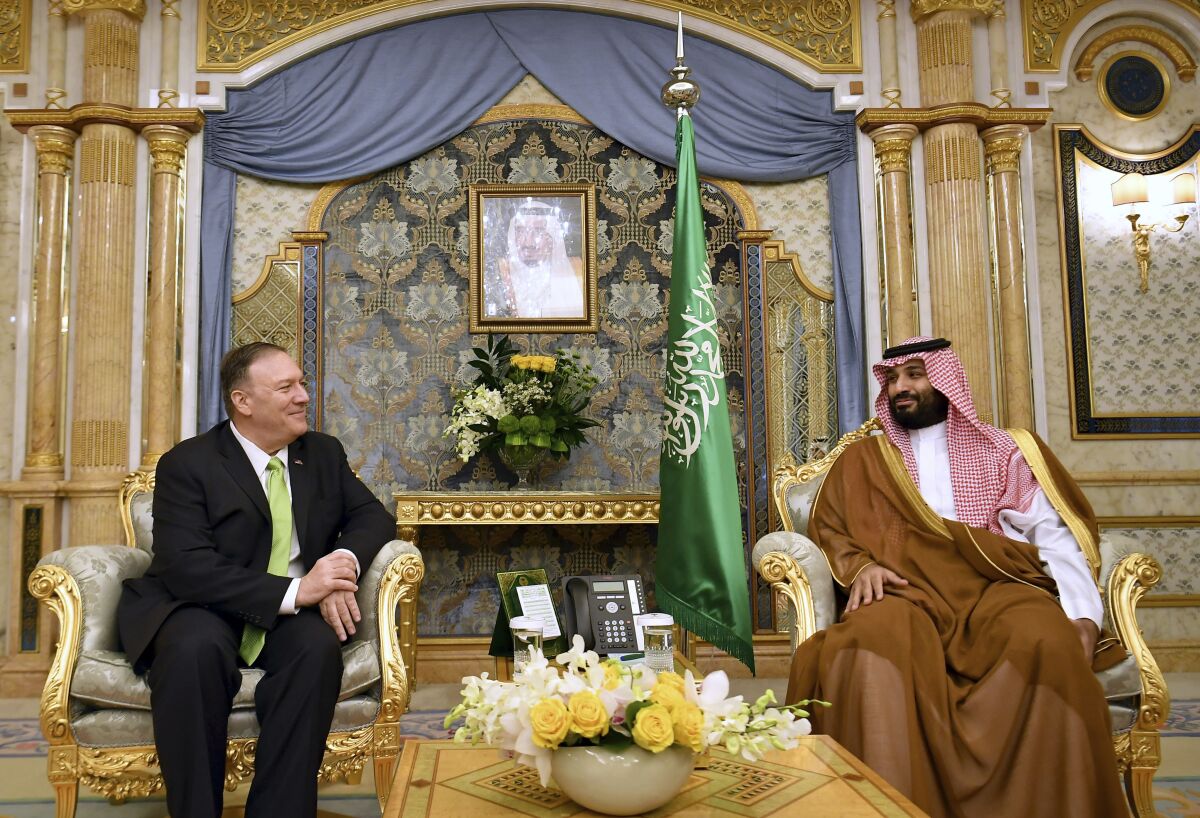 Trump said Wednesday that he instructed Treasury Secretary Steven T. Mnuchin to "substantially increase" economic sanctions on Iran. It wasn't clear if the new sanctions would be different from those now in place, which have squeezed Iran's economy, and Trump offered no details of who or what would be targeted.
The uncertainty was a reminder that O'Brien will work for a mercurial president who already has pushed out three national security advisors and who often surprises his top staff, setting foreign policy priorities or abruptly issuing orders by tweet.
O'Brien will replace John Bolton, who was ousted last week. Appearing with Trump, O'Brien said he's looking forward to working with the remaining foreign policy team.
"We've had tremendous foreign policy successes under President Trump's leadership," O'Brien said. "And I expect those to continue."
Trump has come under pressure from hawkish Republicans who seek a more confrontational approach to Iran. Sen. Lindsey Graham (R-S.C.) said that Tehran may have seen Trump's go-slow approach "as a sign of weakness," a comment that spurred a backlash from the president.
"Ask Lindsey how did going into the Middle East, how did that work out?" Trump said. "And how did going into Iraq work out?"
Saudi officials have taken a cautious approach so far. Speaking to reporters in Riyadh, Col. Turki Maliki, a Saudi military spokesman, blamed Tehran for "an assault on the international community and an attempt to disrupt the global economy and the energy industry," but he stopped short of saying Iran launched the strike.
Showing drone and missile debris that he said investigators had recovered, Maliki said that 18 explosive-laden drones were fired at the Abqaiq oil processing facility and that four cruise missiles struck the Khurais oil field to the west. Three other missiles fell short of Abqaiq, he said.
Maliki dismissed claims of responsibility by the Houthis, an Iranian-backed militia group in Yemen. "This attack did not originate from Yemen, despite Iran's best efforts to make it appear so," he said.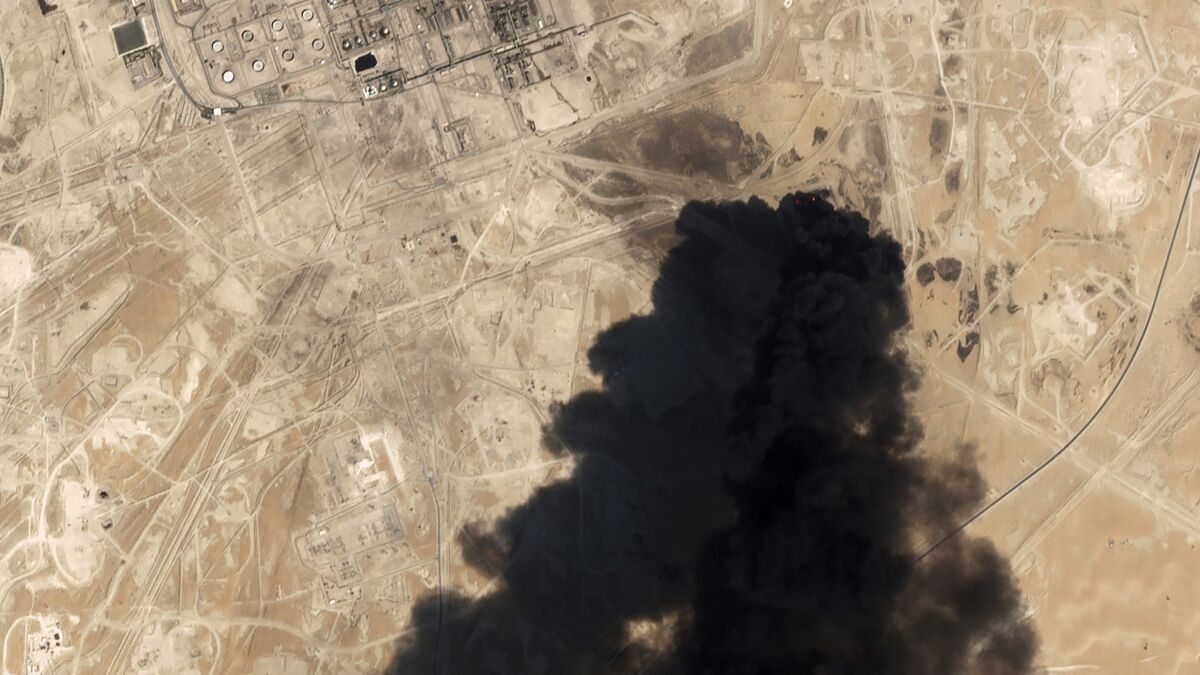 Iran's news service reported that the U.S. State Department had not yet issued visas to allow Iran's president, Hassan Rouhani, and foreign minister, Mohammad Javad Zarif, to attend the annual United Nations General Assembly gathering in New York next week, and that they might cancel their trip. Rouhani was scheduled to speak next Wednesday, a day after Trump.
Trump's uneven foreign policy will be on full display at the U.N., which he used last year to trumpet his "America first" doctrine.
Despite three splashy meetings, he has failed to persuade North Korea's ruler, Kim Jong Un, to abandon his nuclear weapons arsenal or infrastructure. Trump also has alienated traditional European allies with his outreach to Russia, and he's embroiled in a punishing trade war with China.
The White House national security advisor, who does not require Senate confirmation, typically synthesizes information from across the government and presents it to the president. Trump recently bragged that a lot of people wanted the job.
"It's great because it's a lot of fun to work with Donald Trump," he told reporters last week. "And it's very easy, actually, to work with me. You know why it's easy? Because I make all the decisions. They don't have to work."
Jerry Green, who leads the Pacific Council on International Policy in Los Angeles, praised O'Brien, saying he "works and plays incredibly well with others." He said O'Brien had formed strong relationships with Pompeo and members of Congress.
"He is really an ethical guy," Green said. "A good guy. He's been doing this a long time."
He went to UCLA and UC Berkeley. He worked for Trump's rivals in the 2016 campaign. Now Robert O'Brien is Trump's national security advisor. How'd that happen?
Although Trump told reporters on Tuesday that he was still considering five candidates for the job, he already seemed clearly impressed with O'Brien — and flattered by him.
"Robert O'Brien said, 'Trump is the greatest hostage negotiator in history,'" Trump said Tuesday. "He happens to be right."
One administration official said the president has told aides that the tall, silver-haired O'Brien "looks the part," a common refrain from a former reality-television star who is fixated on how his White House is portrayed in the media.
O'Brien, a longtime resident of La Cañada Flintridge, received his bachelor's degree at UCLA and his law degree at UC Berkeley. But he has a thinner foreign policy resume than the president's three previous national security advisors.
The first, Michael Flynn, was a retired three-star Army general who had served in Iraq and Afghanistan and led the Pentagon's intelligence operations. He held the White House position for less than a month, however, and was later indicted in the Russia investigation. He pleaded guilty and is awaiting sentencing.
The second, H.R. McMaster, was also a three-star Army general with a distinguished military career. Bolton, the third, had served in the State Department and as U.S. ambassador to the U.N. under President George W. Bush before becoming a Fox News commentator. He lasted 17 months, longer than his predecessors, but clashed with Trump over Iran and Afghanistan.
O'Brien co-founded a Los Angeles-based law firm, Larson O'Brien, where he focused on "complex commercial litigation," according to the firm's website. His clients hail from the entertainment, real estate and oil and gas industries, among others.
He worked under Bolton at the U.N. and served as an advisor to several Republican presidential campaigns. He wasn't always a Trump supporter but, like many Republicans, fell in line after the 2016 election and began publicly praising Trump.
When Trump took office in 2017, he chose O'Brien to lead hostage negotiations. The position has allowed O'Brien to work on high-profile cases that garnered the cable news attention that the president craves, such as securing the release of Andrew Brunson, an American pastor incarcerated in Turkey.
During Oval Office ceremonies with freed Americans, O'Brien always made a point of praising the president.
In February, after oil company engineer Danny Burch was released in Yemen and returned to his family, O'Brien credited Trump's "unparalleled success in bringing Americans home without paying concessions, without prisoner exchanges, but through force of will and the goodwill that he's generated around the world."
In July, Trump dispatched O'Brien to Sweden to seek the release of American rapper ASAP Rocky, who had been charged with assault and was in jail awaiting trial. The decision raised eyebrows because the case involved a criminal proceeding, not a hostage situation. The rapper was convicted in August and received a suspended prison sentence in addition to time served.
Megerian and Stokols reported from Washington, and Bulos reported from Baghdad. Times staff writer Tracy Wilkinson in Washington contributed to this report.
---
Life is stressful. Our weekly mental wellness newsletter can help.
You may occasionally receive promotional content from the Los Angeles Times.