The last time Congress weighed impeachment of a president was in 1998, which politically amounts to eons ago.
Attitudes — about the exploitation of women, the private lives of public figures, the rules of political engagement — have changed a good deal.
So, too, have the statements and seeming viewpoint of many involved in the impeachment of Democratic President William J. Clinton who now contemplate the impeachment of Republican President Donald J. Trump. Impeachment is, after all, a political exercise, not a criminal trial.
After a sprawling, years-long investigation — into an Arkansas land deal, allegations of campaign finance violations, charges of cronyism — Clinton faced two articles of impeachment in the House. Both stemmed from his extramarital affair with former White House intern Monica Lewinsky and Clinton's attempt to hide their relationship.
On Dec. 19, 1998, during a lame-duck session of the Republican-controlled House of Representatives, lawmakers voted 228 to 206 to support the first article of impeachment, accusing Clinton of lying to a grand jury. Lawmakers voted 221 to 212 to support the third article of impeachment, accusing Clinton of attempting to obstruct justice. (The House rejected two other articles.)
The votes were overwhelmingly cast along partisan lines.
After a trial in the GOP-run Senate, lawmakers voted 55 to 45 against removing Clinton from office — well short of the two-thirds needed for his ouster. A handful of Republicans broke partisan ranks and voted to acquit Clinton on one count or the other.
The allegations against Trump are less salacious than those Clinton faced, but no less serious.
The House of Representatives intends to vote to impeach President Trump for abusing his office and obstructing Congress, a condemnation that only two other U.S. presidents have faced in the nation's 243-year history. Despite the historic nature of the vote on charging the president with committing high crimes and misdemeanors, Trump's fate has been sealed for days, if not weeks in the Democratic-controlled House.
The president is accused of abusing his power by using U.S. foreign policy for his own gain, including withholding aid to Ukraine until the country's leader agreed to seek out dirt on former Vice President Joe Biden, who's bidding to be the Democratic nominee in 2020, and his son.
At the center of the allegation is a July 25 telephone call between Trump and Volodymyr Zelensky, the president of Ukraine. A whistleblower complaint by a member of the intelligence community alleged White House officials had attempted to "lock down" records of that call and other actions by the president.
So far, where lawmakers stand on impeaching Trump depends on where, politically, they sit. Democrats are charging ahead; no Republican has come out in favor.
Here's what eight lawmakers in office during the impeachment of Clinton have to say now that they are judging Trump, compared to their statements back then.
Joe Biden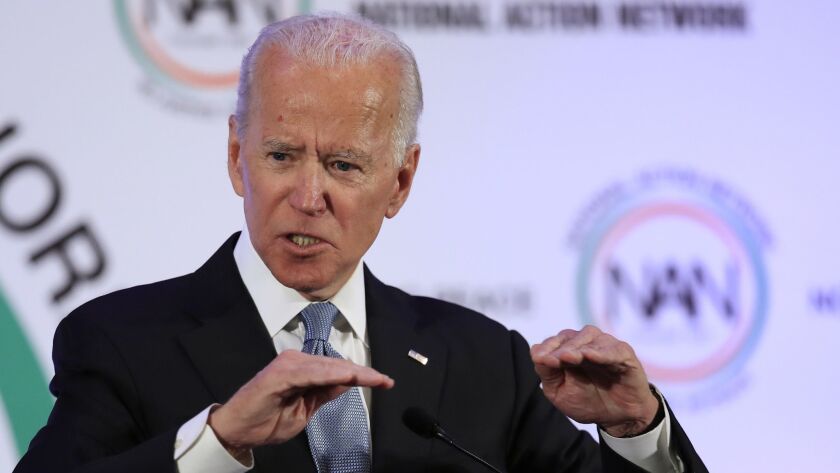 Then (as a senator from Delaware): "The American people don't think that they have made a mistake by electing Bill Clinton and we in Congress had better be very careful before we upset their decision and make darn sure that we are able to convince them, if we decide to upset their decision, that our decision to impeach him was based upon principle and not politics."
– Nov. 18, 1998, speech at National Press Club
Now: "It is a tragedy for this country that our president put personal politics above his sacred oath. He has put his own political interests over our national security interest, which is bolstering Ukraine against Russian pressure. It is an affront to every single American and the founding values of our country. This is not a Republican issue or a Democratic issue. It is a national security issue. It is a test of our democratic values."
– Sept. 25, statement
Sen. Lindsey Graham (R-S.C.)
Then (as a congressman who served as a House manager in Clinton's Senate trial): "You don't even have to be convicted of a crime in this constitutional republic if this body determines your conduct as a public official is clearly out of bounds in your role. Impeachment is about cleansing the office. Impeachment is about restoring honor and integrity to the office."
– Jan. 16, 1999, statement
Now: "To impeach any president over a phone call like this would be insane."
– Sept. 25 , on CNN
Sen. Charles E. Grassley (R-Iowa)
Then: "The true tragedy in this case is the collapse of the president's moral authority. He undermined himself when he wagged his finger and lied to our people on national television, denying that relationship with Ms. Lewinsky. That did more damage to his credibility than any other single act…. The American people have a right to expect their president to be completely truthful, as they can expect you and me to be completely truthful."
Now: "Unfortunately, instead of waiting to learn the facts by reviewing that transcript or hearing from the whistleblower, Democrats have moved straight to starting the impeachment process. Democrats have been searching for any reason to impeach President Trump since his inauguration because they couldn't accept the results of the 2016 election."
Sen. Mitch McConnell (R-Ky.)
Then: "Our nation is indeed at a crossroads. Will we pursue the search for truth, or will we dodge, weave and evade the truth? I am of course referring to the investigation into serious allegations of illegal conduct by the president of the United States — that the president has engaged in a persistent pattern and practice of obstruction of justice. The allegations are grave, the investigation is legitimate, and ascertaining the truth, the whole truth and nothing but the unqualified, unevasive truth is absolutely critical."
– Feb. 12, 1998, floor statement
Now: "Instead of working together across party lines on legislation to help American families and strengthen our nation, they will descend even deeper into their obsession with relitigating 2016. This rush to judgment comes just a few hours after President Trump offered to release the details of his phone conversation with President Zelensky. It comes despite the fact that committee-level proceedings are already underway to address the whistleblower allegation through a fair, bipartisan and regular process. It simply confirms that House Democrats' priority is not making life better for the American people but their nearly 3-year-old fixation on impeachment."
For many, the details of President Trump's dealings with Ukraine are irrelevant. It's all about how they perceive the president.
Rep. Steve Chabot (R-Ohio)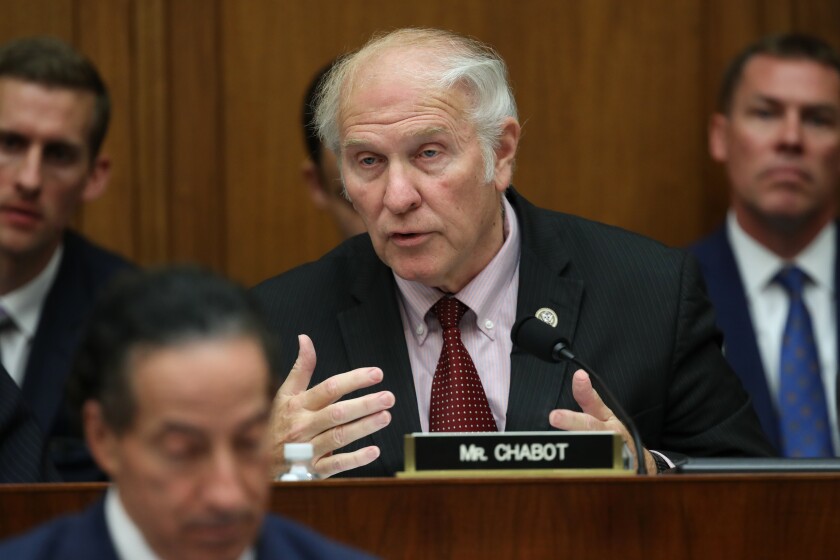 Then: "No person stands above the law. All Americans — no matter how rich, how powerful, how well connected — should be held accountable for their actions. Every American must be held accountable."
– Dec. 1, 1998
Now: I have an obligation to the people of the 1st District of Ohio to stop this misuse of congressional power to advance a partisan agenda. I will vigorously oppose this impeachment sideshow in Washington, because I believe that in the people's House, we should be focused on doing the people's business."
Rep. Jim Sensenbrenner (R-Wis.)
Then: "We've heard all these prophets of economic doom and gloom if the House discharges its constitutional duty today in impeaching the President. The Nasdaq hit an all-time high. I think the markets are smarter than some of the people who are making these accusations."
– Dec. 19, 1998, floor statement
Now: "From what we know now, Trump did nothing wrong. And he did nothing wrong because he did not offer a quid pro quo to the president of Ukraine for any of this information. ... I would feel differently if there was a quid pro quo involved on that, but merely to find out if Hunter Biden [Joe Biden's son] was violating the Foreign Corrupt Practices Act, I don't think there is anything wrong with that. Asking the new president of Ukraine, who ran on an anti-corruption platform, to look into that, I do not think was out of bounds."
Sen. Dianne Feinstein (D-Calif.)
Then: "Outside the Beltway, people want this thing to be over. I think they've had enough of it. This is one of my concerns about the continued release of materials even before the inquiry itself has begun. And I think the American people have other things they want their government to take care of other than dwell on this."
– Sept. 26, 1998, news conference
Now: "I find the whistleblower complaint to be highly credible. It suggests that the president used his office to demand political favors from a foreign country and that White House personnel knew this was wrong and tried to cover it up by burying details of the call with Ukrainian President Zelensky."
Sen. Charles E. Schumer (D-N.Y.)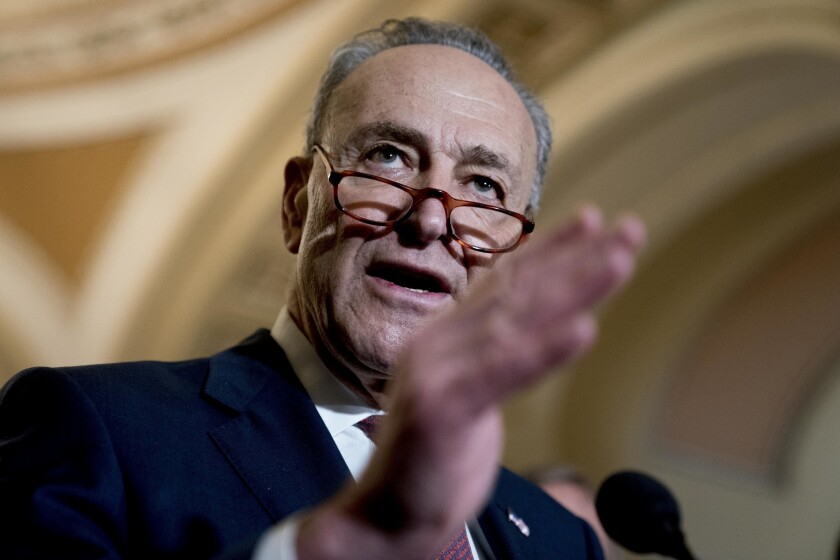 Then (as a House member): "It is time we move forward, and not have the Congress and the American people endure a specter of what could be a yearlong focus on a tawdry but not impeachable affair."
Now: "This document" — a White House summation of the phone conversation — "demonstrates that President Trump made it abundantly and redundantly clear to the president of the Ukraine that he wanted him to investigate his political opponent and further that he wanted him to work with Atty. Gen. [William] Barr to make it happen. This document absolutely validates the wisdom of ... [the] decision to open up a formal impeachment inquiry."
Times staff writers Michael Finnegan, Chris Keller and Melanie Mason contributed to this report.
---