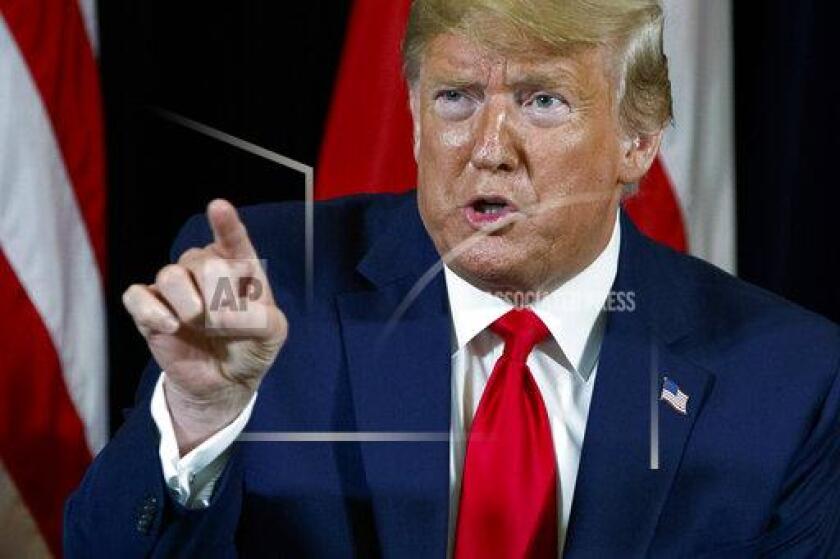 The White House released notes of a phone call showing that President Trump not only asked Ukrainian President Volodymyr Zelensky to investigate former Vice President Joe Biden, he also urged the foreign leader to look into CrowdStrike, a cybersecurity firm that did work for the Democrats in the 2016 election. The House has opened an impeachment inquiry into Trump.
There are 82 stories.
House Democrats have issued subpoenas, scheduled depositions and made other requests to the Trump administration in the impeachment inquiry. Here's what to watch for.

President Trump's first campaign rally since being engulfed in an impeachment investigation is expected to pack more than the usual punch.

Constitutional lawyers say Trump's unprecedented vow to refuse to cooperate with the House impeachment inquiry may only increase the odds he is impeached.

Republicans have used a lack of a House vote on an impeachment inquiry to challenge the legitimacy of the House Democrats' probe into President Trump.

Despite legal protections for anonymity, President Trump's calls for the whistleblower to be revealed have raised concerns for the whistleblower's safety.

The White House says it "cannot participate" in the House impeachment inquiry, setting up a clash between the co-equal branches of government.

House Democrats issue subpoenas to Defense Secretary Mark Esper, acting White House budget director Russell Vought as part of Trump impeachment inquiry.

President Trump targeted the California political leaders in angry tweets about the House Democrats' impeachment inqury, which they are leading.

A top aide to Ukraine's president says he spent weeks trying to get the U.S. to release military aid; instead, he was pulled into impeachment dispute.

Whistleblower knows firsthand about Trump's dealings with Ukraine, lawyer says. Another member of legal team cites "multiple" whistleblower clients.

Volodymyr Zelensky had promised Ukrainians he'd end their war. Now many feel duped and regard the Trump impeachment drama as an annoying distraction.

Rep. Will Hurd, a Texas Republican who represents a big swath on the U.S.-Mexico border, has come to be seen as a bellwether on impeachment.

Joe Biden made at least half a dozen visits to Ukraine when he was vice president. Here's what he was doing.

In an extraordinary escalation of the impeachment battle, House Democrats on Friday subpoenaed the White House for an array of documents on President Trump's dealings with Ukraine and demanded numerous additional records from Vice President Mike Pence.

Ukraine's prosecutor general's comments came amid an impeachment inquiry against President Trump that relates to a call he made to the Ukrainian president asking him to investigate Joe Biden and his son's work in Ukraine.

Some Democrats have worried that political backlash to the drive to impeach President Trump could cost them control of the House. But the unpredictable issue could pose a bigger threat to the Republican majority in the Senate.

If history is any guide, impeachment hearings could have a lasting impact on how viewers consume their news.

Day after day since the impeachment fight began, President Trump has hurled crude taunts and insults at one figure above all -- Rep. Adam Schiff, the Democratic lawmaker from Burbank who is spearheading the House inquiry. Schiff does not appear deterred.

Moderate Democrats once feared an impeachment backlash. But the public appears to be on their side — so far.

Kurt Volker speaks to the House Intelligence and Foreign Affairs committees as Democrats begin their impeachment inquiry in earnest.

President Trump said China should investigate the Biden family's business ties in the country even as he fights an impeachment inquiry for urging Ukraine to do likewise.

Trump, now facing an impeachment inquiry, has pressed federal agencies as well as foreign leaders to investigate his political enemies. Some are pushing back.

The U.S. is hurtling toward its third impeachment drama in less than half a century. The process seems familiar, but the circumstances are one of a kind.

As just about any high schooler can tell you, overthrowing a government means replacing the other team's leader with your leader. Impeaching President Trump wouldn't do that.

House Democrats will issue a subpoena to the White House on Friday if the administration does not voluntarily turn over records. Trump, when asked whether the whistleblower's identity should be protected, says, 'I don't care.'

Secretary of State Michael R. Pompeo says he was on the phone call where President Trump asked Ukraine for help investigating his political rivals.

The road to impeachment is only loosely laid out by the Constitution. Here's what it might look like.

From President Grant's father to President Trump's children, relatives of those in the White House long have used their names to open doors and rake in cash. Hunter Biden may be ethically challenged, but he's hardly alone.

Days after launching an impeachment inquiry, House Democrats consider whether they have grounds to charge President Trump with obstruction.

President Trump's reelection campaign has raised millions of dollars, announced a $10-million ad buy and put thousands of ads up on Facebook in an effort to take advantage of the crisis that threatens the White House.

Former Ukrainian President Petro Poroshenko denied feeling pressure from U.S. officials or Trump proxies to open questionable corruption investigations.

To keep you up-to-date on the Trump impeachment inquiry, we identify key players and terms such as "quid pro quo" and "whistleblower."

Secretary of State Michael R. Pompeo tells the House Foreign Affairs Committee requested dates for officials to voluntarily appear are "not feasible."

Trump branded her "the woman" and said she was "bad news." Now the ex-envoy to Ukraine is set to tell her story to congressional investigators.

Trump's order to withhold aid to Kyiv jeopardized a struggling ally and weakened its hand against Russian aggression.

Senate Majority Leader Mitch McConnell says, "I would have no choice but to take it up" if the House OKs impeachment articles against President Trump.

House Democrats issued a subpoena to Rudolph W. Giuliani, Trump's personal attorney, as part of the impeachment inquiry into whether Trump sought to get Ukraine to interfere in the 2020 election.

While congressional Democrats cite evidence Trump abused powers, the president's supporters aimed attacks at the whistleblower, Biden and the impeachment inquiry itself.

Ukraine's former top prosecutor says he repeatedly rebuffed Rudolph Giuliani's demands to investigate Joe Biden and son because he had no evidence of wrongdoing.

California's delegation is squaring off against President Trump again, with Speaker Pelosi and Rep. Adam Schiff leading the charge.

The new landscape involving impeachment proceedings against President Trump creates potential opportunities but also room for peril.

Impeachment promises to be the biggest, and perhaps final, round of Trump vs. Pelosi, a political match that has defined Washington since President Trump took office.

A 20-year-old student at Arizona State University broke the news that a key State Department official who was involved in talks between President Trump and the Ukrainian government had stepped down from his post.

Volker said he would leave after disclosures that he had connected Trump lawyer Rudolph Giuliani with Ukrainian officials to investigate Joe Biden, the official says.

President Trump didn't see it coming. And his aides have no plan. That's the situation at the White House three days after Democrats launched an impeachment inquiry.

President Trump repeatedly told Ukraine's president that Atty. Gen. William Barr would help investigate Joe Biden, putting the nation's top law enforcement official squarely into the impeachment inquiry.

Reacting to the impeachment inquiry, the president launches a tweetstorm against the California lawmaker, who is leading the congressional investigation.

White House aides stood by silently for months as Trump tried to strong-arm a foreign government to dig up dirt on a political rival and help reelection campaign.

'Impeachment is about restoring honor and integrity to the office.' That's what Lindsey Graham said — in 1999.

Here's a look at some of the events that led up to House Democrats' impeachment inquiry and what has happened since the formal announcement.

On Wednesday's "Jimmy Kimmel Live," former Vice President Joe Biden ranked the Trump impeachment inquiry news an "18 out of 10" on the "outlandish scale."

President Trump slammed the whistleblower who first warned that the president was trying to strong-arm a foreign leader for personal gain as "a spy," and suggested he or she had committed treason.

U.S. spy chief Joseph Maguire testified to the House Intelligence Committee about the whistleblower complaint at the heart of the impeachment case.

The whistleblower complaint about President Trump's contacts with Ukraine that set off an impeachment inquiry is released.

For many, the details of President Trump's dealings with Ukraine are irrelevant. It's all about how they perceive the president.

As the Democrats' impeachment inquiry enters an aggressive new phase, Burbank's Rep. Adam Schiff finds himself once again in a key role.

The acting director of national intelligence is scheduled to testify to Congress Thursday over a still-secret whistleblower's complaint and inspector general's investigation that are key to the Democrats' impeachment inquiry.

Mr. President, she told him, 'undo it.' With those two words, House Speaker Nancy Pelosi offered Trump one last chance to avoid becoming only the fourth president in office to face impeachment proceedings.

The Ukraine allegations have breathed new life and focus into an impeachment inquiry that even some Democrats feared was at risk of losing momentum.

President Trump was turning the page on the Russia investigation when he immediately found himself in an entirely new scandal.

Here's what House Speaker Nancy Pelosi, Hillary Clinton, Sen. Lindsey Graham and others are saying about the release of a phone call memo between President Trump and Ukrainian President Volodymyr Zelensky.

Caught in President Trump's impeachment proceedings, Ukraine President Volodymyr Zelensky struggles to stay on his anti-corruption course.

The focus of a House impeachment inquiry is President Trump's request of Ukraine's leader, according to a White House memo, to investigate Joe Biden.

By the time Nancy Pelosi agreed to an impeachment inquiry, California's vulnerable freshmen had already come out for the action.

TV hosts Stephen Colbert, Jimmy Kimmel, Trevor Noah and more dedicated their Tuesday monologues to Nancy Pelosi's announcement of an impeachment inquiry.

The president himself said the move could help his electoral chances, but he reacted with a cascade of angry tweets that accused Democrats of "a witch hunt" and "presidential harassment."

It's breathtaking how quickly Trump & Co. went to their dirty tricks playbook: The story here isn't that Trump tried to extort a foreign government to gin up dirt on a political opponent; it's that Joe Biden engaged in (unspecified, unproven) corrupt dealings with Ukraine.

Biden says Congress will have 'no choice but to impeach' President Trump if he does not comply with Democrats' demands for information

With two-thirds of House Democrats supporting an impeachment inquiry, Pelosi agreed to launch a formal proceeding.

Candidates call for impeachment proceedings against President Trump, who says he held up aid to Ukraine before urging its leader to investigate Joe Biden.

Speaker Nancy Pelosi will announce that the House will pursue an impeachment inquiry of President Trump. What does an impeachment inquiry entail?

Trump joins a small group of fellow presidents now that he's the subject of an official impeachment inquiry in the House of Representatives. Only three of his predecessors underwent similar proceedings: Andrew Johnson and Bill Clinton, who were acquitted, and Richard Nixon, who resigned.