House Judiciary Committee announces its first Trump impeachment hearing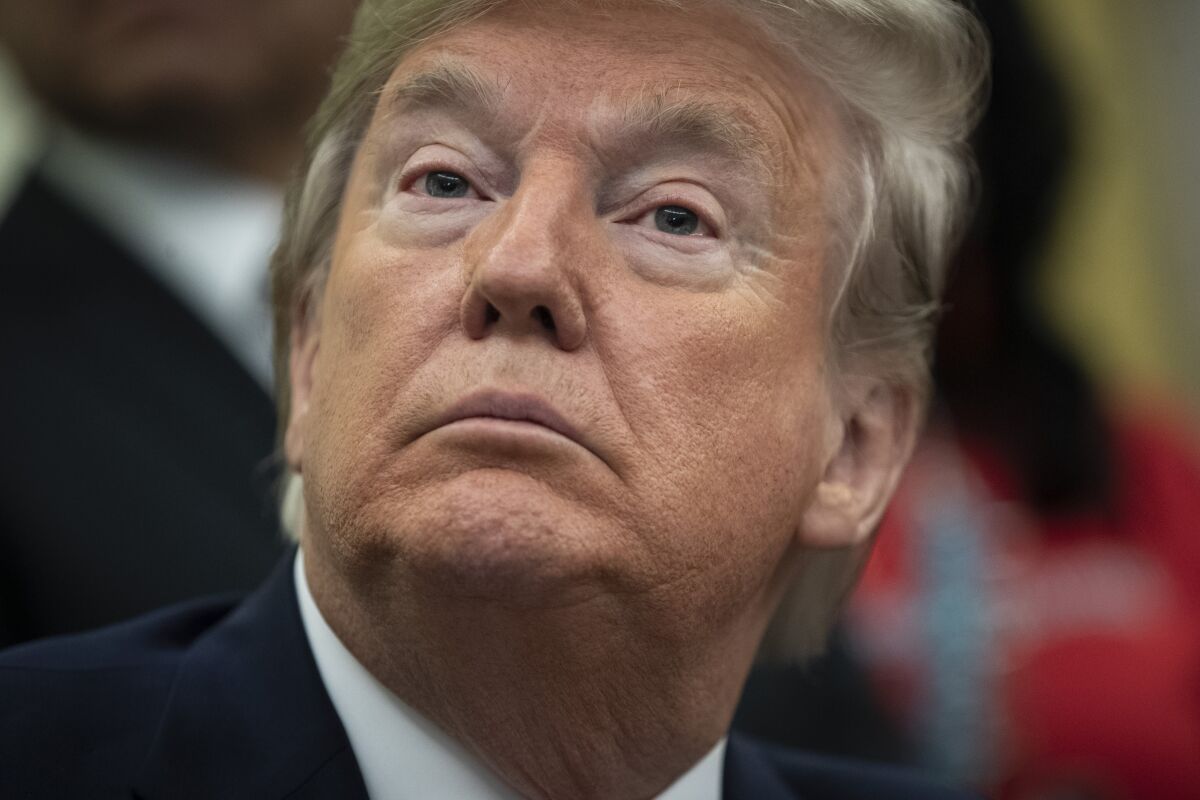 WASHINGTON —
The House impeachment inquiry will enter a new phase next week when the Judiciary Committee holds its first public hearing to begin deciding whether President Trump will become only the third president in history to face impeachment.
The Dec. 4 hearing, which could include the president's lawyers, will focus on the historical and constitutional basis for impeachment, the definition of an impeachable offense, and the process going forward.
Democrats did not indicate plans to call back the dozen fact witnesses who testified to the House Intelligence Committee this month about the president's dealings with Ukraine. That committee is preparing a report for the Judiciary Committee, which ultimately must decide whether to draft articles of impeachment for the full House to vote on.
In a letter to Trump, Rep. Jerrold Nadler (D-N.Y.), chairman of the committee, asked whether Trump or his lawyers plan "to attend the hearing or make a request to question the witness panel," as committee rules allow.
Trump is scheduled to attend a NATO summit in London early next week and return to Washington the night of Dec. 4. But Nadler urged the president to send his lawyers.
"At base, the president has a choice to make: He can take this opportunity to be represented in the impeachment hearings, or he can stop complaining about the process," Nadler said in a statement. "I hope that he chooses to participate in the inquiry, direct or through counsel, as other presidents have done before him."
Nadler gave the White House a deadline of Sunday to respond. The White House had no immediate response.
The House resolution authorizing the inquiry gave Nadler, as chairman, discretion to decide whether Trump and his legal counsel could participate in the proceedings, and in what ways, based on whether the president makes witnesses and documents available to Congress.
"We expect to discuss the constitutional framework through which the House may analyze the evidence gathered in the present inquiry," Nadler told Trump in his letter. "We will also discuss whether your alleged actions warrant the House's exercising its authority to adopt articles of impeachment."
The resolution specifies that, in addition to questioning witnesses, the president's lawyers could respond to evidence presented by Democrats. They also could petition to present additional evidence or witness testimony, but must say in advance what it would show.
So far, Trump and the White House have refused to participate in the impeachment inquiry, directing more than a dozen current and former high-ranking federal officials not to testify or provide documents, even under subpoena.
In tweets Tuesday, Trump said he would "love to have" his top advisors, including Secretary of State Michael R. Pompeo and acting White House Chief of Staff Mick Mulvaney, testify in what he called the "phony impeachment hoax," but did not suggest he was permitting them to do so.
For his part, Pompeo answered ambiguously when asked whether he would be willing to testify. "When the time is right, all good things happen," he told reporters. He did not elaborate.
The courts may yet force Trump's aides to appear. On Monday, a federal judge ruled that a White House official cannot claim "absolute immunity" to avoid testifying before Congress, rejecting a Trump administration claim.
While the ruling was aimed at compelling former White House Counsel Donald McGahn to testify about Russian meddling in the 2016 elections, it could have implications for the impeachment inquiry if the ruling is upheld on appeal.
The House is weighing whether to bring articles of impeachment against Trump for pressing Ukrainian President Volodymyr Zelensky to investigate Trump's domestic political rivals, including former Vice President Joe Biden, and a debunked conspiracy theory that Ukraine, not Russia, interfered in the 2016 U.S. election.
Trump refused to agree to a White House meeting with Zelensky unless he announced the investigations. Trump also blocked the release of nearly $400 million in military aid that Congress had approved to help Ukraine in its war with Russia. The aid was released in September after a whistleblower filed a complaint over Trump's actions.
Democrats say Trump's efforts to muscle Ukraine put U.S. national security at risk to bolster his 2020 reelection campaign.
When the U.S. aid to Ukraine was held up, and why, has been a central part of the inquiry.
House Budget Committee officials said Tuesday that evidence shows the Office of Management and Budget had moved to block the aid in early July but did not make it official until July 25, hours after Trump had asked Zelensky for "a favor," the investigations he wanted.
Michael Duffey, an Office of Management and Budget official and political appointee, signed half a dozen letters that "made the hold legally binding" starting on July 25, according to a House budget summary and a Democratic aide.
Duffey has refused to testify in the impeachment inquiry.
His subordinate, Mark Sandy, testified that he was initially given a vague reason for the hold by Duffey when he learned of it on a forwarded email in mid-July. Soon after, Sandy said, he told superiors that the hold on Ukraine aid violated federal law. Duffey then took over responsibility for approving the hold.
Sandy's deposition was released Tuesday.
Circumventing strict rules for how and when the government spends money appropriated by Congress could violate federal law. The State Department and Pentagon did not respond to requests for comment on the documents.
The House Intelligence Committee has spent the last two months gathering information and evidence through depositions and open hearings. Intelligence Committee Chairman Adam B. Schiff (D-Burbank) said Monday he hopes to complete a report of the findings by next week. Republicans on the committee are expected to craft their own supplemental report.
Times staff writers Tracy Wilkinson, Jennifer Haberkorn and Molly O'Toole contributed to this report.
---
Life is stressful. Our weekly mental wellness newsletter can help.
You may occasionally receive promotional content from the Los Angeles Times.