Justice Department watchdog pushes back at critics of his findings on the Russia probe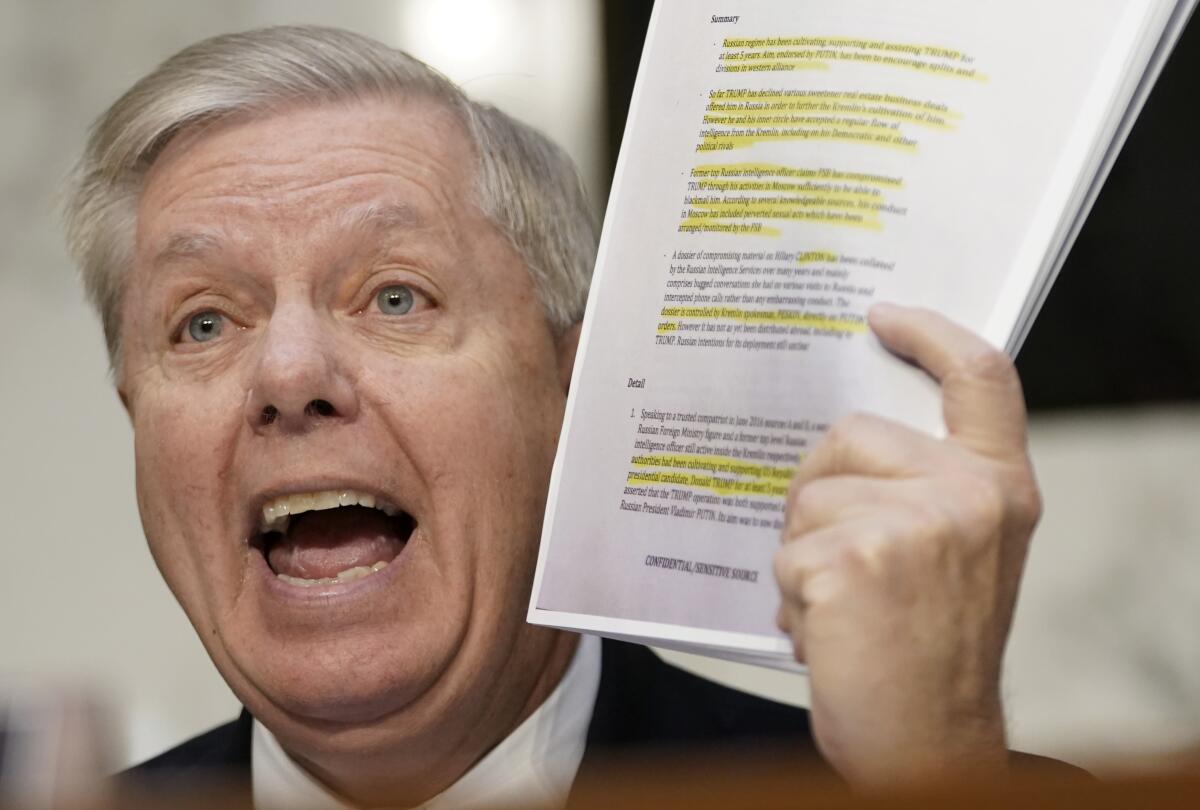 WASHINGTON —
The Justice Department's internal watchdog pushed back strongly Wednesday at President Trump and other critics who have rejected his conclusion that the FBI was justified in starting a counterintelligence investigation in July 2016 into whether the Trump campaign was cooperating with Russia.
"We stand by our finding," Inspector General Michael Horowitz said at a contentious Senate Judiciary Committee hearing two days after he issued a 434-page report that punctured conspiracy theories about the FBI's alleged political bias even as it detailed gross mishandling of parts of the probe.
"The activities we found don't vindicate anyone who touched this," Horowitz said. "The actions of FBI agents were not up to the standards of the FBI."
Horowitz said he found no evidence indicating that FBI leaders or agents launched the probe out of personal malice or political bias toward Trump, as the president and his supporters have claimed.
But the inspector general indicated he was still mystified by later aspects of the probe, noting 17 significant errors and omissions on FBI applications for warrants under the Foreign Intelligence Surveillance Act.
"There are significant, serious failures here," Horowitz said.
"Whether it was sheer gross incompetence that led to this versus intentional misconduct," he said, "or anything in between, and what motivations are, I can't tell you as I sit here today."
"It's inexplicable," he added.
He also said the FBI was justified when it deployed confidential informants to approach several members of the Trump campaign and secretly record their conversations in an effort to gather evidence.
That finding, in particular, drew sharp criticism from Atty. Gen. William Barr, who slammed the FBI's so-called Crossfire Hurricane investigation this week as "intrusive" and based on the "thinnest of suspicions that, in my view, were insufficient to justify the steps taken."
In a separate TV interview, Barr said he believed the FBI showed "bad faith" and may have operated with a partisan motive.
"I think our nation was turned on its head for three years based on a completely bogus narrative that was largely fanned and hyped by a completely irresponsible press," Barr told NBC News. "I think there were gross abuses … and inexplicable behavior that is intolerable in the FBI."
Horowitz also pushed back at criticism leveled by John Durham, a U.S. attorney in Connecticut whom Barr picked to lead a parallel probe into the origins of the Russia investigation. Durham's work may not be finished until next summer, Barr said.
The inspector general said he was surprised when Durham issued a statement saying he did not agree with some of Horowitz's conclusions. Prosecutors generally do not comment on ongoing investigations.
Horowitz said he met with Durham last month to brief him on his findings. Durham informed him then that he disagreed that the FBI was justified when it opened a "full investigation."
Durham said the FBI should have opened a preliminary inquiry, a more limited type of investigation that does not permit the use of more intrusive investigative tools, such as physical searches, the inspector general said.
The FBI began its probe after an Australian diplomat in London passed on concerns after a conversation with George Papadopoulos, a volunteer Trump campaign advisor.
Papadopoulos suggested the campaign was aware that Russia planned to release damaging information about Democratic presidential candidate Hillary Clinton, the diplomat said.
Durham "said during the meeting that the information from [the diplomat] was in his view sufficient to support the preliminary investigation," Horowitz said.
Horowitz said the FBI took no investigative steps that would have precluded a preliminary probe until it applied to the Foreign Intelligence Surveillance Court in October 2016 for a warrant to wiretap Carter Page, a former Trump campaign advisor who had multiple contacts with Russian officials.
Durham declined to comment through a spokesman.
Horowitz said his investigators interviewed more than 100 people and reviewed at least 1 million records in their nearly two-year investigation.
Horowitz was careful in answering questions about Barr and avoided being drawn into partisan clashes over Trump's criticism.
His report has become ammunition for both sides, with Republicans and Democrats clashing during the hearing over what Horowitz had found.
"This was not a politically motivated investigation," said Sen. Dianne Feinstein, (D-San Francisco), the ranking Democrat on the panel. "There is no 'deep state.' Simply put, the FBI investigation was motivated by facts, not bias."
Sen. Lindsey Graham (R-S.C.), chairman of the panel, argued that the report showed the FBI had engaged in a conspiracy aimed at blocking Trump's election.
"It was as if J. Edgar Hoover came back to life," Graham said, referring to the FBI's founder and longtime director, who became infamous for nefarious activities.
"What happened here is not a few irregularities," Graham said. "What happened here is the system failed. People at the highest level of our government took the law into their own hands."
Graham said the FISA court, which was created in 1978 after the Watergate-era scandals, may need an overhaul. "We need to rewrite the rules of how you start a counterintelligence investigation and the checks and balances we need," he said.
Get our Essential Politics newsletter
The latest news, analysis and insights from our politics team.
You may occasionally receive promotional content from the Los Angeles Times.