Biden's longtime advisor Antony Blinken emerges as his pick for secretary of State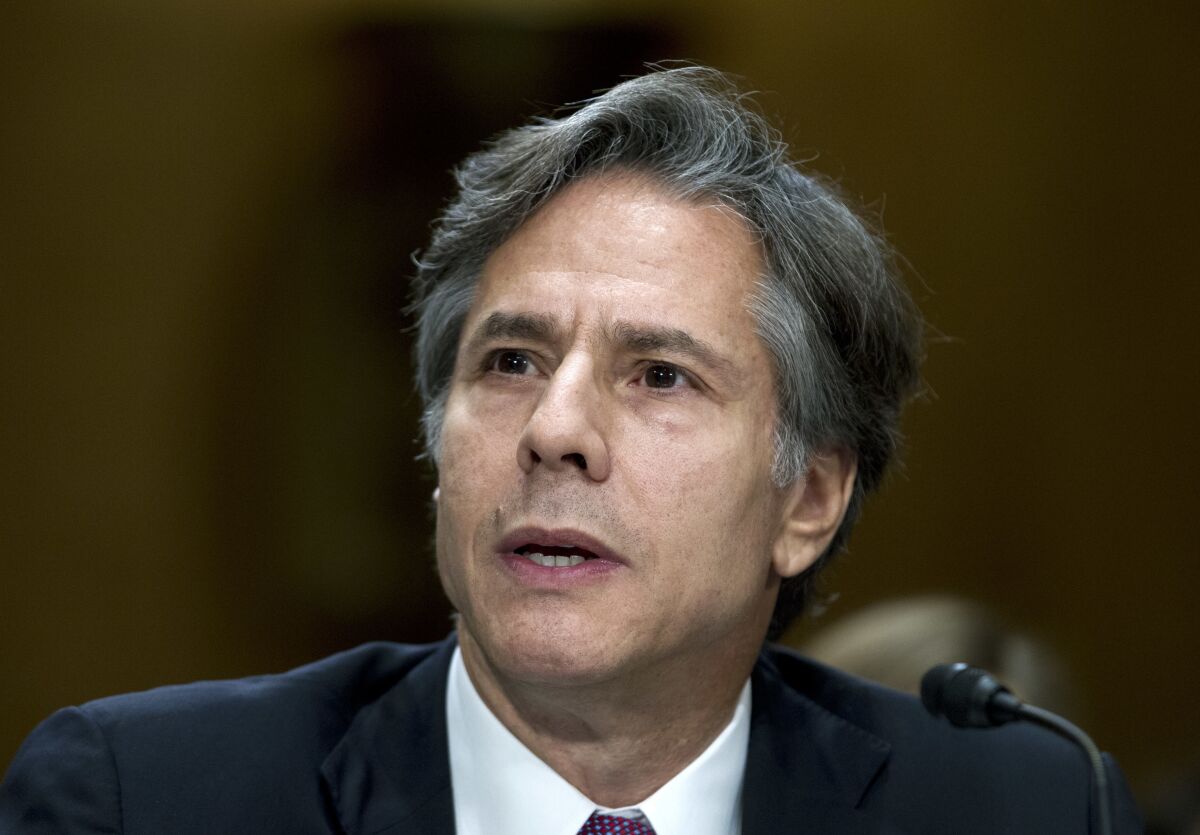 WASHINGTON —
President-elect Joe Biden has turned to one of his most trusted and long-serving foreign policy advisors as his choice for secretary of State.
Biden is expected to nominate Antony Blinken, 58, a veteran diplomat and former senior official at the State Department and National Security Council, perhaps on Tuesday, according to a source familiar with the Biden transition planning.

For the record:
7:33 a.m. Nov. 24, 2020An earlier version of this article said Antony Blinken was the descendant of Holocaust survivors. His stepfather was a Holocaust survivor.

The Democratic president-elect has said he could announce his choices for several positions this week, as he moves to form a Cabinet and his administration more broadly despite President Trump's refusal to concede his election defeat.
Blinken is seen as someone who could easily win Senate confirmation even if Republicans still control the chamber in the next Congress. Given the depth of his experience, he could hit the ground running, current and former diplomats said.
Blinken was a deputy national security advisor and deputy secretary of State in the Obama administration as well as national security advisor to Vice President Biden from 2009 to 2013.
The stepson of a Holocaust survivor, Blinken has leaned more toward intervention in world crises than some of his colleagues, but is also facile in readjusting his position to match that of the administration he serves. He is known as fiercely loyal to Biden.
Blinken has also advised Biden during his presidential campaigns, serving during the just-concluded campaign as Biden's principal foreign policy advisor and spokesman.
"Joe Biden will benefit just by not being President Trump," Blinken said in an interview with The Times during the summer. "That is the opening opportunity."
Bloomberg, which first reported the likely Blinken nomination, also said Jake Sullivan, 43, formerly one of Hillary Clinton's closest aides as well as an advisor to Biden, is likely to be named national security advisor, a White House staff position that does not require Senate confirmation.
Ron Klain, Biden's incoming White House chief of staff, said Sunday that the president-elect would be making his initial cabinet announcements on Tuesday, but declined to specify which positions would be filled first. The people familiar with Biden's selections asked not to be identified because he hasn't yet made the announcements.
State is regarded as one of the most prestigious Cabinet posts. The secretary of State is the nation's top diplomat, conducting meetings with foreign leaders across the globe.
Joe Biden is expected to announce some choices for his Cabinet and states will certify results even as Trump's fight to reverse them enters a third week.
The president's national security advisor is one of the most important and powerful jobs in the White House, leading a staff of dozens of experts drawn from the government's military, diplomatic and intelligence agencies who develop U.S. foreign and military policy.
Blinken and Sullivan didn't respond to requests for comment. A Biden spokesman declined to comment.
When Biden was a senator and chairman of the Senate Foreign Relations Committee, Blinken served as his staff director before leaving to work on Biden's short-lived 2008 presidential campaign. Blinken graduated from Harvard and from Columbia Law School.
Joe Biden busily prepares to be president, projecting the normalcy he promised, while President Trump fights to keep the job even as he has stopped doing the work.
After serving in the Obama administration, Blinken co-founded WestExec Advisors, a political strategy firm, with a top Obama-era Pentagon official, Michele Flournoy. She is a top candidate to be Biden's Defense secretary; if named and confirmed, she would be the first woman to hold the job.
Biden met on Nov. 17 with defense and intelligence experts, including Blinken and others who worked for Obama when Biden was vice president. He gathered them together because the Trump administration has blocked him from getting the intelligence briefings traditionally granted the president-elect.
"We've been through a lot of damage done over the last four years, in my view. We need to rebuild our institutions and my workforce to reflect the full strength and diversity of our country," Biden said at the briefing. "We need to focus on readiness for whatever may come."
Times staff writer Evan Halper and Bloomberg News contributed to this report.
---
Life is stressful. Our weekly mental wellness newsletter can help.
You may occasionally receive promotional content from the Los Angeles Times.