Leader of Islamic State dies in raid by U.S. forces in Syria, Biden says
President Biden announced that Abu Ibrahim Hashimi Qurayshi, the leader of Islamic State, blew himself up during a U.S. raid in Syria.
WASHINGTON —
President Biden announced Thursday that the leader of Islamic State was killed during an overnight raid by U.S. forces in Syria that also left a number of civilians dead, declaring the operation a success that eliminated a "major terrorist threat to the world."
"Thanks to the bravery of our troops, this horrible terrorist leader is no more," Biden said during an address from the White House.
Senior administration officials said all troops returned safely from the mission, and portrayed the death of Abu Ibrahim Hashimi Qurayshi as a major victory in the nation's counter-terrorism efforts. Qurayshi, who took over the reins of Islamic State in 2019 after the killing of its previous leader, had been coordinating "the group's global terror operations to include directing operations that pose a direct threat to the American people and our partners around the world," said a senior U.S. administration official who spoke on condition of anonymity to discuss the matter.
Qurayshi was one of the last of the original leaders of a now-hobbled terrorist network that just a few years ago held domain over 8 million people as it carried out attacks in Brussels, Paris and other cities. Though Islamic State has been stripped of its caliphate and depleted, it and Al Qaeda have sought to expand in Africa and Southeast Asia, establishing branches and affiliates in dozens of countries, with the goal of attacking the U.S. and its allies, according to administration officials.
Secretary of Defense Lloyd J. Austin III said Thursday that the group, "though still very much a viable threat, is now weaker."
The administration officials said measures were taken to reduce civilian casualties in the raid against Qurayshi, but rescue workers with Syrian Civil Defense, a group of first responders known as the White Helmets working in opposition-controlled areas, reported that at least 13 people were killed, including six children and four women. They said they also provided medical assistance to a young girl who lived in the house.
U.S. officials blamed their deaths on Qurayshi, who they said blew up himself and his family in his third-floor apartment as the raid unfolded. An Islamic State lieutenant who had been barricaded in a second-floor apartment was also killed during the raid, U.S. officials said, though they did not specify how he died.
At least four children left the second floor safely, and a family on the first floor was removed safely, said the officials, who acknowledged that other women and children could have remained and died.
They said they did not believe the reported totals of civilian casualties were accurate but did not provide their own accounting. Qurayshi purposely lived among civilians and used "these innocent people as a shield," a senior administration official said.
U.S. officials spent months planning the raid. Biden received an extensive briefing on the proposed operation in December and gave the final go-ahead Tuesday morning. The president watched the raid, which officials described as "incredibly complex" and "high risk," in real time from the White House Situation Room, officials said.
The administration officials said they long suspected Qurayshi would attempt to blow himself up during the operation, in hopes of destroying the building and injuring U.S. troops and killing more civilians.
In anticipation of a suicide bombing, they conducted a remote engineering study to determine whether the building would withstand such an explosion and concluded that it would. The officials said the building largely survived the detonation, with American troops at a safe distance.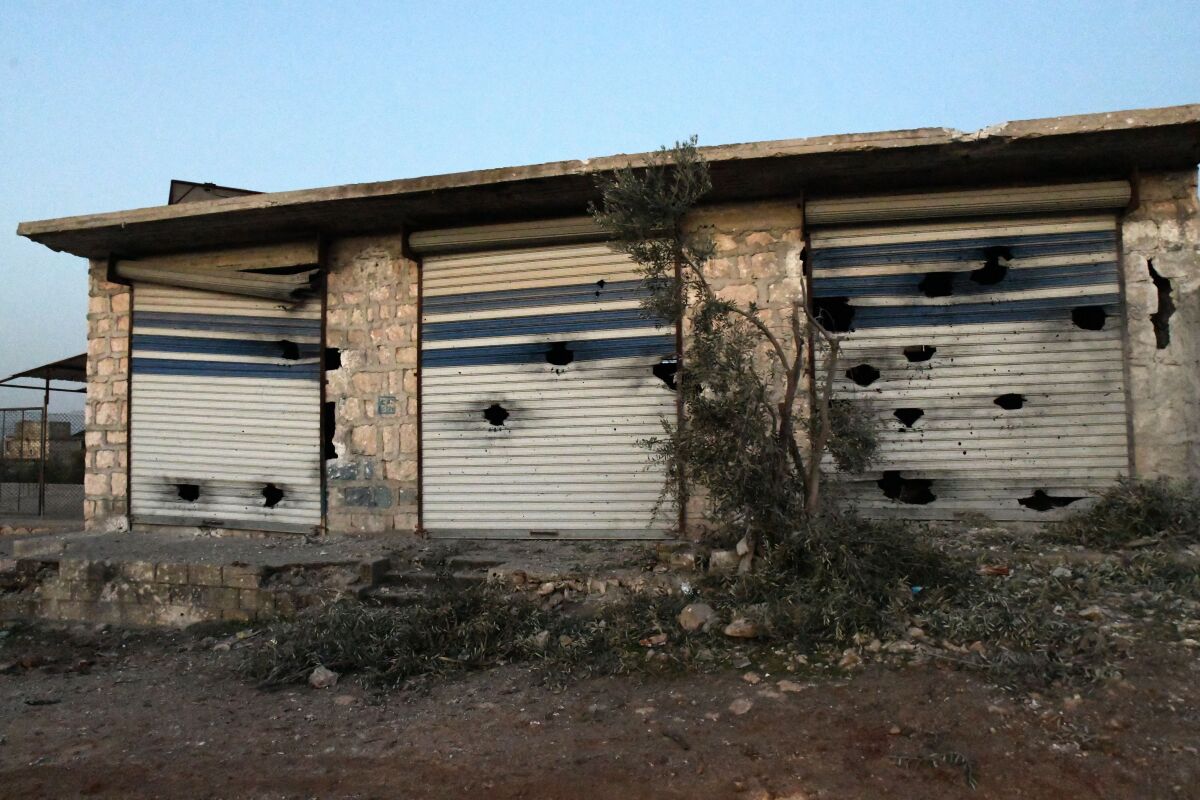 "He chose to blow himself up not just in the vest but to blow up that third floor rather than face justice for the crimes he has committed, taking several members of his family with him, just as his predecessor did," Biden said, calling it a "final act of desperate cowardice."
Biden said that he chose to conduct a riskier raid with troops on the ground, rather than target Qurayshi in an airstrike, because "this terrorist had chosen to surround himself with families, including children," and "we made this choice to minimize civilian casualties."
Qurayshi is the second Islamic State leader to be killed in Idlib, a verdant province once famous for its olive groves that has since become the last bastion of those opposed to the government of Syrian President Bashar Assad. The province is controlled by Hayat Tahrir Sham, a jihadist umbrella group that includes a former affiliate of Al Qaeda in Syria.
In 2019, U.S. special forces attacked a nondescript house on the periphery of Barisha, a small village near the Turkish border, where Abu Bakr Baghdadi, then Islamic State's so-called caliph, was hiding. He died after detonating an explosive vest.
A U.S. official said Qurayshi was a "driving force" in the genocide of the Yazidi religious minority in Iraq and the enslavement of thousands of young Yazidi girls. The Yazidis are a religious minority group whose homeland in northern Iraq was overrun when Islamic State scythed through the area in 2014. The group then began a pogrom, killing some 3,000 men and boys and kidnapping and enslaving thousands of women and girls.
Qurayshi's death comes days after the terrorist group launched an audacious assault to release cadres imprisoned in the Syrian city of Hassakeh, a complex operation that observers believe could signal the group's resurgence. Even so, Qurayshi's tenure marked a nadir for Islamic State, which in 2015 ruled one-third of Iraq and of Syria, an area the size of Britain.
Islamic State lost the last of its self-styled caliphate in 2017 to a U.S.-led coalition working with Kurdish militiamen. Since then, Islamic State militants have hidden in the shadowlands between Iraq and Syria.
The Syrian Observatory for Human Rights, a U.K.-based watchdog that monitors the war in Syria via a network of activists, reported that what began as a standoff Thursday soon turned into an all-out battle, with militants firing rocket-propelled grenades and heavy antiaircraft guns against U.S. forces.
Other reports said that a U.S. helicopter used in the operation was damaged and forced to land before it was abandoned and destroyed. American officials said the helicopter was disabled because of mechanical issues, denying the problem was a result of "hostile action."
Activists near Dair Ballout, a Syrian hamlet a few miles from the Syrian-Turkish border, reported on social media that they saw helicopters flying in the area sometime after midnight.
Several videos — which could not be independently verified — purport to show the attack. In one, heavy machine gun fire breaks out, presumably from an unseen helicopter. In another, a blaze illuminates one of the building's entrances, while a voice on a loudspeaker in Arabic tells those inside that the area is surrounded and that children should come out.
Video taken by a reporter with Al-Akhbar Al-Aan, a United Arab Emirates-based news channel, purported to show the target of the raid. In the clip, a reporter walks through the building, showing cinder blocks spilled to the side from where missiles had slammed into the wall; the floors are covered with the smashed remains of belongings and clothing. Blood splatters the walls, along with a large smear of red near the entrance.
Bierman reported from Washington and Bulos from Kyiv, Ukraine. Times staff writer Eli Stokols in Washington contributed to this report.
Must-read stories from the L.A. Times
Get the day's top news with our Today's Headlines newsletter, sent every weekday morning.
You may occasionally receive promotional content from the Los Angeles Times.