Seven Californians among people charged in $150-million COVID aid fraud scheme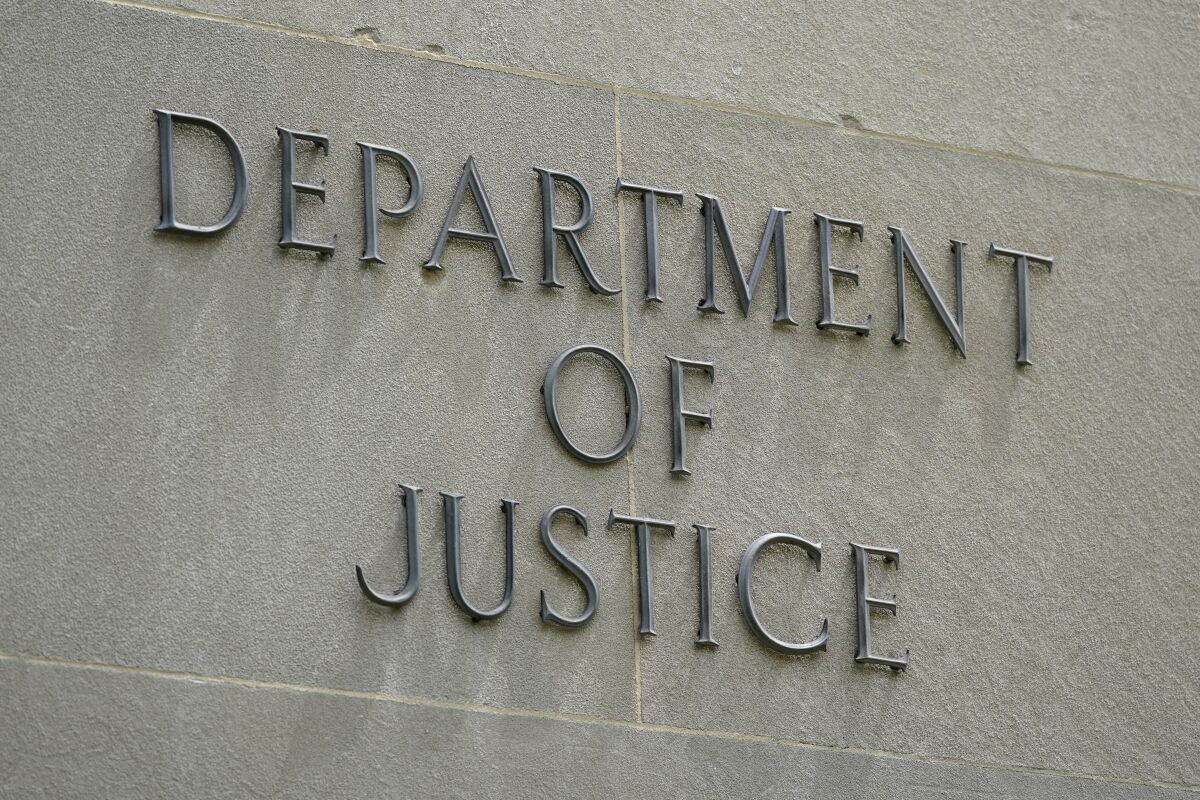 WASHINGTON —
The Justice Department on Wednesday announced the arrest of 21 people, including seven Californians, for alleged COVID-19 aid fraud totaling nearly $150 million.
Those charged in the investigation include medical business owners and executives, physicians and marketers, as well as multiple alleged manufacturers of fake COVID-19 vaccination cards. The individuals were arrested in California, Florida, Maryland, New Jersey, New York, Tennessee, Utah and Washington.
The Justice Department said it has reclaimed $8 million so far.
"Throughout the pandemic, we have seen trusted medical professionals orchestrate and carry out egregious crimes against their patients all for financial gain," said Assistant Director Luis Quesada of the FBI's Criminal Investigative Division in a statement. "These healthcare fraud abuses erode the integrity and trust patients have with those in the healthcare industry, particularly during a vulnerable and worrisome time for many individuals."
In the Central District of California, two owners of a clinical laboratory, Imran Shams, 63, and Lourdes Navarro, 63, both of Glendale, have been charged with a scheme aimed at defrauding Medicare of over $214 million for laboratory tests, including more than $125 million in false and fraudulent claims during the pandemic for COVID-19 and respiratory pathogen tests. No pleas have yet been entered in the case. Navarro's attorney declined to comment. Shams' charges do not yet appear in the federal court records, and it was unclear whether he had an attorney.
Artur Chanchikyan, 54, of Los Angeles, is also being charged in the Central District with wire fraud, theft of government property, and money laundering offenses in connection with an alleged scheme to defraud the United States of approximately $345,000 in COVID-19 relief funds. Chanchikyan's charges also do not yet appear yet in federal court records, and it was unclear whether he had an attorney.
The other four Californians are charged in the North District of California. Three were accused in the same scheme to offer fake cures for COVID-19 known as homeoprophylaxis immunizations and distribute fake COVID-19 vaccination record cards. Juli Mazi, the woman at the center of that scheme, pleaded guilty on April 6 to wire fraud and making false statements related to healthcare.
Jason Costanza, 46, of El Campo, Texas, was charged with conspiracy and making false statements related to healthcare. He worked for Mazi. Costanza's attorney did not immediately return a request for comment.
Jaimi Jansen, 40, of Santa Cruz was charged with making false statements related to healthcare. She is accused of helping Mazi distribute the fake cure and fake vaccination cards. Meanwhile, pharmacist Ranna Shamiya, 41, of Ukiah, Calif., was charged with making false statements related to healthcare and is accused of providing Mazi with legitimate lot numbers for FDA-authorized COVID-19 vaccines to be used for fake vaccination records. Court records do not yet list attorneys for Jansen or Shamiya.
In a separate case, Jason Nielsen, 53, of Scotts Valley, Calif., was charged with securities fraud. He is accused of defrauding investors and potential investors in Arrayit, a publicly traded medical technology company. Nielsen was a large Arrayit shareholder, and allegedly deceived Arrayit investors by communicating false and misleading information in order to induce other investors to purchase Arrayit securities and drive up the stock's price. Court records do not yet list an attorney for Nielsen. Arrayit did not immediately respond to a request for comment.
Life is stressful. Our weekly mental wellness newsletter can help.
You may occasionally receive promotional content from the Los Angeles Times.