New Mexico county commissioner is barred from public office for his actions on Jan. 6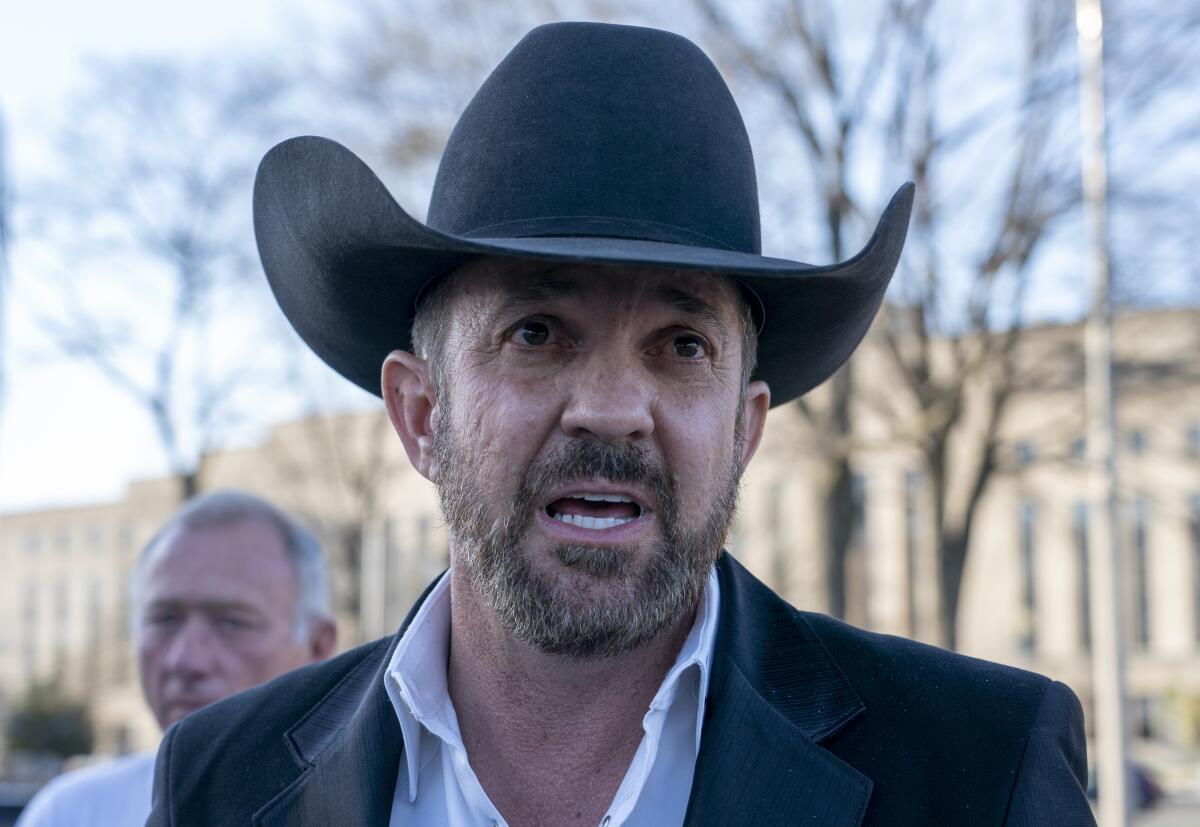 SANTA FE, N.M. —
A New Mexico state district court judge has disqualified county commissioner and Cowboys for Trump co-founder Couy Griffin from holding public office for engaging in insurrection at the U.S. Capitol on Jan. 6, 2021.
U.S. District Court Judge Francis Mathew issued a ruling Tuesday that permanently prohibits Griffin from holding or seeking local or federal office.
Griffin was previously convicted in federal court of a misdemeanor for entering Capitol grounds on Jan. 6, 2021. He was sentenced to 14 days and given credit for time served.
The ruling immediately removes Griffin from his position as a commissioner in Otero County.
"Mr. Griffin aided the insurrection even though he did not personally engage in violence," Mathew wrote. "By joining the mob and trespassing on restricted Capitol grounds, Mr. Griffin contributed to delaying Congress's election-certification proceedings."
Elected in 2018, Griffin withstood a recall vote last year but isn't running for reelection or other office in November.
A New Mexico county commissioner who refused to certify recent election results avoids more jail time for joining the mob that attacked the Capitol.
"If the plaintiffs prevail and a single judge subverts the will of the great people of Otero County, it will only be further proof of the tyranny we currently live under," Griffin said in an email. "There was already a recall effort waged against me after Jan. 6. In that recall effort the people of Otero County spoke and the recall failed."
In a court filing supporting the effort to bar the Cowboys for Trump co-founder from office, the National Assn. for the Advancement of Colored People noted that Griffin attempted to draw comparisons between the Jan. 6 insurrection and the Black Lives Matter movement.
"Lawful protests and demonstrations in support of civil rights and the Black Lives Matter movement are fundamentally different from the insurrectionist conduct that occurred on Jan. 6," the NAACP said in its briefing.
The NAACP briefing also denounced Griffin's prior criticism of those who support performances at football games of "Lift Every Voice and Sing," known as the Black national anthem.
In a July 2020 selfie video, Griffin suggested supporters of the Black national anthem "go back to Africa and form your little football teams over in Africa and you can play on an old beat-out dirt lot."
Conspiracy theories about voting machines erupt into angry confrontations as New Mexico counties certify primary election results.
Griffin has called his comments a poor choice words to express what he sees as a double standard that holds white people responsible for racist behavior.
"If there was a group of white people wanting to play a 'white national anthem' I would have had the same response to them," Griffin said Friday in response to the NAACP briefing. "And as a white person I'd be disgusted by that idea."
Griffin voted in June against certification of local primary election results based on a "gut feeling" without specific objections.
Get our Essential Politics newsletter
The latest news, analysis and insights from our politics team.
You may occasionally receive promotional content from the Los Angeles Times.