Former Arkansas Gov. Asa Hutchinson, potential presidential candidate, woos Orange County Republicans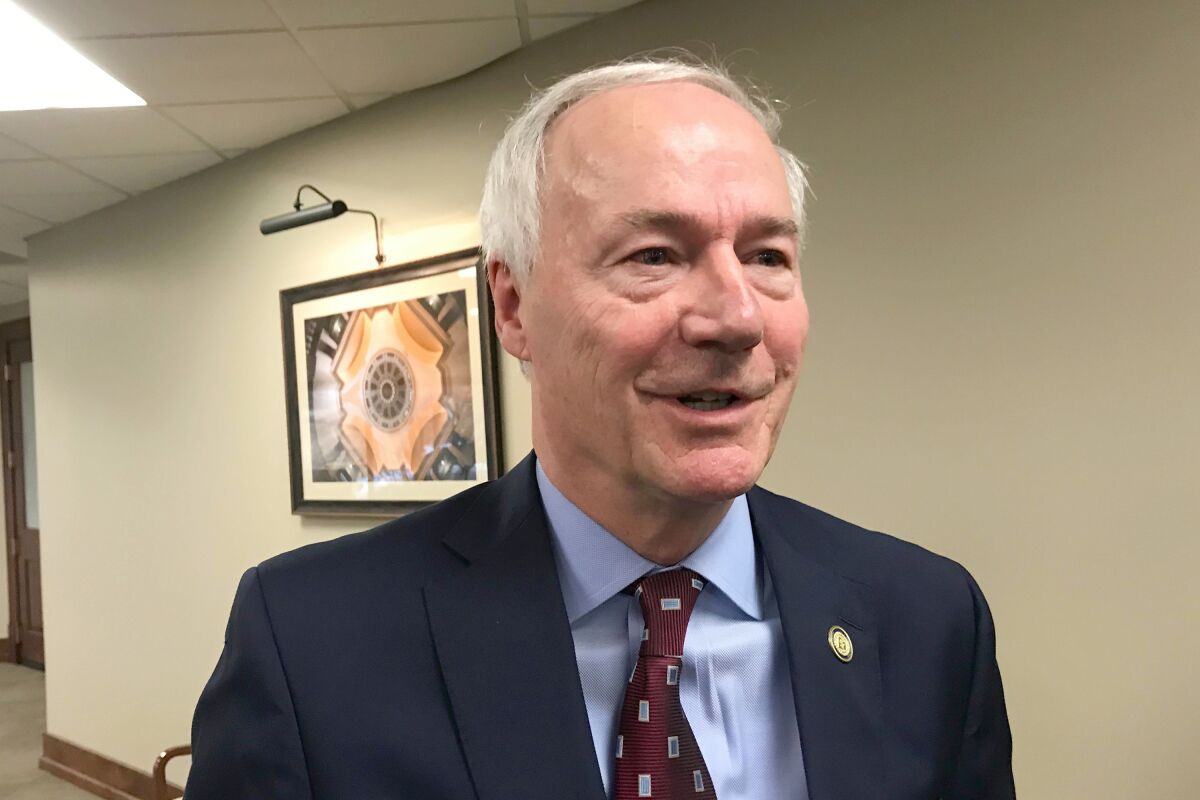 Former Arkansas Gov. Asa Hutchinson, a potential GOP 2024 presidential candidate, told Orange County Republicans on Wednesday that the party needs to nominate a proven leader and consistent conservative who can win independent and suburban voters to take back the White House.
"I believe that our country needs leaders who have been governors and who have led in tough circumstances like through a pandemic. We need to have people with experience of how to manage large agencies and ... how to balance a budget," Hutchinson told about 50 members of the Laguna Niguel Republican Women Federated club at a San Juan Capistrano golf course clubhouse.
Hutchinson, once an ally of former President Trump who now speaks out against him, later added, "Quite frankly, we need a course correction in our party as well."
Sept. 11 was a curveball that reshaped Asa Hutchinson's mission as a Bush administration official. Twenty years later, he sees parallels in how the COVID-19 pandemic jolted his work as governor.
The 72-year-old spent three days in Southern California courting Republican activists, donors and voters in the final weeks before he decides in April whether to run for president next year.
In addition to speaking before the GOP women's group, Hutchinson spoke at the Richard Nixon Presidential Library and Museum in Yorba Linda as well as at two events for the Republican Party of Orange County. He also met with reporters and the New Majority and the Lincoln Club, two influential, business-minded donor groups.
Hutchinson, who agrees he is a long shot if he decides to run, is one of the few potential GOP contenders with a long list of Republican bona fides who openly criticizes Trump.
Hutchinson has said Trump, who has announced that he is running again in 2024, appeals "to the worst instincts of our country" and that the nation should not "be led by arrogance and revenge in the future."
Hutchinson told USA Today earlier this month that Trump — whom he twice voted for and whose campaign he chaired in Arkansas in 2020 — should quit the race "out of respect for the institution of the presidency of the United States" if he is indicted, as the former president announced that he is expected to be in recent days.
There have been so many accusations brought against and investigations into Trump in recent years that it's hard to keep them all straight. Now there's an indictment. Here's a guide to the latest developments.
Earlier this year, Hutchinson said Trump should be disqualified from holding elected office ever again because of his involvement in the Jan. 6, 2021, insurrection at the U.S. Capitol.
He has also criticized Florida Gov. Ron DeSantis, saying it was naive of the likely 2024 contender to say that the United States doesn't have a stake in trying to end Russia's invasion of Ukraine.
Trump and DeSantis, who has not yet officially announced a presidential run, lead polling among Republican voters in California and across the nation, while Hutchinson is widely unknown.
Though a blue state, California has lots of Republican voters, making it one of the biggest prizes in the GOP primary. How is the race shaping up?
During his visit to Orange County, Hutchinson touted his record as governor of Arkansas, including lowering the state income tax by 2.1%, creating 100,000 private sector jobs, keeping schools and businesses open during the pandemic and creating a business-friendly environment that allowed the state to land a $3-billion steel plant that means Arkansas will outpace Pennsylvania in steel production.
He outlined five priorities he would focus on if he runs for president: ending out-of-control spending, reasserting American international leadership, securing the southern border, increasing domestic energy production and stopping the federal government from promoting what he called "a leftist social agenda."
"I think we need to win the hearts and minds of Americans again on the Republican side to show our leadership, and that we can win not just the conservative vote in a Republican primary, but that we can win independents and suburban voters in the fall election," Hutchinson said. "And I challenge everyone here as you evaluate candidates for leadership positions at whatever level, are they consistent conservatives, but then secondly, can they win in November?"
Although Hutchinson has repeatedly said he won't make up his mind about whether to run until April, his travel schedule shows how clearly he is considering a bid. On the final day of his two terms as Arkansas' governor in January, he visited Iowa, which is scheduled to hold the first Republican nominating contest in 2024. Hutchinson has also appeared in the early-voting states of New Hampshire and South Carolina.
In an interview, he said his decision would turn upon "whether my consistent conservative message is right for the GOP and America [and] if the finance can be successful."
California, which has the most delegates to the Republican National Convention where the party will officially pick its nominee, moved up its 2024 primary to March, increasing its weight in the process.
"California is important and it should be important," he said in the interview. "I've always said that the GOP needs to be able to attract votes in California. And we can't just be a Middle America party."
Hutchinson's supporters think he is an appealing presidential candidate because of his even temperament and long resume in GOP politics.
In addition to serving two terms as governor, Hutchinson spent four years in Congress, led the Drug Enforcement Administration and was an undersecretary in the Department of Homeland Security. Previously, as a federal prosecutor, Hutchinson donned a flak jacket as he helped peacefully negotiate a standoff with violent white supremacists inside their remote compound in rural Arkansas.
Get our Essential Politics newsletter
The latest news, analysis and insights from our politics team.
You may occasionally receive promotional content from the Los Angeles Times.