Former New Jersey Gov. Christie kicks off 2024 GOP presidential bid with swipes at Trump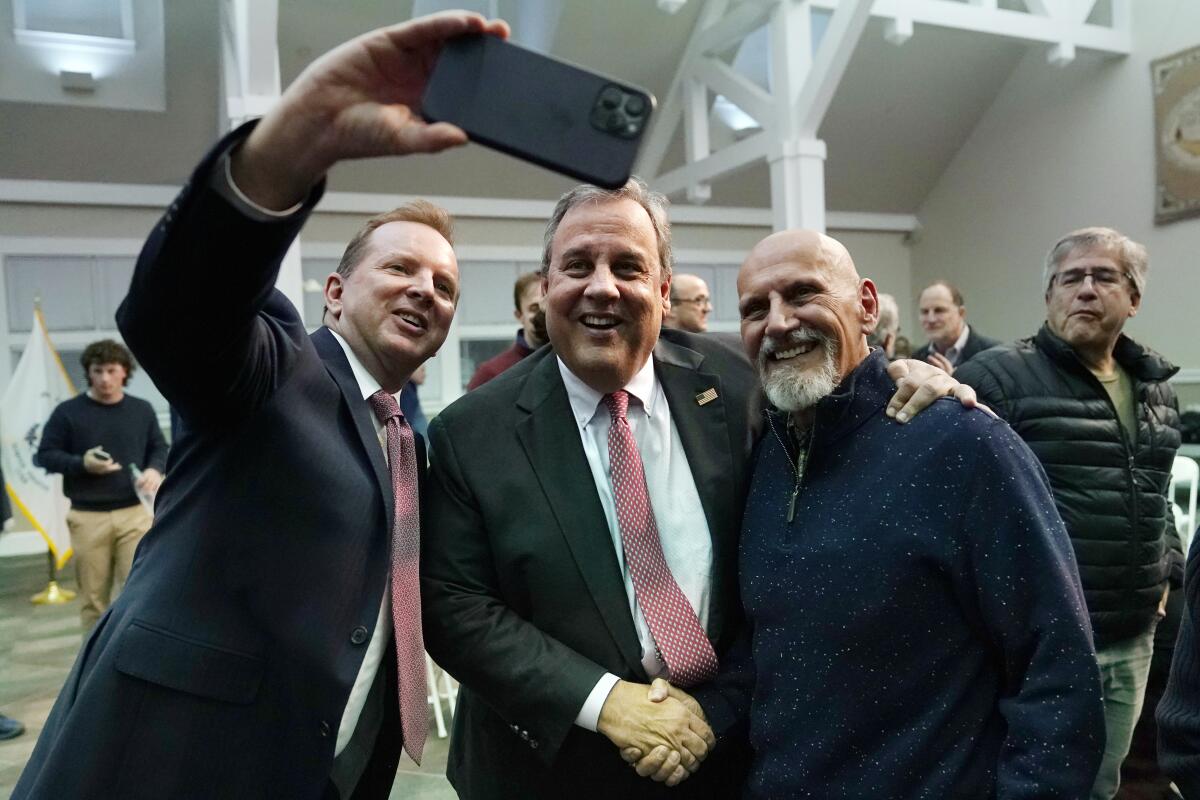 NEW YORK —
Former New Jersey Gov. Chris Christie wasted no time going after Donald Trump while launching his presidential campaign on Tuesday, calling the former president and current Republican primary front-runner a "lonely, self-consumed, self-serving mirror hog," and arguing that no one else can stop him.
Christie began his run with a town hall in New Hampshire. The former governor and federal prosecutor ran for the GOP presidential nomination in 2016 and lost to Trump, then went on to become a close off-and-on advisor before breaking with the former president over his refusal to accept the results of the 2020 election.
With Trump trying for the White House again, Christie seems determined to deny him. After criticizing other Republican primary rivals for being afraid to directly challenge Trump, Christie made clear that he had no such concerns.
"The person I am talking about, who is obsessed with the mirror, who never admits a mistake, who never admits a fault, who always finds someone else and something else to blame for whatever goes wrong — but finds every reason to take credit for anything that goes right — is Donald Trump," he told a small, mostly friendly crowd at Saint Anselm College in Manchester, N.H.
"A lonely, self-consumed, self-serving mirror hog is not a leader," he said, adding that Trump "made us smaller by dividing us even further and pitting us one against the other."
Eight Republican presidential hopefuls descended on Iowa to pitch themselves to voters. A Bible and motorcycles were involved.
But Christie also said President Biden "is doing the same thing, just on the other side." He noted that he'd known Biden for decades, saying he's "out of his depth" because "he's not the guy he used to be," referring to the 80-year-old president's age.
But Christie's chief target was Trump.
"There's a big argument in our country right now about whether character matters, and we have leaders who have shown us over and over again that not only are they devoid of character, they don't care." Christie said. "We can't dismiss the question of character anymore, everybody. If we do, we get what we deserve, and we will have to own it."
Christie enters a growing Republican primary field that also includes Florida Gov. Ron DeSantis, former South Carolina Gov. Nikki Haley and Sen. Tim Scott, also of South Carolina. Former Vice President Mike Pence planned to formally launch his campaign in Iowa on Wednesday.
During his time as governor, Christie established a reputation as a fighter with a knack for creating viral moments of confrontation. But he faces an uphill battle to the nomination in a party that remains closely aligned with the former president, despite Trump's reelection loss in 2020 and Republicans' poorer-than-expected showing in the 2022 midterm election.
Christie argues that unless top Republicans dare to confront Trump, there will be a repeat of the 2016 GOP primary, when Trump rolled over a host of alternatives with more political experience who split the support of voters opposing him.
After trailing Florida Gov. Ron DeSantis three months ago, former President Trump now has a commanding lead as California Republicans' choice to be their 2024 presidential nominee.
Christie said Tuesday that the only way to win the GOP nomination was to topple Trump — but that he was in the race to win the White House, not just the primary. He made fun of Trump's failed promise to wall off the entire southern U.S. border and have Mexico pay for it, but said voters who believed Trump in 2016 know better now.
Anti-Trump Republicans are particularly eager to see Christie spar with the former president on a debate stage — if Trump agrees to participate in primary debates and Christie meets the stringent fundraising criteria set by the Republican National Committee for participation.
Get our Essential Politics newsletter
The latest news, analysis and insights from our politics team.
You may occasionally receive promotional content from the Los Angeles Times.