James Stewart: Celebrating his 100th birthday
James Stewart, film's Everyman, would have turned 100 this week. Both the UCLA Film & Television Archive and the Academy of Motion Picture Arts and Sciences are celebrating his centenary this month. Here are some of his memorable screen roles.
Stewart gives one of his best performances as the San Francisco detective John "Scottie" Ferguson who becomes obsessed with a woman (Kim Novak) he's hired to follow in Alfred Hitchcock's 1958 psychological masterwork, "Vertigo."
(UCLA Film & Television Archive)
Stewart plays a San Francisco detective who suffers from "Vertigo" in Alfred Hitchcock's 1958 romantic classic.
(UCLA Film & Television Archive)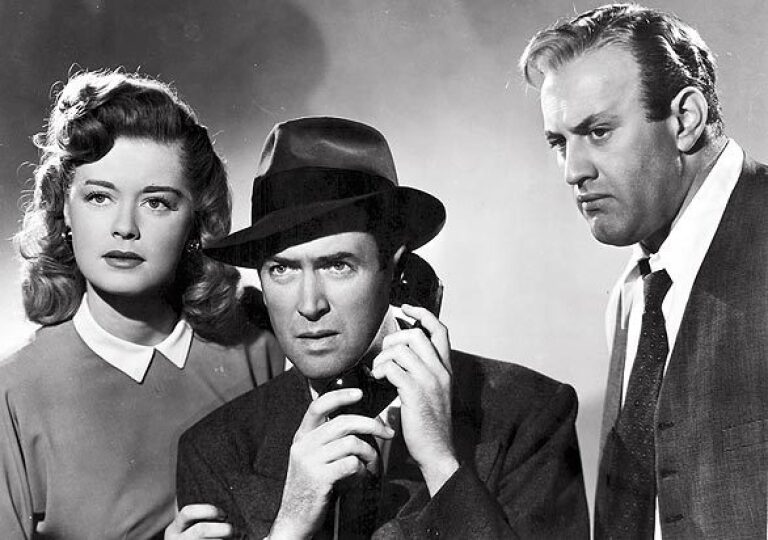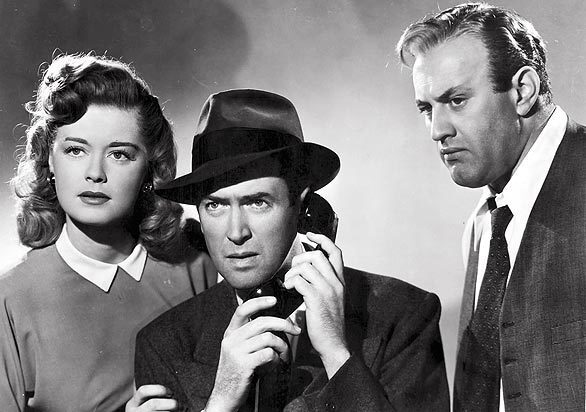 Stewart (center) plays a Chicago newspaper reporter who proves that a man was unjustly convicted of murder in the gripping semi-documentary-style 1948 "Call Northside 777." Helen Walker plays his wife; Lee J. Cobb is his editor in this film directed by Henry Hathaway.
(UCLA Film & Television Archive)
Stewart and director Anthony Mann teamed up for several gritty adult westerns during the 1950s, including 1955's "The Man From Laramie," in which he plays Will Lockhart, a man who becomes involved in the machinations of a small western town after he delivers supplies to the isolated area.
(UCLA Film & Television Archive)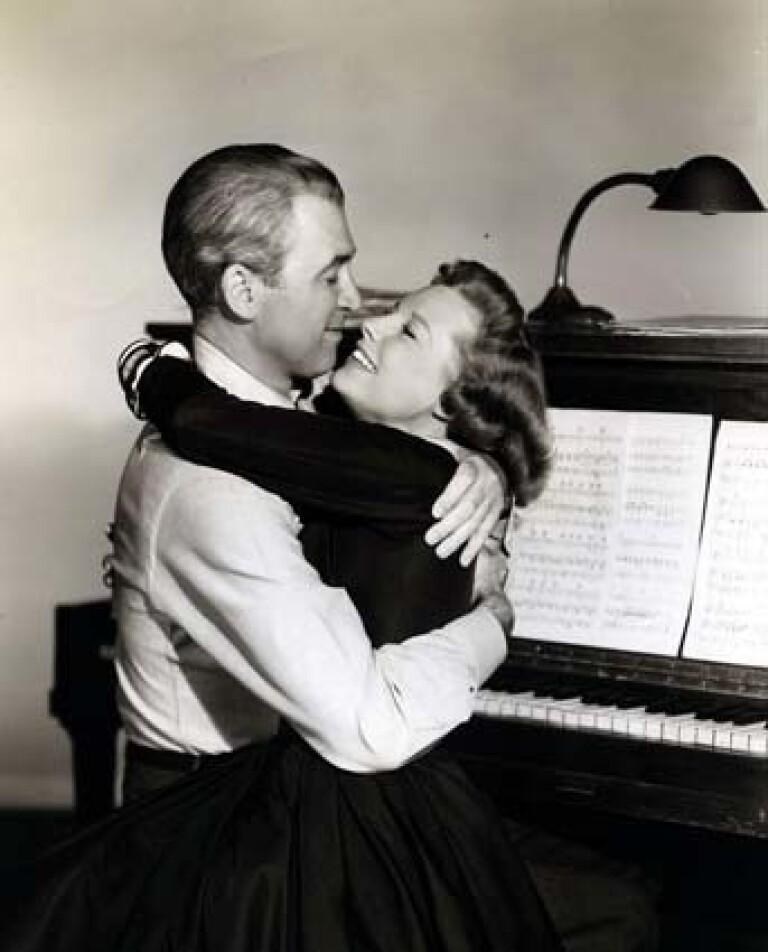 Besides making westerns, Stewart and Mann also collaborated on the lovely, sentimental 1954 bio-pic, "The Glenn Miller Story." Stewart brought his lanky charm to the role as the famous orchestra leader; June Allyson also starred as his loving wife Helen.
(UCLA Film & Television Archive)
Romantic comedies don't get more romantic or funnier than 1940's enchanting "The Shop Around the Corner," which casts Stewart as a shop sales' clerk who doesn't realize that the store's new employee (Margaret Sullavan) is actually his secret romantic pen pal. Ernst Lubitsch directed this flawless farce that was later remade as "You've Got Mail."
(LACMA)
One of director John Ford's last and best westerns, 1962's "The Man Who Shot Liberty Valance," features Stewart as attorney Rance Stoddard who becomes a hero when he "shoots" the famed outlaw Liberty Valance. John Wayne (right) is on hand as Tom Doniphon, a rancher who comes to Stoddard's aid.
(UCLA Film & Television Archive)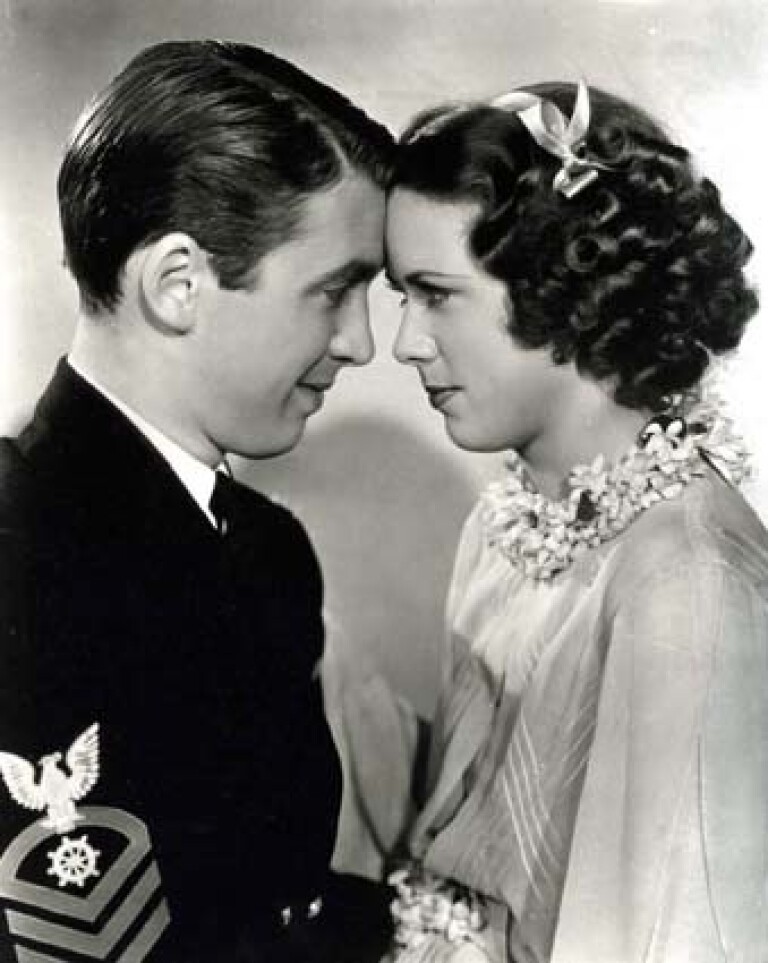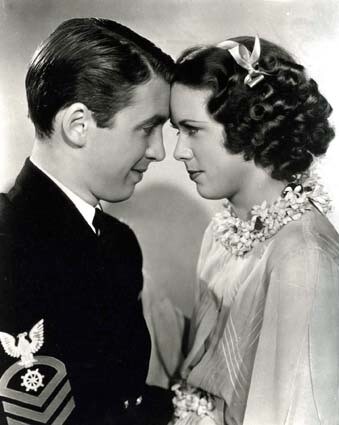 Stewart sings and dances -- or let's say tries to sing and dance -- in the enjoyable 1936 musical comedy "Born to Dance." Legendary tap dancer Eleanor Powell plays his love interest. And Stewart even gets to croon Cole Porter's "Easy to Love."
(UCLA Film & Television Archive)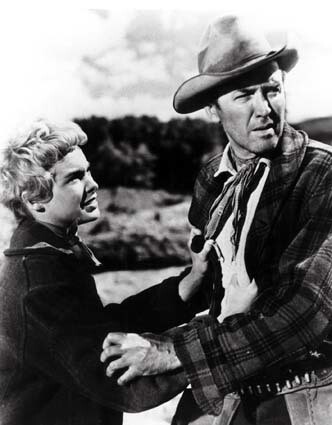 The uncompromising "The Naked Spur," released in 1953, is the best of the Stewart-Mann westerns. Stewart plays a bounty hunter determined to bring in an outlaw (Robert Ryan). Janet Leigh (left) plays the outlaw's companion.
(File photo)
Though it wasn't a big hit when it was released in 1946, Frank Capra's "It's a Wonderful Life" has become Stewart's best-loved film and a Christmas perennial. Stewart received his third lead actor Oscar nomination for his role as George Bailey, a man on the verge of committing suicide who learns from an angel named Clarence what life would have been like if he had not been born.
(UCLA Film & Television Archive)
Los Angeles Times Staff Writer
TO MILLIONS, James Stewart was Everyman. To Kelly Stewart, he was just Dad.
"Dad was a very private person," she says, adding that her father never brought his work home with him. But she got her first inkling of his tremendous popularity at age 6, when she accompanied him to a charity event at the Akron Soap Box Derby.
"I remember seeing these crowds of people, thousands and thousands of people, and police standing in a line to keep the crowds back. They were yelling 'Jimmy! Jimmy!' I remember thinking all of these people know Dad's name. That is when I first realized he was famous."
The lanky Stewart, who hailed from the Pennsylvania town of Indiana, would have turned 100 this week -- he died at 89 in 1997. And both the UCLA Film & Television Archive and the Academy of Motion Picture Arts and Sciences are celebrating his centenary this month.
UCLA will kick off its film festival "The Picture Starts in Heaven: James Stewart's Centennial" on Friday at the Billy Wilder Theater with the 1938 comedy "Vivacious Lady" and 1936's musical "Born to Dance," in which he warbles "Easy to Love." The festival also features perhaps his most enduring film, the 1946 holiday classic "It's a Wonderful Life."
On June 12, the academy will present "A Centennial Tribute to James Stewart" at the Samuel Goldwyn Theater, which will feature clips and memories with Stewart's daughters, Kelly and Judy, and such co-workers as Shirley Jones, who appeared with the Oscar winner in the 1961 John Ford western "Two Rode Together" and the 1970 western comedy "The Cheyenne Social Club," with Henry Fonda.
"I can't say enough about him," Jones says. "To watch him and Henry Fonda do a scene together. . . . I have said I often wished I had an acting class come in and watch that, because what they did, and what acting is supposed to be, is that they just talked to each other. A lot of the times they would forget their lines and would just [ad-lib] and talk to each other."
Stewart, she adds, "was giving as a person and as an actor. He had a great sense of humor and was easy to talk to."
Perhaps no other actor went through such an evolution on screen as Stewart.
"I think when he came out to Hollywood, the studios didn't know what to do with him," says Andrea Alsberg, UCLA's co-head of exhibition and public programs. "It wasn't until Frank Capra got ahold of him" -- in 1939's "Mr. Smith Goes to Washington" -- "that he developed that [everyman] image that we think of him."
But after his five years in the Army Air Corps during World War II, Stewart returned to Hollywood a changed man. "He did see combat," Alsberg says. "He matured quickly in those five years."
And his film roles reflected that newfound maturity -- he helped create dark, complex, often erotic characters for director Alfred Hitchcock in such films as "Vertigo," which screens May 31, and sagebrush antiheroes in a series of westerns for Anthony Mann, including "The Naked Spur."
"I think his postwar films and his characters in them are all the more interesting because of his earlier work," Alsberg says. "If he wasn't the common man [before the war], he couldn't have been the uncommon man as easily. And the fact was, he was a really good actor."
JAMES STEWART CENTENNIAL WHERE: Billy Wilder Theater, 10899 Wilshire Blvd., Westwood; and the Samuel Goldwyn Theater, 8949 Wilshire Blvd., Beverly HillsWHEN: 7:30 p.m. Fri., through June 8 at the Wilder; June 12 at the GoldwynPRICE: $7-$9 at the Wilder; $3-$5 at the GoldwynINFO:www.cinema.ucla.edu, oscars.org
---
Get our free Coronavirus Today newsletter
Sign up for the latest news, best stories and what they mean for you, plus answers to your questions.
You may occasionally receive promotional content from the Los Angeles Times.