Exide faces a long, costly cleanup of closed Vernon plant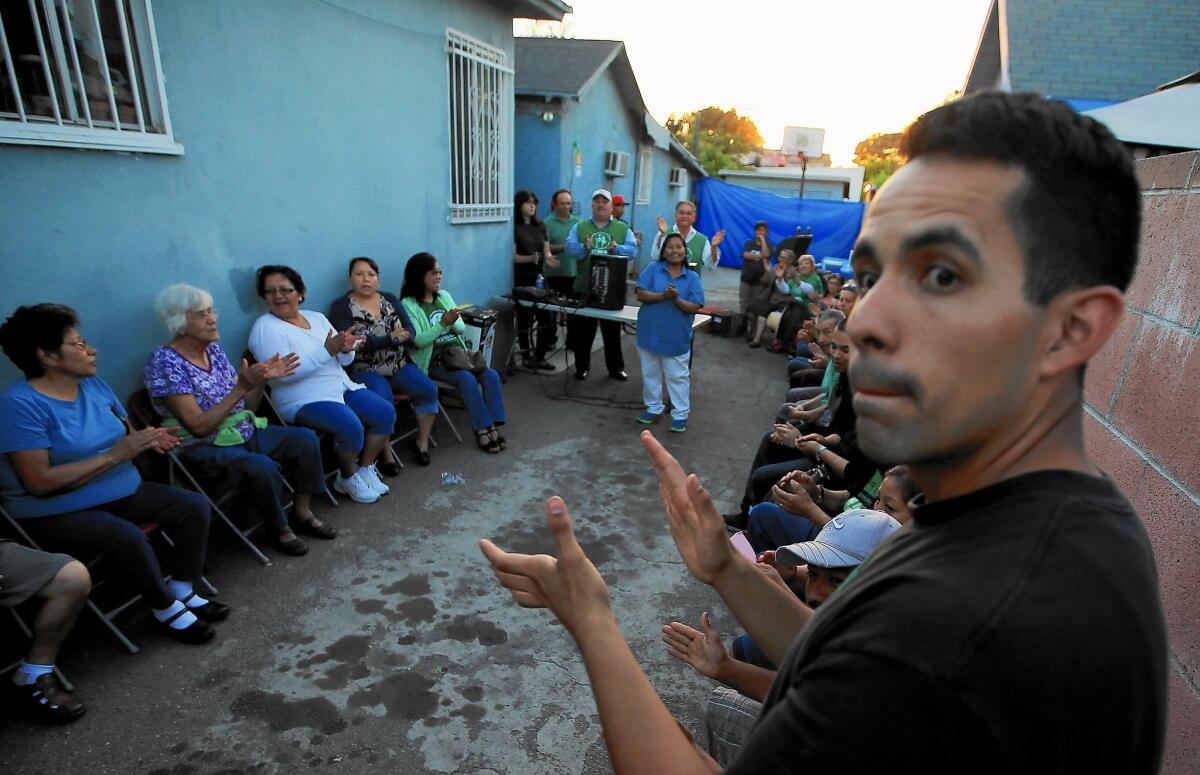 The deal federal prosecutors struck with Exide Technologies this month to permanently close its battery recycling plant in Vernon and avoid criminal charges marks the beginning of a long and costly cleanup. The plant leaves behind decades' worth of pollution and hazardous waste, along with many questions about how the mess will be taken care of.
Who will oversee the cleanup and how long will it take?
Exide's March 11 agreement with the U.S. Attorney's Office requires it to spend at least $50 million to demolish and clean the 15-acre facility that had melted down lead from used car batteries and other sources since 1922, releasing dangerous pollutants into the air. The company must also remove lead contamination from hundreds of homes in southeast Los Angeles County.
The state Department of Toxic Substances Control will supervise the cleanup under a separate agreement with Exide. Once work begins, officials estimate it will take about two years for the company to remove buildings and other structures. It will take at least two more years to study the extent of contamination at the Vernon site and clean it.
State officials do not know how long it will take to remove lead-contaminated soil from homes near the plant. Since last August, crews have cleaned soil from about 40 of more than 150 properties where elevated lead levels have been found. Each yard takes about a week and costs about $45,000 to clean.
How much will it cost and who will pay?
Closing and cleaning the Exide plant site will cost at least $38.6 million, and probably more, state officials say. Cleaning nearby homes will cost at least $9 million. Both efforts will be paid for by Georgia-based Exide, which is expected to emerge from bankruptcy at the end of the month.
Exide is required to put most of the cleanup money into trust funds in a series of payments over the next five years. The company has paid about $16 million so far.
State and federal officials say their agreements with Exide, designed to prevent the company's liquidation, require it to pay for the full cleanup, no matter the cost.
Which homes will be cleaned?
The state toxics department is focusing on 217 properties in parts of Boyle Heights and Maywood that air modeling shows are most likely to be affected by Exide's emissions. Officials have promised to clean any home in those areas with lead levels above 80 parts per million, based on a composite from multiple soil samples at each property.
Crews have tested an additional 144 homes in an expanded, two-square-mile area of southeast L.A. County. But the department said it has not finished evaluating those results, and officials would not say whether homes in that larger area would be cleaned.
DTSC spokeswoman Tamma Adamek said the agency will "hold Exide responsible for paying to clean up all areas that contain Exide's contamination if additional information demonstrates the need."
What if Exide does not comply?
Exide could be prosecuted. Under the deal with the U.S. attorney's office, the company admitted to two decades of criminal conduct at the facility, including illegal storage, disposal and shipment of hazardous waste.
If the company does not fulfill its cleanup obligations, it could be charged with those felonies at any time in the next 10 years.
What is the status of tests for lead poisoning in nearby communities?
In April 2014 the Los Angeles County Department of Public Health began a screening program to test for lead in the blood of residents who live near the plant. The testing, funded by Exide, is available to more than 100,000 people who live and work within about a two-mile radius of Exide, including parts of Boyle Heights, East Los Angeles, Commerce, Bell, Maywood and Huntington Park.
Exide's deal with federal prosecutors extends free blood lead testing for another five years.
What have the blood tests shown?
Of about 600 people tested so far, none had lead levels high enough to require medical intervention, Dr. Cyrus Rangan, director of the county health department's Bureau of Toxicology and Environmental Assessment, said last month. "It's all within the ballpark of expectations for the rest of the county," he said.
Only five adults tested above 5 micrograms per deciliter, the level that the U.S. Centers for Disease Control and Prevention considers elevated in children. No child had levels higher than 3 micrograms per deciliter, the health department said. But the program has drawn few young children, who are most at risk for lead poisoning.
tony.barboza@latimes.com
Twitter: @tonybarboza