Laguna Beach Unified will experiment with online tutoring program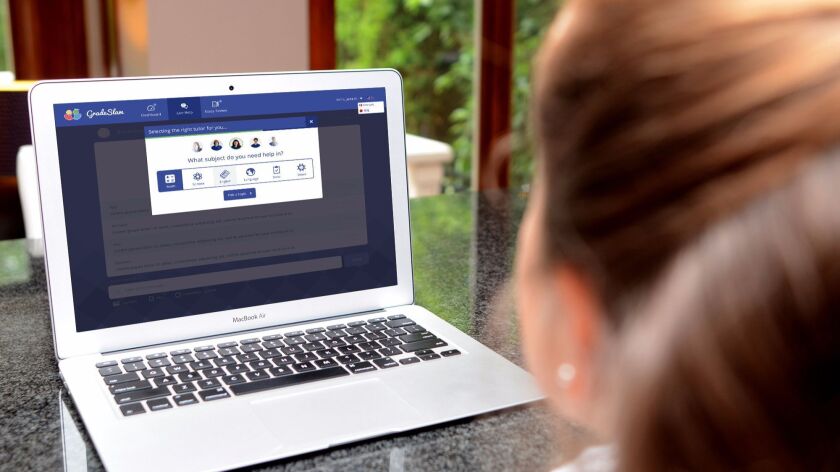 Students at Thurston Middle and Laguna Beach High schools will soon have access to tutors at any time if they encounter a difficult calculus problem or have a question on their Spanish homework.
Laguna Beach Unified School District trustees earlier this month approved a one-year contract with GradeSlam, a Montreal-based company that offers students instant academic assistance via an online platform.
Trustees' unanimous vote made Laguna Beach Unified the first district in Southern California to test the program, Philip Cutler, GradeSlam's founder and chief executive officer, said.
District staff pursued the program because some students' families can't afford private tutors, district chief technology officer Mike Morrison said.
Students may also have questions that other online platforms do not address, he added.
Students log on to GradeSlam's website at gradeslam.org, select a subject and type their question, which is then immediately answered by one of GradeSlam's 75 tutors, whom Cutler said are either licensed teachers in Quebec or are master's or PhD candidates.
"The big thing is the educational equity, a level playing field for every student to succeed," Cutler, a former sixth-grade teacher, said.
Laguna Beach Unified will test the program through Nov. 14, 2018.
The district is placing course information, such as class rosters, into the program, which Morrison said will go live in January.
The text-based system, which focuses on core subjects such as math, science, social science and languages, does not have audio or video components, Morrison said.
SchoolPower provided $32,820 to cover the entire one-year trial period.
GradeSlam is not aligned with a curriculum or set of standards, but rather offers students help as their questions arise.
GradeSlam officials assign tutors to times based on data they collected.
For example, Friday nights have low usage, Cutler said. "Now Sunday at 10 p.m. is a different story. Everyone who procrastinated is online."
Three public school districts, including Laguna Beach Unified, and 50 independent and charter schools in Canada and the U.S. use GradeSlam, Cutler said.
Through the platform, teachers learn which students seek assistance along with the times and topics of their questions.
Laguna Beach Unified staff will evaluate the program to see if it's worth continuing, Morrison said.
Students do not need to book times in advance, Cutler said. If they run into a question, they can log on and receive real-time feedback.
Laguna Beach Unified will not provide student or tutor information to any third party, such as another person or business, according to a district staff report.
Twitter: @AldertonBryce
---