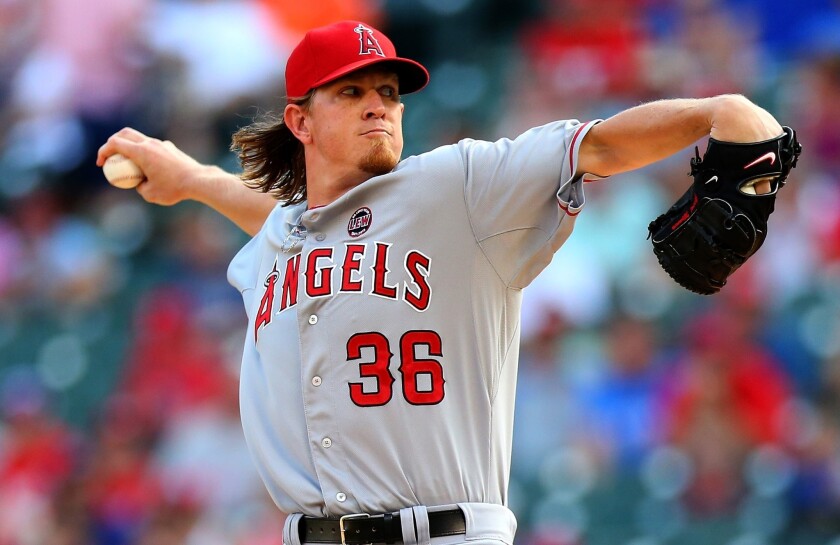 ARLINGTON, Texas — Jered Weaver allowed one run and five hits in seven splendid innings, "the best I've ever thrown the ball in Texas," he said, and J.B. Shuck, who got the silent treatment after hitting his first big league home run, responded by walking the length of the dugout and hilariously high-fiving invisible teammates.
It was all fun and games for the Angels at the Ballpark in Arlington Monday night . . . until someone got hurt.
Closer Ernesto Frieri failed to protect a one-run lead in the ninth inning, giving up a leadoff home run to A.J. Pierzynski and a two-out, walk-off homer to Geovany Soto in a crushing 4-3 loss to the Texas Rangers that extended the Angels' losing streak to four and buried them deeper in the American League West standings, 14 games behind first-place Oakland.
BOX SCORE: Rangers 4, Angels 3
Frieri, in his second season as closer, has had his share of devastating defeats, but he took this loss harder than any other, spending more than 10 minutes after the game with his hands behind his head, staring blankly into his locker. It was as if the weight of a season filled with frustrating losses had fallen on his shoulders.
"It's a tough situation, we've been struggling, and I went out there and gave up the game," Frieri said after his third blown save. "That's what makes this game so frustrating at times. We needed a win to relax, to calm down, and we lost again."
Frieri tried to elevate a 1-and-2 fastball to the left-handed-hitting Pierzynski but left it down and in, right in Pierzynski's swing path. Home run to right field.
Nelson Cruz singled but was wiped out on David Murphy's double-play grounder. Frieri threw a belt-high, full-count fastball to Soto, a .210-hitting backup catcher, and he sent a towering fly to left that stayed fair and barely cleared the wall, traveling an estimated 349 feet. Game over.
"It's tough, man," said Weaver, who struck out six and is 4-1 with a 1.31 earned-run average in his last seven starts. "These games are very important. We're trying to do what we can to battle and win, and it's just not working out for us.
"We're going to keep fighting, scratching and clawing, but it's getting down to the nitty gritty. We've got to start putting something together if we're going to get back in this thing. We can't let games like this slip away."
Shuck's solo homer to right off Matt Garza, his first in 357 at-bats, and Josh Hamilton's two-run single to left in the fifth gave the Angels a 3-0 lead.
Weaver's scoreless streak of 192/3 innings and Texas' scoreless streak of 26 innings ended in the sixth on Ian Kinsler's RBI single, which made it 3-1.
The Angels failed to score after putting runners on first and third with no outs in the eighth, as Mark Trumbo and Howie Kendrick struck out and Hank Conger grounded out with the bases loaded.
The Rangers trimmed the lead to 3-2 in the bottom of the eighth when Andrus singled off reliever Dane De La Rosa, stole second, took third when Conger's throw sailed into center field and scored on Kinsler's sacrifice fly. Frieri missed a few spots in the ninth and paid the price.
"Every time you miss with location, you're going to get hurt, and I'm No. 1 at doing that," Frieri said. "I miss, I get hurt really bad."
twitter.com/MikeDiGiovanna
---