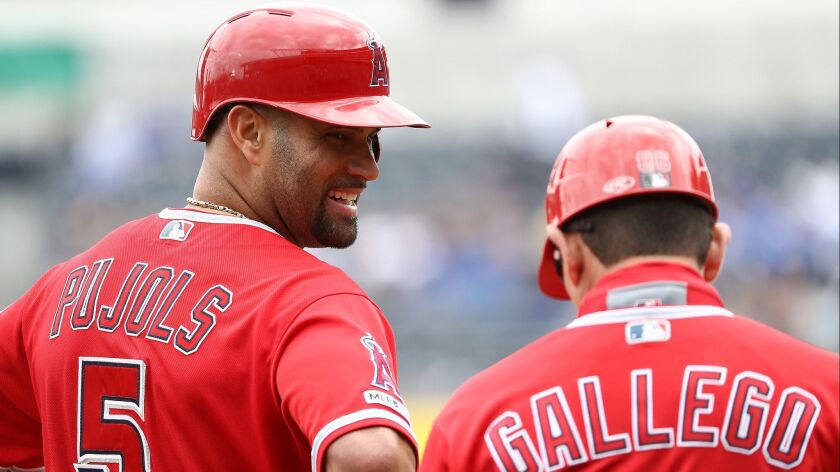 Reporting from kansas city, mo. —
With the bases loaded and one out in the first inning Sunday against the Kansas City Royals, veteran Albert Pujols hit a double on a ground ball to left field. Mike Trout and Brian Goodwin scored, giving the Angels an early lead and increasing Pujols' career RBI total to 1,997.
Pujols, 39, passed Barry Bonds (1,996) and moved into third place on Elias Sports Bureau's all-time list, which dates to when the statistic was first used officially, in 1920.
Hank Aaron holds the record with 2,297; Alex Rodriguez is second with 2,086.
"When somebody brings it up to me — you passed this guy, or you're only two away from this guy — I'm aware of it," Pujols said Friday after passing Lou Gehrig on the list. "But I think the last thing you wanna do is put your focus on that, because it's not about that. You put the focus on the team, and because you do that everything else is going to fall in place.
"Let's face it, not all the time you're gonna come through and drive the guy in. But for the most part I've done a pretty good job in my career, and that's something that I can say I'm proud of."
Ohtani a no for Blue Jays
After being peppered with reporters' guesses on when Shohei Ohtani would rejoin the lineup, Angels manager Brad Ausmus said the 2018 American League rookie of the year would not play at Angel Stadium during a three-game homestand against the Blue Jays that begins Tuesday.
Ohtani, a two-way player in the final stage of his rehabilitation from elbow surgery as a hitter, has collected 15 at-bats since beginning to hit in simulated games at Angel Stadium on Wednesday.
The Angels want him to get 40 at-bats before greenlighting his return, which they've said since spring training would occur at some point in May.
Ohtani hit Sunday and is scheduled to hit again Monday. He could potentially get his remaining at-bats in time to travel with the Angels to Monterrey, Mexico, where they begin an 11-game trip with a two-game set against the Houston Astros on May 4.
Ausmus did not tip the Angels' hand.
"We'll have to wait till we get to Mexico to find out," he said.
Struggling Bour drops in order
The Angels and scuffling first baseman Justin Bour remain confident that he can snap out of an offensive slump that has claimed the first month of his campaign. But with the right-handed Homer Bailey starting on the mound Sunday for the Royals and fellow Angels left-handed hitters Tommy La Stella and Goodwin hitting well, Bour was moved from the top half of the batting order to the No. 8 spot.
Bour entered the game with 13 hits in 74 at-bats. He hadn't reached base in 10 plate appearances, since hitting a grand slam against the New York Yankees on Tuesday night. But after going hitless in his first three at-bats Sunday, Bour hit a three-run home run in the ninth.
"You have to be [confident]," Bour said after striking out three times in five at-bats in the Angels' 9-4 loss to the Royals on Saturday night. "You got to show up and be ready to go tomorrow. Analyze it, see what adjustments need to be made and come play tomorrow."
Bullpen help coming
About 12 hours after the worst outing of his young career, right-hander Jaime Barria was optioned back to triple-A Salt Lake on Sunday morning.
Barria gave up seven runs and 10 hits in a 1 2/3-inning appearance in Saturday's loss. Right-handed reliever John Curtiss was summoned from Salt Lake to take Barria's spot on the 25-man roster.
Sign up for our daily sports newsletter »
Barria's demotion wasn't necessarily performance-related. The Angels have three days off in the next eight days, so getting Barria another start on regular rest would be challenging. Top pitching prospect Griffin Canning, right-hander Felix Pena and left-hander Tyler Skaggs are scheduled to pitch against the Blue Jays. The Angels haven't announced who will pitch in Mexico, but Trevor Cahill, who was given extra rest, likely will make one of those starts.
"Barria has gone up and down a number of times," Ausmus said. "I can understand why players, including him, might get frustrated. Unfortunately for guys with options, roster management is a big part of the game now."
Twitter: @maria_torres3
---