Upon further review, Angels' Mike Scioscia still disagrees with call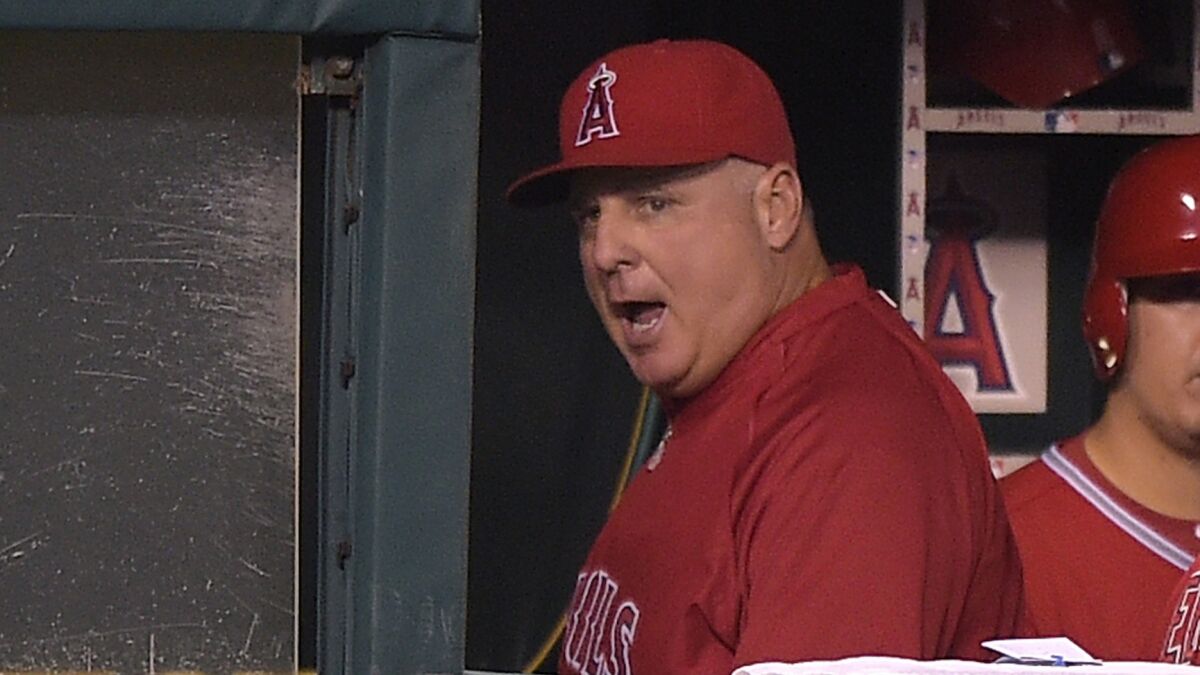 It wasn't part of the proposed $150-million renovation that Angels owner Arte Moreno and the City of Anaheim have haggled over for months, but the top of the right-field wall in Angel Stadium got a fresh coat of bright yellow paint Tuesday.
"I didn't even notice it," Manager Mike Scioscia, peering over a group of reporters from the third base dugout, said before Tuesday night's 2-1 win in 14 innings over the Oakland Athletics. "It looks a lot better, but I didn't request it."
Those who saw an irate Scioscia earn his 37th career ejection for arguing an instant-replay review that reduced Mike Trout's two-run home run to a run-scoring double in the fifth inning Monday night might find that hard to believe. But in an upset, it appears to be true.
"Nobody ordered the yellow paint, it was nothing that came from the clubhouse or from above," said Tim Mead, the team's vice president of communications. "It was actually on a facilities work-order list, and they ended up doing it today."
How convenient.
With some more contrast between the top of the wall and a ball hit near the yellow line, perhaps umpires and replay officials will gain more clarity on the kind of call Scioscia was still fuming about a day later.
With Hank Conger on second base, Trout lofted a fly to deep right-center field that first base umpire Bob Davidson called a home run. After a lengthy review, officials in New York ruled that a fan reached over the wall and interfered with the ball.
Replay officials determined the ball wouldn't have left the field and sent Trout to second base. Scioscia argued that the speedy Trout would have easily made it to third base. The ejection gave him plenty of time to look at replays.
"In my opinion, there was absolutely no conclusive evidence to overturn that home run," Scioscia said. "I saw no replay that said that ball was absolutely not going out of the park.
"On the flip side, if they called it a double, there was no replay that said it was absolutely a homer. But they called it a homer. It should have been upheld because there was no evidence I saw that said it wasn't a home run."
Fan interference is not like a ground-rule double. Umpires, or officials in New York in the case of a replay review, determine the placement of a runner.
"I didn't think it was gone, I didn't even think it had a chance, so I was running hard the whole time," Trout said. "The balls I hit off that wall, I usually get a triple."
Trout was unaware until after the game that replay officials, and not umpires on the field, make such calls. Scioscia knew of the protocol, but he now questions it.
"Umpires are in tune with the speed of the runner, the action, and they have a pretty good idea of where runners should be placed compared to a guy looking at some monitor in New York," Scioscia said. "I thought there would be some influence from the umpires here. Maybe they can use both."
Oakland Manager Bob Melvin didn't think Trout would have made it to third.
"I thought when the fan reached out and touched the ball, Trout was just past first base," Melvin said. "That was my view."
Scioscia had a different view.
"I don't think I've ever seen Mike hit a ball that high off the wall and not be standing on third base," he said. "So yeah, I was frustrated."
What does Scioscia think about the fact that replay officials have sole jurisdiction over such calls?
"That," Scioscia said, "is one of the reasons I got thrown out."
Twitter: @MikeDiGiovanna
Get the latest on L.A.'s teams in the daily Sports Report newsletter.
You may occasionally receive promotional content from the Los Angeles Times.