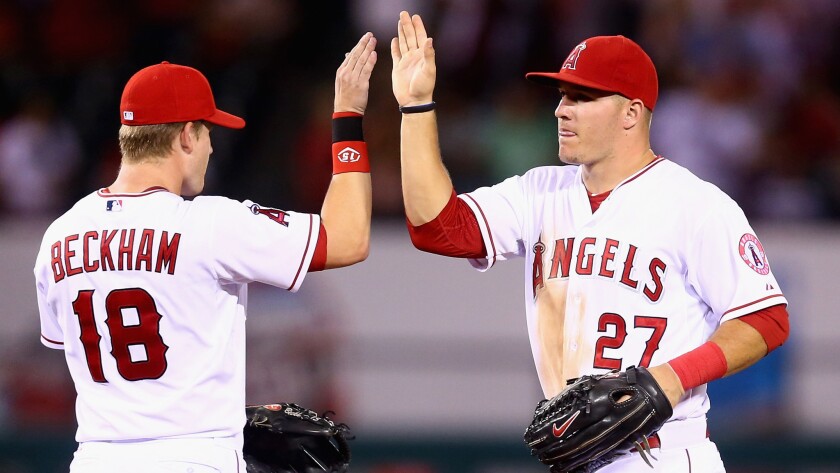 Mike Trout turned 23 less than three weeks ago. But don't let the tender age fool you.
With each passing day, the Angels outfielder proves he's already one for the ages.
Wednesday, in the seventh inning of a game that had long since been drained of suspense, Trout made history by lining a home run into the shrubbery behind the center-field wall at Angel Stadium. With that shot, Trout not only closed out the Angels' 6-1 victory over the Miami Marlins, but also became only the fifth American League player with two 30 home run seasons before the end of his age-22 campaign.
OK, so the record is a bit esoteric. But two of the names on that list, Jimmie Foxx and Ted Williams, are in the Hall of Fame.
Trout could be there someday. And outgoing Commissioner Bud Selig has already nominated Trout's baby face to replace the retiring Derek Jeter's as the face of the game.
"Mike Trout is special," Selig said Wednesday during a brief stop at Angel Stadium. "We're lucky in this sport. We have great young players. And as sad as it is to see Derek go, we go through this every generation.
"Mike Trout is special. He's been great on the field and just as great off the field. So if he is the icon of this generation, I'd be very, very happy."
There is one big thing that separates Jeter from Trout: championships. Jeter has won five World Series rings and Trout is playing in his first pennant race.
"It's always cool to reach 30," the Angels outfielder said of his milestone shot. "But we have other things on our mind. We're trying to reach the playoffs."
And like Jeter, his childhood idol, Trout appears to be rising to the occasion, getting hot just when the Oakland Athletics are coming to town for a four-game series that could go a long way toward determining the American League West pennant race.
The A's trail the Angels in the division by a game with 30 to play.
Although Trout is hitting only .257 in August, with two hits, two runs and two runs driven in Wednesday, Trout is five for 11 with four runs three games into the Angels' homestand. He leads the team with six home runs and 18 runs batted in this month and is well on his way to career highs for home runs, doubles and RBIs.
"I feel good at the plate and I'm not chasing too many pitches," he said. "That's when I get in trouble, when I get too anxious and I chase."
Trout got a lot of help Wednesday with Josh Hamilton and Gordon Beckham each getting two hits. That made it an easy night for left-hander Hector Santiago, who gave up only one run on Adeiny Hechavarria's home run to start the third.
His offense quickly got that run back in the bottom of third, scoring three times on a blooper by Trout, a run-scoring groundout by Albert Pujols and Hamilton's double off the top of the wall in center field that drove in Trout easily from second.
An inning later, Beckham extended that lead by driving a one-out shot into the Miami bullpen in left field for his first home run as an Angel. The Angels scored in the seventh, on Trout's home run, and in the eighth.
Santiago (4-7) was gone by then, having held the Marlins to a run through 5 2/3 innings. He struck out five in a row at one point and gave up only a walk between Hechavarria's home run and Jeff Baker's two-out single in the sixth.
The Angels went to the bullpen to protect the lead with Kevin Jepsen, Fernando Salas and Huston Street combining for 3 1/3 scoreless innings. Street gave up two hits in the ninth but closed the door, giving the Angels their 79th victory.
Staff writer Helene Elliott contributed to this story.
---