Angels have a comeback plan for Josh Hamilton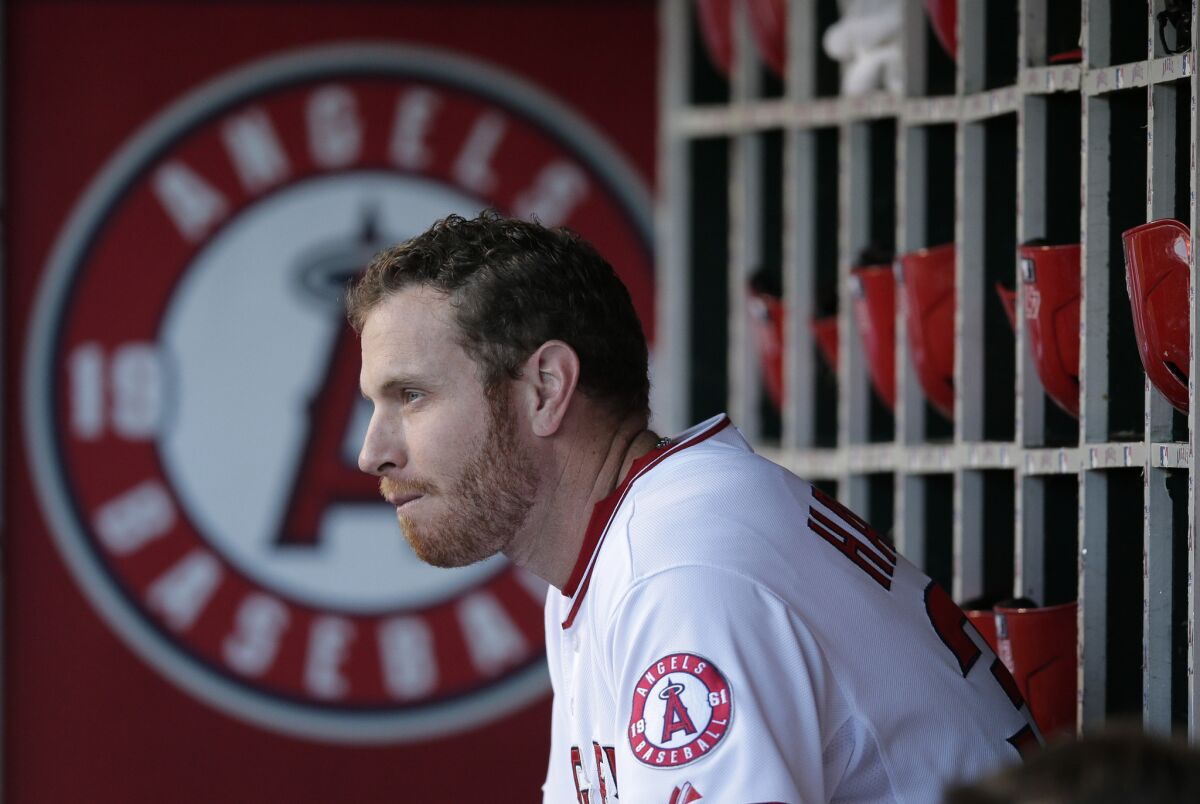 The Angels have mapped out a comeback regimen for Josh Hamilton, under which the troubled outfielder could rejoin the team in early June.
Under the tentative plan, Hamilton would report to the Angels' Arizona training complex for two to three weeks of work with the team's extended spring program. He would then proceed to a minor league rehabilitation assignment and could rejoin the Angels thereafter.
------------
FOR THE RECORD:
Angels game: In the April 21 sports section, a photo caption misidentified an Oakland Athletics outfielder who made a diving catch against the Angels. The player was Sam Fuld, not Stephen Vogt. —
------------
Hamilton is expected to report to Arizona "sooner rather than later," according to a person familiar with the plan but unwilling to discuss it publicly until the Angels announce it. The person spoke before the Angels' 6-3 loss to the Oakland Athletics at Angel Stadium on Monday.
The plan does not guarantee that Hamilton plays again for the Angels, but at the least it buys time for owner Arte Moreno. If Hamilton appears sound enough that his presence on the roster could give the Angels their best chance to win, the players might be discouraged if Moreno lets Hamilton go.
Moreno has pointedly declined to say Hamilton would rejoin the team but has not decided whether to try to enforce contract provisions that the owner has said could void the deal. The players' union has vigorously disputed that claim, and any challenge by Moreno likely would end up in arbitration.
Hamilton reported a substance-abuse relapse in February, and an arbitrator subsequently ruled Hamilton had not violated his drug treatment program and could not be suspended by Major League Baseball.
The Angels owe Hamilton $83 million through 2017. There are no active settlement discussions between Hamilton and the team, according to the person familiar with the matter. The rehabilitation assignment could show any team that might be interested in trading for Hamilton, who is coming back from shoulder surgery, that he is sound.
But, if the Angels' offense does not improve soon, they might be longing for Hamilton. The Angels are batting .214, and the three players getting more at-bats because of Hamilton's absence each is batting under .200.
Matt Joyce, who replaced Hamilton as the primary left fielder, is batting .167. C.J. Cron, who has picked up most of the at-bats at designated hitter, is batting .129. Collin Cowgill, the backup left fielder, is batting .192.
Those players have combined for two home runs in 99 at-bats.
Hamilton, the American League most valuable player in 2010, made the All-Star team in each of his five seasons with the Texas Rangers. He struggled in his first two years in Anaheim, often hampered by injury, batting .250 with 21 home runs in 2013 and .263 with 10 home runs last season.
But Hamilton was an above-average offensive player in each of those seasons, according to the OPS+ statistic, in which 100 represents the average. Hamilton has a 110 OPS+ in his Angels tenure.
"Obviously, he's a threat with his bat," outfielder Mike Trout said. "He's helped us over the last couple of years, and we saw what he did in Texas.
"He's part of the team. I'm sure, when he's fully healthy, we'll see him back."
Trout was not among the players who met with Hamilton when the Angels played in Houston last week — Hamilton is working out there for now — but outfielder Kole Calhoun was.
"He's a teammate, man," Calhoun said. "He's a good guy. He's a good person. I know all he wants to do right now is play baseball."
Manager Mike Scioscia emphasized that his primary concern about Hamilton is supporting him in getting whatever help he might need to handle his relapse. Beyond that, Scioscia said, he is interested to see how Hamilton looks when he gets out of the training room and back onto the field.
"A healthy Josh Hamilton is definitely something that can make any offense better," Scioscia said.
The Angels traded Howie Kendrick, who replaced Hamilton as the cleanup batter last summer, to the Dodgers in the off-season.
"A lot of the projections we had to make when Howie was traded was that Josh was here," Scioscia said. "We fully anticipated that. We still anticipate that, at some point."
---
Get the latest on L.A.'s teams in the daily Sports Report newsletter.
You may occasionally receive promotional content from the Los Angeles Times.