Angels, especially Pujols, struggle in clutch, lose to White Sox, 3-0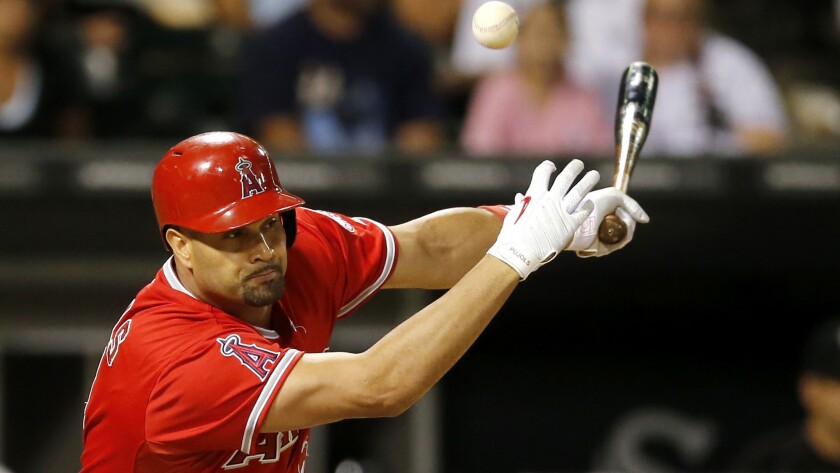 Reporting from Chicago —
Albert Pujols has put up some huge numbers this season, his 30 home runs tying him for fourth place in the American League and his 66 runs batted in tying him for 10th, but the Angels slugger has come up surprisingly small in plenty of big situations.
Pujols struck out with two on and one out in the first inning Tuesday night, and with the bases loaded and one out in the eighth, he chopped a grounder in front of the plate that Chicago White Sox reliever Jake Petricka fielded and flipped to catcher Tyler Flowers to begin a home-to-first, inning-ending double play.
Those were just two of the many unproductive at-bats for the Angels, who lost to the White Sox, 3-0, at U.S. Cellular Field to extend their road losing streak to eight games, their longest since 1992. The Angels have been shut out five times in their last 18 games and 10 times on the season.
There is plenty of blame to go around — that familiar malaise that gripped the offense for the first three months of the season has returned for the Angels, who have lost 13 of 18 games since July 23.
The Angels hit .283 with 33 homers and scored 113 runs, an average of 5.7 a game, while winning 17 of 20 games from June 27 to July 22. But in 18 games since, they're batting .217 with 14 homers and have scored 60 runs, an average of 3.3.
The Angels are hitting .202 (19 for 94) with runners in scoring position over their last 14 games, and Pujols coming up short in the clutch has become an all-too-familiar refrain.
Pujols was a career .328 hitter with runners in scoring position entering 2015, just one of the many impressive statistics on a Hall-of-Fame resume that includes a .314 average, 550 home runs and 1,142 extra-base hits. But he's batting .215 (20 for 93) with runners in scoring position this season.
To say it is a bit of a sore subject for Pujols would be an understatement.
"I don't think about that crap," Pujols said when asked about his struggles with runners in scoring position. "You can easily go on a tear and forget about what happened the last three months. I don't think that's a question you should ask.
"This is part of the game. You think I want to get myself out? I want to come through every time. It doesn't happen. You think you want to write a bad article? No, you want to be perfect all the time, but sometimes we make mistakes. Sometimes in this game you have to give credit to the other pitchers."
The Angels have faced a slew of tough pitchers lately, including Ervin Santana, Scott Kazmir, Zack Greinke, Clayton Kershaw and Chris Sale, and they had their hands full Tuesday with Rodon, a 22-year-old left-hander who was the third overall pick in the 2014 draft out of North Carolina State.
The 6-foot-3, 235-pound Rodon walked Shane Victorino to open the game and gave up a single to Kole Calhoun before striking out Mike Trout looking, Pujols swinging and getting Erick Aybar to fly to left.
After surviving the 26-pitch first, Rodon, who mixes a lively 95-mph fastball with a nasty slider to the back foot of right-handed hitters, went on to throw seven shutout innings, allowing four hits and striking out 11, a career high.
"Not too many guys from the left side have a 92-mph slider," Pujols said. "He struck me out twice on that pitch."
Angels left-hander Hector Santiago allowed three runs and four hits over 5 1/3 innings. Melky Cabrera hit a two-run double to left-center in the fourth, and Trayce Thompson, the former Santa Margarita High standout and brother of Golden State Warriors star Klay Thompson, hit his first career homer, a solo shot to center, in the fifth.
Up next
Left-hander Andrew Heaney (5-1, 2.45 ERA) will oppose Chicago White Sox left-hander John Danks (6-9, 4.79 ERA) at U.S. Cellular Field on Wednesday at 5 p.m. PDT. TV: FS West; Radio: 830, 1330.
Twitter: @MikeDiGiovanna
---
Get the latest on L.A.'s teams in the daily Sports Report newsletter.
You may occasionally receive promotional content from the Los Angeles Times.