It's slow torture as Astros pound Jered Weaver and beat Angels 6-3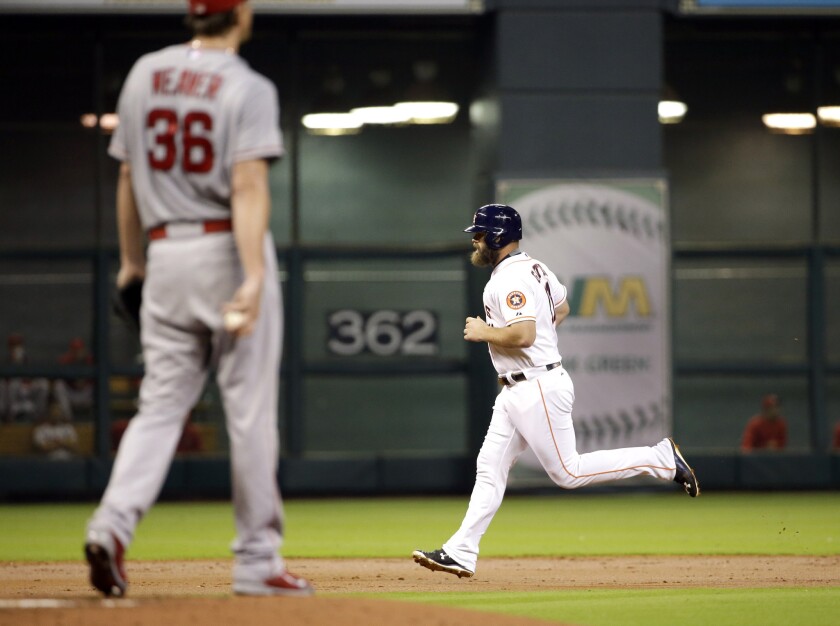 Reporting from Houston —
Jered Weaver wasn't fooling anyone Monday night, least of all the Houston Astros, who racked up nine hits and clobbered a pair of two-run homers in 5 2/3 innings against the Angels right-hander in a 6-3 victory in Minute Maid Park.
Weaver baffled the free-swinging Astros in Anaheim on Sept. 11, killing them softly with his 83-mph fastball, slider, changeup and a floater of a 66-mph curve that made several Houston hitters look silly.
The Angels won that game, 3-2, behind Weaver's six-inning, two-run, five-hit effort, which pushed him to 2-0 with a 1.71 earned-run average in three starts against the Astros this season. So the Angels felt they had the right man on the mound to open a critical three game series in Houston.
But Weaver was rocked. Evan Gattis lined a two-run homer off the left-field foul pole — his 26th — in the second, and rookie phenom Carlos Correa drove a two-run homer to right-center, his 19th homer in just 88 games, in the third.
The Angels fell 3 1/2 games behind the Astros for the second American League wild-card spot with 12 games left.
Weaver gave up another run on George Springer's RBI single in the fifth, and his line could have been uglier if left fielder Shane Victorino hadn't thrown out Correa at second in the first, Weaver hadn't picked off Jose Altuve at second in the third, and right fielder Kole Calhoun hadn't thrown out Altuve at the plate in the fifth.
"Eighty-two and up in this park doesn't do too good," Weaver said, referring to the velocity of his fastball and location of his pitches. "I wish I felt as good as I did in the bullpen. This is probably the best pregame I've thrown in a year. It just didn't translate to the game."
Houston Manager A.J. Hinch said the Astros did a better job of laying off borderline pitches and crushing good ones.
"He teases you in and around the strike zone," Hinch said of Weaver. "It takes incredible discipline to wait.
"But at the same time, if he's going to make a mistake trying to get ahead, you want to be prepared to ambush him."
Weaver was no match for Astros left-hander Dallas Keuchel, who mixed his fastball, slider and cut fastball to hold the Angels to one run and six hits, striking out six and walking one in 7 2/3 innings. He improved to 18-8 with a 2.51 ERA and 203 strikeouts on the season and 14-0 with a 1.47 ERA at home.
These were the matchups Weaver used to relish during his first nine years, when he went 131-69 with a 3.28 ERA and was a three-time All-Star.
Weaver was an ace then. He is clearly no longer in that class, with a career-worst 7-12 record, 4.68 ERA and 23 homers allowed in 148 innings of a season marred by a left hip injury and constant adjustments in an effort to find a comfortable delivery and some life on his fastball.
"It's more than frustrating," Weaver said. "I haven't been able to keep my team in games for the most part this year. I've sprinkled in some good outings, but I'm just going out there and battling and trying to keep us in the game. I wasn't able to do that tonight. It's been the story of the season."
Weaver, who turns 33 on Oct. 4, has one more year on his contract and is guaranteed $20 million next season. As much as Weaver has struggled this season, Manager Mike Scioscia believes that the Angels will get a return on their investment in 2016.
"Look at the game he pitched in the playoffs last year — his stuff was really good," Scioscia said. "I think it's still in there. We're very confident that Weav is going to retool this winter, and hopefully he comes back with stuff that's a little more reminiscent of what we've seen from him."
Up next
Left-hander Hector Santiago (8-9, 3.47 ERA) will oppose Houston right-hander Lance McCullers (5-6, 3.18 ERA) at Minute Maid Park on Tuesday at 5 p.m. PDT. TV: FS West; Radio: 830, 1330.
Twitter: @MikeDiGiovanna
---
Get the latest on L.A.'s teams in the daily Sports Report newsletter.
You may occasionally receive promotional content from the Los Angeles Times.