Injured shortstop Andrelton Simmons to return to Angels this week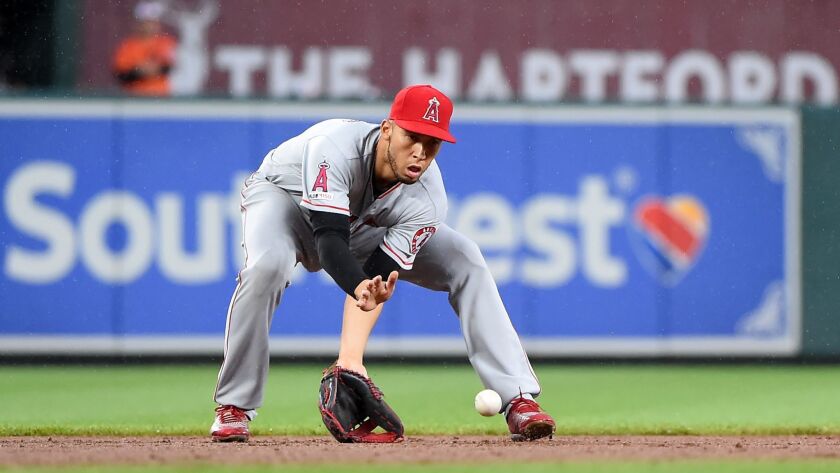 Andrelton Simmons resumed his rehabilitation stint at Class-A Inland Empire on Tuesday night after suffering a minor setback in his recovery from a Grade 3 left-ankle sprain last week. Barring another setback, the shortstop should return to the Angels this week, perhaps as soon as Wednesday night.
Simmons played seven innings against Lancaster, hitting an infield single in the first inning, grounding out to shortstop in the third and fifth and walking in the seventh. He ran well and appeared to come out of the game unscathed.
Simmons had a noticeable limp during his second game with rookie-league Orem (Utah) last Wednesday and returned to Anaheim for treatment. He was cleared to resume playing Tuesday but was scheduled for only one minor league game, after which he will be evaluated.
"Literally, the old adage is true," manager Brad Ausmus said Tuesday afternoon, when asked if the Angels are taking it one day at a time with Simmons. "I'm not going to set expectations because we brought him back after he played in two games. We'll see how he feels after playing Tuesday."
Injuries such as the one Simmons sustained May 20 usually take more than six weeks to heal and sometimes require surgery. So even with his setback, Simmons, who hit .298 with three homers and 21 RBIs in 46 games, could return earlier than expected.
The injury news wasn't nearly as promising for fellow infielder Zack Cozart, who said Tuesday that he has made no progress in his recovery from the left-shoulder tightness/inflammation that sent him to the injured list May 28.
"I've had all the injections you can give, and it hasn't progressed," said Cozart, who had season-ending surgery on the shoulder last June but is still experiencing pain and limited range of motion in the joint.
"Unfortunately, the surgery I had is kind of the culprit because it tightened it up and did its job. I don't have an answer, and that's why it's so frustrating."
Cozart, who is batting .124 with no homers and seven RBIs in 38 games, hopes to get answers next week when he travels with the Angels to Texas and meets with Dr. Keith Meister, an orthopedic surgeon and the Rangers' physician. Cozart has not abandoned his hopes of playing again this season.
"I'd be lying," Ausmus said, "if I said I wasn't concerned."
Safety net
There are no current plans to extend the protective netting that runs to the end of each dugout in Angel Stadium, but the team remains open to the idea.
"Presently, we do not have plans to change the current layout," team President John Carpino said on Tuesday, "but we are always discussing ways to improve our guests' safety and overall experience at our ballpark."
The Dodgers announced Monday that they will extend the netting after a young woman sitting four rows from the field just beyond the first-base dugout was hit in the head by a Cody Bellinger line drive Sunday. The Chicago White Sox and Washington Nationals said they will extend the netting to the foul poles.
"As a general rule you want your fans to be safe, but you also hear fans want to catch a foul ball," Ausmus said. "It's also very difficult to catch a 100-mph foul ball. I know the [nets] were extended to the dugouts. I'm sure there are discussions about extending them farther. It's probably worth a consideration."
On the mend
Matt Harvey, who has missed the past month because of an upper-back strain, spent the last two weeks in Arizona throwing off a mound and working on the mechanical flaws that contributed to his 2-4 record and 7.50 ERA in 10 starts.
The right-hander is scheduled to face hitters in simulated-game conditions at least once and probably twice this week before starting a minor league rehab stint with an eye toward returning after the All-Star break.
"Everything's healthy," Harvey said. "I think it's just a matter of making sure that when I do come back I'm efficient. I don't want to come back and struggle anymore."
Ausmus said right-hander Trevor Cahill, out since June 6 because of elbow inflammation, will be activated Wednesday, but the manager would not say if Cahill would start against the Reds. Jaime Barria was in the clubhouse Tuesday and is also a candidate to pitch Wednesday night.
Sign up for our daily sports newsletter »
Moving on
Alex Meyer, a right-hander who went 5-7 with a 3.94 ERA in 18 starts for the Angels in 2016 and 2017 but has been sidelined by shoulder injuries for two years, announced his retirement on Instagram on Tuesday.
A first-round pick of the Nationals in 2011, Meyer threw seven scoreless one-hit innings, striking out seven and walking one, in the Angels' 7-0 win over Washington in what turned out to be his last game on July 19, 2017.
"I never thought in 2017 I was throwing my last pitch, but not everything goes how we expect it to," Meyer, 29, wrote. "After multiple surgeries and countless hours of rehab, the end of the road for my baseball career has come."
Short hop
The Angels announced that Shohei Ohtani will throw off a mound Wednesday for the first time since the right-hander underwent Tommy John surgery in October. Ohtani is not expected to pitch this season, but his recovery from the elbow ligament replacement procedure is on schedule.
---
Get the latest on L.A.'s teams in the daily Sports Report newsletter.
You may occasionally receive promotional content from the Los Angeles Times.